Is This Avonte Oquendo? Photo Emerges Resembling Missing NYC Autistic Boy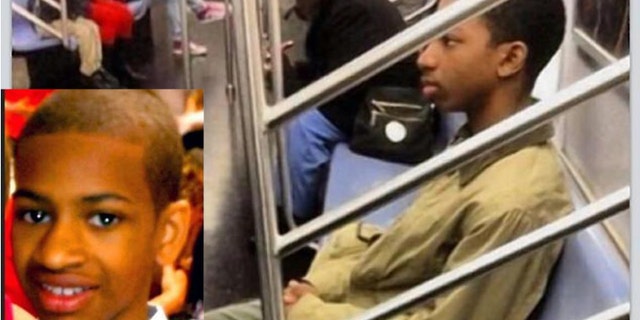 The family of an autistic boy missing in New York City for nearly a month is cautiously optimistic that a photo taken of a boy riding a subway train on Tuesday shows 14-year-old Avonte Oquendo.
New York City police are investigating. Oquendo was last seen on Oct. 4 walking out of his Queens school.
A 13-year-old snapped the picture on Tuesday and later posted it on his Facebook page. The teen who took the photo approached the other boy and asked if he was Avonte, but the boy didn't answer.
According to the New York Daily News, the 13-year-old asked the look-alike, "Hey, are you Avonte?" The look-alike did not respond and the teen snapped a quick picture of him before getting off the train. Avonte cannot communicate verbally.
The photo shows the presumptive Avonte sitting and looking straight ahead. He's wearing a beige jacket and green khaki pants. His family says they can't be sure that the boy in the picture is their son.
"He looks tired," said Daniel Oquendo, Avonte's father, on Wednesday night to Newsday. "It sort of injects some hope in the whole situation."
The family says Avonte has a unique interest in trains and subways, which only adds to the hope that the mystery rider in the photo may be him.
"We're praying it was him and there'll be an opportunity to find him," Oquendo said to Newsday. "Maybe somebody just put him on the train, just to give him up. He was dressed differently, so it's obvious somebody's been taking care of him — if that's him."
A school administrator saw the photo on the teenager's Facebook and alerted the authorities.
The subway photo comes days after NYPD Commissioner Raymond Kelly said he's "not hopeful" that the autistic boy is still alive. Kelly later apologized to the family for his comments.
"I don't know what the commissioner was thinking about last night by saying that, but my son is alive," said Vanessa Oquendo at a press conference last Friday.
The NYPD has devoted an unprecedented amount of resources to the search, according to the New York Post, including "helicopters, divers and more than 100 cops each day to run down more than 200 tips and conduct interviews."
Avonte is 5'3" and about 125 pounds. There is a $90,000 reward for anyone with information that leads to the missing boy.
The Associated Press contributed to this report.
Follow us on twitter.com/foxnewslatino
Like us at facebook.com/foxnewslatino