Is There A Connection Between Hillary Clinton's 'Shoe-icide' Attacker And Che Guevara?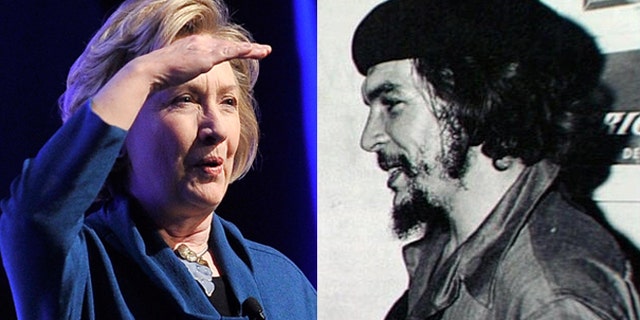 Las Vegas – Hillary Clinton faced one of her toughest opponents yet in the early run-up to her purported 2016 presidential run Thursday night when an irate "shoe-icide" attacker hurled a clunky piece of footwear and a copy of a Cold War-era document at the former U.S. Secretary of State.
Just moments after Clinton took the stage for her keynote speech at an Institute of Scrap Recycling Industries convention in Las Vegas Thursday night, a woman walked down the aisle to within six rows of the front of the seating area, threw the items, turned around, put her hands in the air and walked toward the back of the room. Security officers quickly caught up with her.
But while everyone is talking about the shoe, little is talked about what the woman also threw along with it: a copy of a Department of Defense document labeled confidential and dated August 1967; it referred to an operation "Cynthia" in Bolivia. Operation "Cynthia" was a Bolivian army maneuver to capture Argentinean doctor and Cuban revolutionary Ernesto "Che" Guevara.
Guevara was in Bolivia leading a band of guerrilla attempting to overthrow the country's government in a revolution similar to one he participated in with Fidel Castro in the late 1950s. Bolivian forces eventually wounded and captured Guervara, who was eventually executed on October 9, 1967 on orders from Bolivian President René Barrientos.
Why the woman threw the documents is unclear. She didn't speak to reporters or explain the action. Brian Spellacy, U.S. Secret Service supervisory special agent in Las Vegas, said the shoe hurler was being questioned and would face criminal charges. Spellacy declined to identify the woman, and he said it wasn't immediately clear what the charges would be.
When she threw the objects, Clinton ducked and she did not appear to be hit. She then joked about it.
"Is that somebody throwing something at me? Is that part of Cirque de Soleil?" Clinton quipped.
After the spectacle, many in the audience of more than 1,000 people laughed and applauded as Clinton resumed her speech.
"My goodness, I didn't know that solid waste management was so controversial," Clinton said. "Thank goodness she didn't play softball like I did."
A black and orange shoe was recovered from the stage, Spellacy said.
Spellacy and Mark Carpenter, spokesman for the recycling institute, said the woman wasn't a credentialed convention member and wasn't supposed to have been in the ballroom.
The incident has drawn up memories of a news conference in Baghdad in December 2008 when former President George W. Bush dodged two shoes thrown by an Iraqi journalist.
Clinton, the former first lady and Democratic senator from New York, has been traveling the country giving paid speeches to industry organizations and appearing before key Democratic Party constituents.
Based on reporting by the Associated Press.
Follow us on twitter.com/foxnewslatino
Like us at facebook.com/foxnewslatino