Iraqi PM takes steps to combat Christian persecution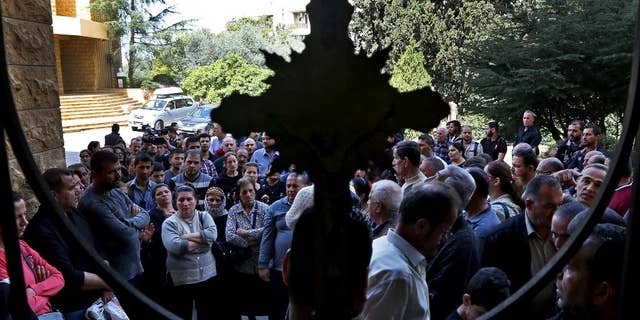 Iraq's elected leader has formed a task force to monitor persecution of the embattled nation's dwindling Christian population, a step hailed Wednesday by hopeful advocates a world away.
Prime Minister Haydar al-Abadi appointed the committee as Christians face kidnapping, extortion and murder - even in Baghdad, where ISIS has no established presence. First reported by Christian Headlines.com, the news followed a call from a key Christian member of parliament for more protection of the faith's practitioners. The non-governmental organization Bagdad Beituna (Baghdad Our Home) claims that 70 percent of Baghdad Christians' homes have been seized illegally, and Christians in other parts of the country controlled by ISIS have been killed or driven out.
"A lot depends on who is on the committee, but it's a very good step," said former U.S. Rep. Frank Wolf, Senior Distinguished Fellow at the Middle East Christian advocacy group 21st Century Wilberforce Initiative.
Iraq's Christian population is one of the oldest in the world, but it is vanishing in the face of Islamic extremism and corruption. In 2003, Iraq's Christian population was estimated at 1.5 million, or roughly 6 percent of the country's total population. By 2013, it was below 200,000 and experts believe it could be much smaller now. Henriette Kats, of the international Christian advocacy group Open Doors, said religious minorities such as Chaldean Christians and Yazidis, another religious minority in Iraq, are especially vulnerable as the nation battles ISIS.
"We see here a combination of the two persecution engines – Islamic extremism and organized corruption – where the vulnerable position of religious minorities, such as Christians, is being exploited," Kats said. "Corruption is deeply rooted in Iraqi society, right up to the highest levels. Also, it is especially people in or close to political power who are occupying not just Christian-owned homes, but also churches and monasteries."
Wolf said he recently wrote U.S. Attorney General Loretta Lynch urging her office to bring genocide charges against ISIS.
"It is with great urgency that I write to about the ongoing atrocities being committed by the Islamic State (ISIS) in Iraq and Syria," reads the letter, dated Sept. 8. "Over a year has passed since the declaration or its so-called caliphate and the horrific siege of Mount Sinjar and yet the group and its leaders are still at large. ISIS' Predatory acts—largely unaddressed by the Western world—have resulted in the genocide of Christians, Yezidis, Shia Muslims and other religious minorities, an unprecedented refugee crisis and the brutal kidnapping, torture and execution of four American citizens."
Wolf said he hopes the news out of Iraq will force Washington to finally acknowledge what he refers to as ethnic cleansing.
"The very fact that the Iraqis are taking these steps should be encouraging the Obama administration to do the same," he said.