Iran's supreme leader says government should 'give up hope' on Europe to save nuclear deal
NEWYou can now listen to Fox News articles!
Iran's supreme leader has casted doubt on saving the international nuclear deal after U.S. withdrawal earlier this year, saying Wednesday that the government should stop pinning its hopes on Europe to keep the accord alive.
Ayatollah Ali Khamenei said that Iran could abandon the nuclear agreement if it does not serve the "national interests" of the country, Reuters reported.
"The nuclear deal is a means, not the goal, and if we come to this conclusion that it does not serve our national interests, we can abandon it," Khamenei was quoted as saying by his official website.
Khamenei added that even as officials from European countries work to salvage the deal after the exit by the U.S., Tehran should "give up hope" for the deal to be saved.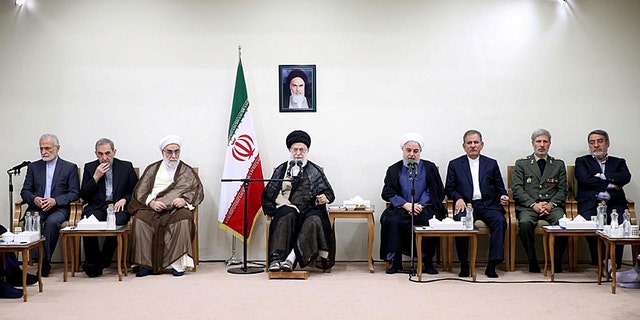 "There is no problem with negotiations and keeping contact with the Europeans, but you should give up hope on them over economic issues or the nuclear deal," he was quoted as saying.
The comments came a day after Iranian lawmakers ordered President Hassan Rouhani to answer for his role in the faltering economy amid growing political divisions in the country. Rouhani claimed that newly reimposed U.S. sanctions after Trump pulled out of the 2015 nuclear deal would only serve to unify the country.
"I want to assure the Iranian nation that we will not allow the U.S. plot against the Islamic Republic to succeed," he told parliament. "We will not let this bunch of anti-Iranians in the White House be able to plot against us."
IRAN'S PRESIDENT VOWS TO OVERCOME 'ANTI-IRANIANS' IN WHITE HOUSE, AS LAWMAKERS ISSUE PUBLIC REBUKE
Lawmakers, however, were not satisfied with the president's answer and voted four separate times to say they were unconvinced of his answers about Iran's recession, its cratering currency, unemployment and smuggling, according to the Associated Press. Iranian lawmakers have already fired Rouhani's labor and finance ministers this month amid the economic crisis.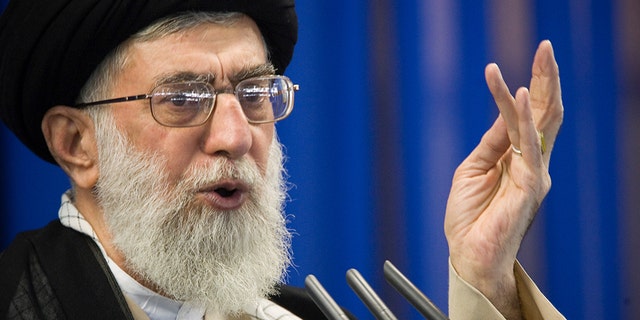 But Khamenei insisted the political tumult was a sign of the strength of Iran's democracy, Agence France-Presse reported. The supreme leader called the tough questioning of Rouhani "a glorious show of the power of the Islamic republic and the self-confidence of officials."
IRAN NUCLEAR DEAL: WHAT IS IT?
The supreme leader had set out a series of conditions in May for European powers if they wanted to keep Iran, according to Reuters, which included steps by European banks to safeguard trade with Tehran and guarantee Iranian oil sales. He told Rouhani and his cabinet to work "day and night" in an efforts to fix the faltering economy.
During his meeting with Rouhani and his cabinet on Wednesday, the supreme leader also reiterated that Iran would not engage with negotiations with President Trumps's administration over a potential new deal, despite an offer from the president for unconditional talks.
"(The Americans) want to say they can bring anyone, even the Islamic republic, to the negotiating table," Khamenei said, according to AFP. "But as I have previously said in detail, no negotiations with them will take place."
In recent days, rhetoric from Iran has increased as a top Iranian Navy general said the country has taken full control of the Strait of Hormuz and Persian Gulf.
IRAN CLAIMS IT CONTROLS STRAIT OF HORMUZ, PROMPTING POMPEO DENIAL
Secretary of State Mike Pompeo responded Monday night, saying: "The Islamic Republic of Iran does not control the Strait of Hormuz. The Strait is an international waterway. The United States will continue to work with our partners to ensure freedom of navigation and free flow of commerce in international waterways."
Military officials echoed similar statements on Tuesday at a briefing with reporters at the Pentagon.
GERMANY ACCUSED OF BETRAYING PLEDGE TO COMBAT ANTI-SEMITISM BY IGNORING IRAN SANCTIONS
"For decades, our forces have been posted in the Gulf, to ensure freedom of navigation and we will continue to do that," said Joseph Dunford, chairman of the Joint Chiefs of Staff."
The Associated Press contributed to this report.