Iran's Ahmadinejad: No Place for Israel in Region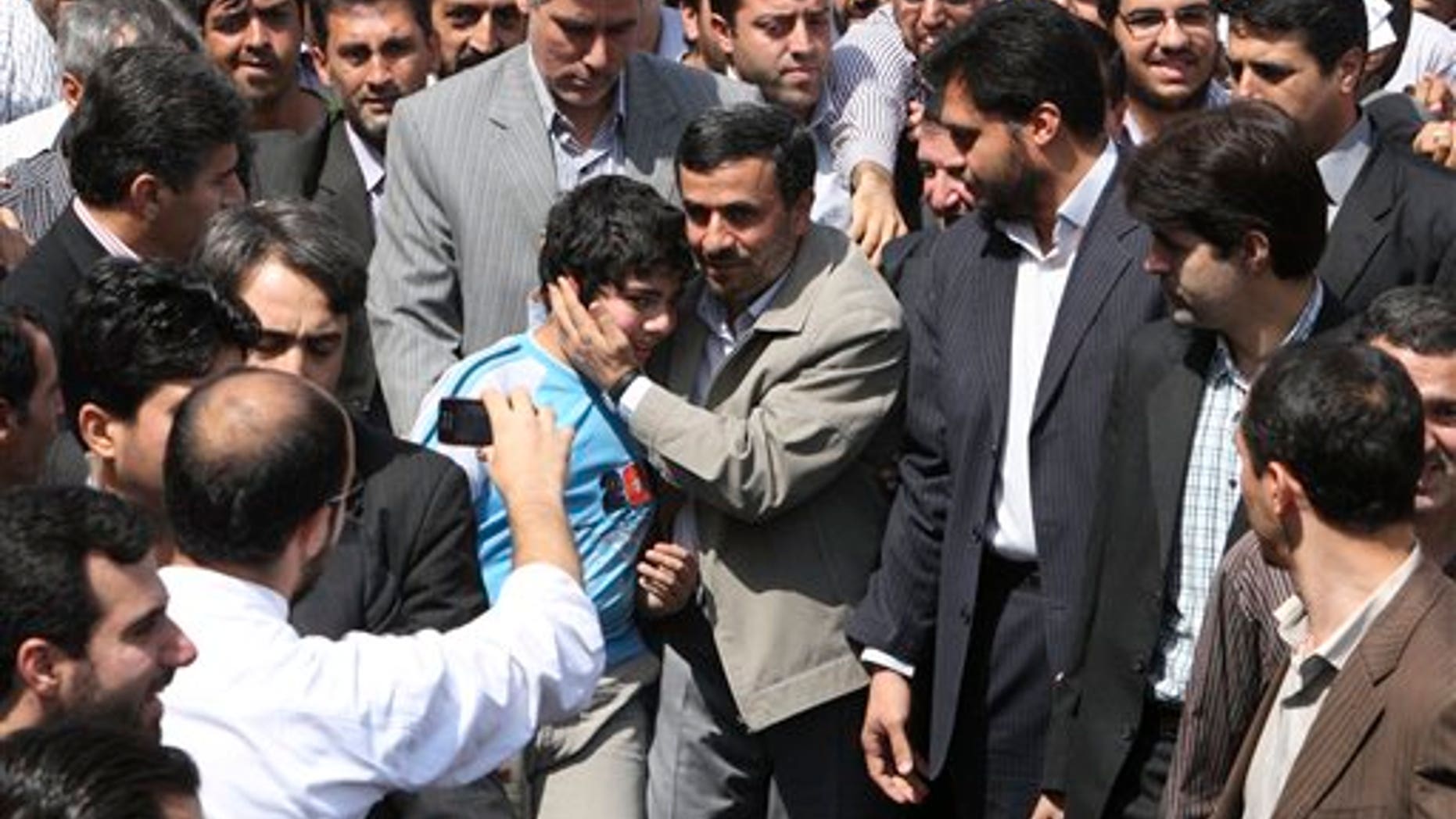 TEHRAN, Iran – The Iranian president said on Friday there will be no room for Israel in the region after the formation of a Palestinian state, and that once the state is established, the liberation of all Palestinian lands should follow.
The comments by Mahmoud Ahmadinejad reflected his typical anti-Israeli rhetoric, which has drawn international condemnation since he first said in 2005 that Israel should be "wiped off the map."
Ahmadinejad spoke at a Tehran ceremony following nationwide pro-Palestinian rallies marking Quds Day. Quds is the Arabic word for Jerusalem. The annual demonstration is an occasion for Iranian officials to show off their support for Palestinians and condemn archenemy Israel.
The remarks come as the Palestinians are pushing this year to achieve recognition at the United Nations during the General Assembly meeting in September. The statehood bid comes amid stalled Israeli-Palestinian peace negotiations and although the U.N. vote in New York will be largely symbolic, the Palestinians believe it will send a powerful message to Israel.
"Do not assume you will be boosted with a (U.N.) recognition of a Palestinian state," Ahmadinejad said, addressing Israel. "There is no room for you in the region."
"Recognition of a Palestinian state is the first step in the liberation of the entire Palestine," he added.
Since the 1979 Islamic revolution that brought hardline Islamists to power in Tehran, Iran's leadership has been hostile to Israel, backing anti-Israel groups like the Palestinian Hamas and Lebanon's Hezbollah.
Ahmadinejad also urged the West to stop supporting Israel.
"You (the West) and the Zionist regime will have no base in the Middle East," he warned, and dismissed the West's support for a two-state solution as a tactic meant "to save" Israel.
Reiterating his anti-Holocaust rhetoric, Ahmadinejad also said Israel was created on lies and added, "the Zionist regime is the axis of unity among all thieves and criminals of the world."
He also called on rival Palestinian factions Fatah and Hamas to form as strong, unified state and not "consider it sufficient to have minor and weak governments in a small area."
In 2007, the militant Hamas took control of the Gaza Strip, leaving Fatah only in control of the West Bank.
Iran faces increased pressure from the West over its controversial nuclear program that Israel, the United States and others contend is intended for nuclear weapons making. Tehran denies the charge, insisting the program is for peaceful purposes only, such as generating power.
Tens of thousands attended the Quds Day rally in Tehran. State TV said millions of Iranians participated in the rallies in cities and towns across Iran.