Invisible Children soldiers on with KONY 2012 campaign as warlord is in hiding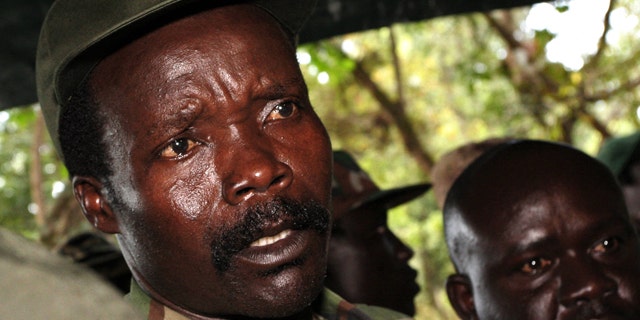 NEWYou can now listen to Fox News articles!
It's been more than a year since the video "KONY 2012" went viral on the Internet and brought slacktivism into the public spotlight, but the group missed its goal of bringing murderous African warlord Joseph Kony to justice by the end of last year.
Perhaps overwhelmed by the sheer enormity of the campaign, San Diego-based organization Invisible Children had stumbled in the months after it launched. It struggled to address questions about its funding and expenses and then co-founder Jason Russell had a well-publicized breakdown. But the group is back on mission, with a fresh video and a renewed effort to shine a spotlight on the jungles of the Congo, where Kony, leader of the Lord's Resistance Army, is believed to be hiding.
[pullquote]
"We believe that last year was a monumental success. The goal of the film was to make the crimes of Joseph Kony and the LRA known on a mass scale," Noelle West, a spokeswoman for Invisible Children, told FoxNews.com. "The international institutions that should be responsible for implementing initiatives that could bring an end to this conflict have not felt enough pressure to provide the necessary resources to do so."
"We wanted to create that overwhelming pressure, and the KONY 2012 campaign was extremely successful at doing just that."
Despite the failure to see Kony brought to justice, the group claims to have succeeded on several fronts:
More high-ranking members have left the LRA in 2012 than the previous three years combined, and lower-level fighters have defected in record numbers.
Killings attributed to the LRA dropped by 67 percent from 2011 to 2012.
Two high-ranking commanders of the LRA, Maj. Gen. Ceasar Acellam and Lt. Col. Vincent Binansio "Binani" Okumu, have been caught.
In January, the U.S. Congress passed the bipartisan "Rewards for Justice" bill, which was signed into law by President Obama and effectively placed a bounty of up to $5 million on Kony's head. President Obama also recommitted American Special Forces and authorized more resources to help go after Kony last April. And, Invisible Children claims, Kony is feeling the heat. As a result of the campaign launched against him, the warlord has gone into hiding in the jungles of Central Africa.
"Evidence suggests that Kony is in the border region of Sudan and CAR. Invisible Children donors have been funding the creation and expansion of HF radio networks across the conflict region for the last two years," West said, adding that Invisible Children has been funding the creation and expansion of HF radio towers across the conflict region for the last two years, which are used to provide early warning to remote communities and record LRA activities and in turn, locate Kony.
Joseph Kony is one of the most notorious guerrilla leaders in the world. He's been accused by government entities of abducting children to become sex slaves and soldiers. It is estimated that he recruited 66,000 children to become soldiers in the cult-like LRA. Kony was indicted for crimes against humanity in 2005 by the International Criminal Court located in the Hague.
Jason Russell, the director of KONY 2012 and co-founder of Invisible Children, had set out to create an activist campaign to bring down the dictator after he saw the LRA's destruction first hand while filming a documentary in the Sudan. His meeting children affected by the LRA led him to create the non-profit organization.
He created the KONY 2012 video as a means to promote the charity group "Stop Kony" movement in which Invisible Children set out to to make Kony an infamous global figure and have him arrested and brought in for his crimes by the end of last year.
The film was posted on video shattering sites last March and instantly trended, reaching more than 100 million views in less than a week, making it one of the fastest viral videos ever. The video energized young activists to re-post the video across social media, with some even taking to the streets on a night of global action to post stickers and posters along city streets to further build awareness.
The luster of the new campaign soon faded and for Russell, the sudden swarm of media coverage proved too much last year. The 34-year-old filmmaker suffered a public meltdown in his native San Diego, running naked onto the street near his home and slamming his hands against the pavement and throwing himself against cars while screaming and cursing.
Russell was committed to a psychiatric hospital only ten days after KONY 2012 went viral. He has since recovered from what he believes was a manic episode brought on by post-traumatic stress, according to reports.
"Jason is healthy. He's been back in the office since last fall and continues to drive the film creation and creative outreach of Invisible Children. It's been great to have him back doing what he loves."
Russell and Invisible Children say they are sticking to the issue of the LRA and bringing Kony to justice.
"We believe in universal rights of all people and have chosen to live that out by investing fully in seeing this conflict end. That is what we will continue to commit to our supporters and beneficiaries" reads a statement from the group.
The group is also planning to hold a summit this August in Los Angeles, where they intend to bring together the "world's leading creative and academic thinkers to discuss the future of international justice."