Indonesian policeman shot dead in central Jakarta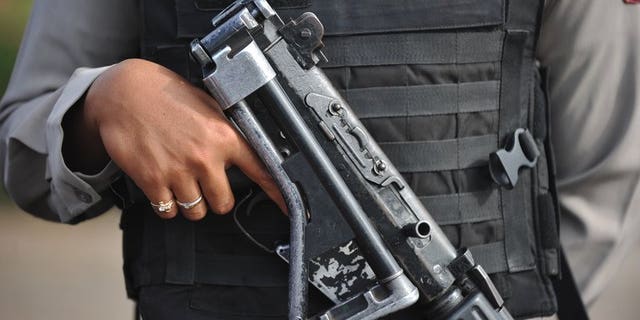 JAKARTA (AFP) – Motorcycle gunmen have shot dead a policeman as he escorted a convoy in downtown Jakarta, an official said Wednesday, the latest brazen assault on an officer in the capital.
It was the fourth fatal shooting of a policeman in or around the city in recent weeks and the most high-profile yet, as it was in central Jakarta and right by the headquarters of a powerful law enforcement agency.
Police said the shooting late Tuesday followed the pattern of previous attacks, and they suspected the same terror group was behind the killings.
In the latest attack, the policeman was on a motorcycle escorting six trucks carrying elevator parts on a busy main road when four gunmen riding motorbikes opened fire on him, police said.
The officer, identified as Sukardi, was passing the offices of the Corruption Eradication Commission when the attack happened at 10:15 pm (1515 GMT).
"The policeman died instantly after being shot three times in his chest and stomach," said Jakarta police spokesman Rikwanto, who like many Indonesians goes by one name.
Police launched a massive manhunt after the killing, setting up road blocks and questioning motorists.
The attack came after three policemen were shot dead in two separate attacks in Tangerang district on Jakarta's western outskirts in August.
While Indonesian security forces have been targeted by terror groups in recent years, the upsurge of attacks in the capital is a new development.
Most previous attacks had taken place in the district of Poso on Sulawesi island in central Indonesia, where terror groups hide out in the jungles.
Indonesia launched a crackdown on Islamist militant networks a decade ago after attacks on Western targets, which has successfully dismantled some of the deadliest groups.