Indian police arrest Uber driver accused of rape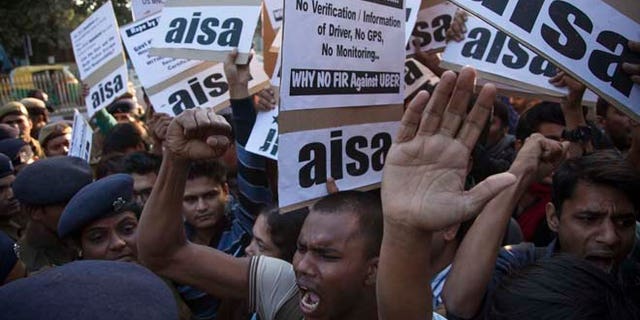 NEW DELHI – Indian police on Sunday arrested a driver from the international taxi-booking service Uber for allegedly raping a young woman in the capital.
Shiv Kumar Yadav, 32, was arrested in his hometown of Mathura, about 100 miles south of New Delhi, where the rape allegedly took place Friday, police officer Jag Niwas said.
The woman, who works at a finance company, was returning from a dinner engagement Friday night and used the mobile app Uber to hire a cab to drive her home, said another New Delhi police officer, Alma Ming.
The Press Trust of India reported that the 26-year-old woman fell asleep during the ride. When she woke up, she found the car parked in a secluded place, and the driver then threatened her and raped her, PTI said.
Police have filed a case against Yadav accusing him of raping the woman, Niwas said. He was being brought to New Delhi and was due to appear in court there on Monday.
Uber said in a statement Saturday that it had suspended the driver's account and was cooperating with authorities. "We are working with the police as they investigate, and will assist them in any way we can to determine what happened," the statement said.
Meanwhile, dozens of students scuffled with officers Sunday as they tried to enter police headquarters in New Delhi to protest the rising incidents of rape in the capital.
"I am here to protest the irregularities and failure of the state machinery, which refuses to acknowledge that rapes happen due to their failure," said Urvashi Joshi, one of the demonstrators.
The protesters, from the All India Students Association, dispersed after an hour-long demonstration.
Indian officials, who for decades did little about sexual violence, have faced growing public anger since the December 2012 fatal gang rape of a young woman on a moving New Delhi bus, an attack that sparked national outrage.
The nationwide outcry led the federal government to rush through legislation doubling prison terms for rapists to 20 years and criminalizing voyeurism, stalking and the trafficking of women. The law also makes it a crime for officers to refuse to open cases when complaints are made.
Official statistics say about 25,000 rapes are committed every year in India, a nation of 1.2 billion people. Activists, though, say that number is just a tiny percentage of the actual number, since victims are often pressed by family or police to stay quiet about sexual assaults.