Indian PM sees change after bin Laden's death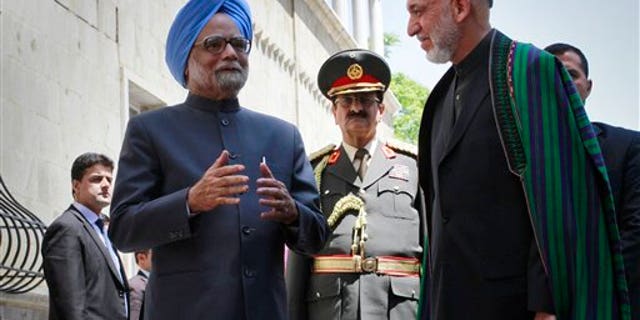 KABUL, Afghanistan – India's prime minister said Thursday that Osama bin Laden's death can be an opportunity to put aside decades-old regional rivalries and work for peace across Afghanistan and Pakistan.
On his first visit to Afghanistan in six years, Manmohan Singh walked a cautious line between showing support for Afghanistan and trying to assuage any fears in Pakistan that he was enlisting Afghan President Hamid Karzai against India's longtime rival.
"I sincerely hope that all countries of this region — Afghanistan, Pakistan, India — would recognize that this is a unique moment in the history of this region. Thereby we all should agree to work unitedly to end this scourge of terrorism," Singh told journalists at a press conference in Kabul, the Afghan capital.
Bin Laden, the mastermind of the 2001 attacks on the World Trade Center in New York and the Pentagon in Washington, D.C., was killed in a U.S. commando raid on his hideout in Pakistan earlier this month.
Despite his call for regional cooperation, Singh's trip signaled shifts in the regional power play between nuclear rivals India and Pakistan, in which Afghanistan has often been caught in the middle. With Pakistan's international stature taking a hit after the U.S. raid that killed bin Laden, India may see an opportunity to pull Afghanistan closer to its side — further pressuring Islamabad.
A joint declaration issued by Singh and Karzai said that the two countries agreed to work to strengthen their bilateral agreements. And India announced in the declaration that will give an additional $500 million to the Afghan government for development programs. That brings India's total development aid to the country to $2 billion.
"India is your neighbor and partner in development," Singh told a gathering including Karzai and other senior officials earlier in the day. "You can count on us as you build your society, economy and polity."
But both India and Afghanistan are clearly wary of appearing to be teaming up against Pakistan. The last sentence of the joint declaration states: "The two sides affirmed that their strategic partnership was not directed against any other state or group of states."
Karzai called Pakistan a good partner, noting that he had a productive meeting with Pakistan's prime minister just last month.
"We'd like expand this relationship with them to have an effective campaign against terrorism — for the benefit of Pakistan, for the benefit of Afghanistan, for the benefit of India," Karzai said.
Singh said: "We would like to develop the friendliest possible relations with all countries of this region. That includes Afghanistan. That includes Pakistan as well. There is no question of Pakistan feeling that good relations between India and Afghanistan are at the cost of Pakistan."
Afghanistan is likely to become more reliant on these warring regional allies as its NATO partners face pressure to withdraw troops. The U.S. plans to start decreasing forces in July, and all NATO partners are committed to handing over responsibility for security to Afghan forces by 2014. And Bin Laden's death has some in NATO countries pushing for even quicker drawdowns.
NATO forces, meanwhile, apologized for the mistaken killing of a young girl and a man who turned out to be a police officer in an overnight raid in eastern Afghanistan.
A combined NATO-Afghan force was pursuing a Taliban leader in Nangarhar province's Surkh Rod district on Wednesday when a man came out of the targeted house threatening them with a gun, NATO said in a statement.
The troops killed the man and then discovered he was a police officer, the statement said. The troops also shot at someone running out of the back of the compound who they believed had a weapon. The soldiers later realized there was no weapon and that they had killed "an unarmed Afghan female adolescent."
A neighbor, who goes by the name of Ayatullah, said the girl was 12 years old.
"We are deeply sorry for this tragedy and apologize to the members of the Afghan government, the people of Afghanistan and most importantly, the surviving family members of those killed by our actions," NATO forces spokesman Rear Adm. Hal Pittman said in the statement.