India targets American diplomats' privileges following envoy's strip search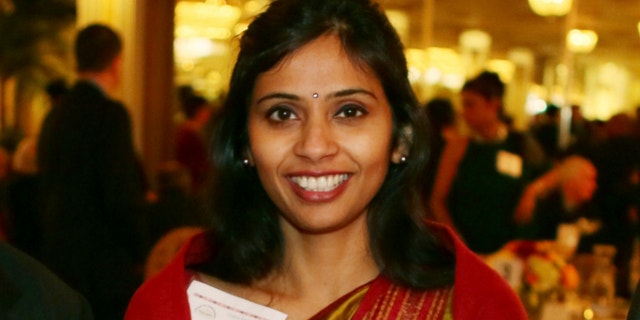 India has informed the U.S. that it is eliminating some of the privileges enjoyed by American diplomats in New Delhi, escalating a rift between the two countries over the arrest and strip search of an Indian envoy in New York.
The Press Trust of India news agency reported Wednesday that U.S. embassy cars will not be immune to traffic violations and that the U.S. must stop all "commercial activities" from embassy grounds by Jan 16.
The changes will cut off access to a club on the embassy premises for hundreds of American expatriates in New Delhi, Reuters reported. The club houses a restaurant and bar, bowling alley, swimming pool, sports field, hair salon and gym.
It's the latest fallout from a serious diplomatic row between the countries stemming from the arrest and strip search last month of Devyani Khobragade, an Indian diplomat in New York City.
Khobragade has pleaded not guilty to fraud charges alleging she paid her Indian-born maid far less than the U.S. minimum wage and lied about it on a visa application.
Foreign Ministry spokesman E. Vishnu Vardhan Reddy confirmed the PTI report and said the government was waiting for a response from the United States. Asked if India would shut down the club if the U.S. doesn't comply, he said: "It all depends on what the U.S. embassy does next. Embassies anywhere in the world cannot engage in commercial activities."
India says the fact that non-diplomats can join the club violates diplomatic laws. U.S. embassy officials did not immediately reply to calls for comment.
Khobragade could face a maximum sentence of 10 years for visa fraud and five years for making a false declaration if convicted. She has said she has full diplomatic immunity. Federal officials dispute that, saying her immunity is limited to acts performed in the exercise of consular functions.
A letter filed Tuesday by attorneys for Khobragade accused federal prosecutors in Manhattan of trying to pressure her into pleading guilty by next week. They renewed a request for an extension of the Jan. 13 deadline for an indictment "to eliminate pressure on the situation and permit efforts which are ongoing resolve this matter."
The letter came in response to a filing on Monday by prosecutors saying they had "participated in hours of discussions in the hope of negotiating a plea that could be entered in court before Jan. 13." It said there had been no response to the government's latest offer.
Prosecutors' filing violated an agreement not to discuss the negotiations publicly, the defense letter said. "We can only think that the violation was a distressingly calculated one," it said.
There was no immediate response from the court.
The Associated Press contributed to this report.