India hangs man convicted of funding 1993 Mumbai bombing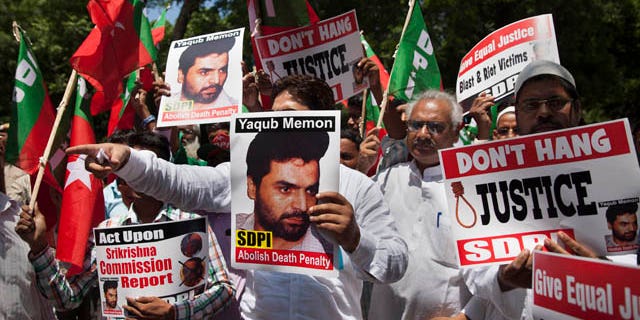 Yakub Abdul Razak Memon, the only death row convict in India's deadliest terror attack, the 1993 Mumbai bombings that killed 257 people, was hanged early Thursday after the country's president rejected a last-minute mercy plea, several newspapers and TV stations reported. There was no immediate official word.
Memon, 53, was executed inside a prison in western India where he had been incarcerated since 1994.
An accountant, Memon was convicted in 2007 of helping raise funds for the serial blasts that rocked the financial capital. By late Wednesday Memon finally exhausted all the legal avenues open to him in order to escape the death penalty.
Yakub's older brother Ibrahim, or "Tiger," Memon and Dawood Ibrahim, both leading gangsters in Mumbai in the 1990s, are the main suspects in the bombings and have both fled the country.
Prominent citizens, including retired Supreme Court judges, had urged President Pranab Mukerjee to commute Memon's sentence to life in prison. That appeal reflected both opposition to the death penalty as well as fresh claims by his lawyers that he freely surrendered to Indian authorities in Kathmandu, Nepal, and that his direct links to the bombings had not been sufficiently established.
Indian investigators, along with the main public prosecutor in the case, Ujjwal Nikam, say he was arrested in New Delhi.
The hanging, carried out on Memon's birthday, came after a day of dramatic last-ditch efforts by his legal team to commute or at least delay his sentence. Just two hours before the sentence was carried out India's Supreme Court had been hearing arguments by his lawyers.
The March 12, 1993, bombings ripped through the country's financial heart, and targeted some of the city's key centers -- the Bombay Stock Exchange, Air India offices, a state transport office, three hotels, a gas station and a movie theater.
The bombs, packed into cars, scooters, under a manhole cover and in a hotel room, were detonated over two hours in the afternoon.
The blasts were seen as revenge for the demolition of a 16th century mosque in northern India by Hindu nationalists. The mosque's demolition sparked religious riots in many parts of the country, leaving more than 800 people dead, most of them Muslims.
It was one of India's lengthiest court trials, with 686 witnesses giving testimony that filled 13,000 pages. The trial began June 6, 1995, and hearings ended in January 2003. The judgments finally began to come in late 2006.
The accused included gangsters, housewives and a Bollywood movie star. A total of 100 people have been convicted of involvement in the blasts. Ten of those were also sentenced to death but had their death sentences commuted to life in prison.