India court convicts ruling party ally in 1990s graft case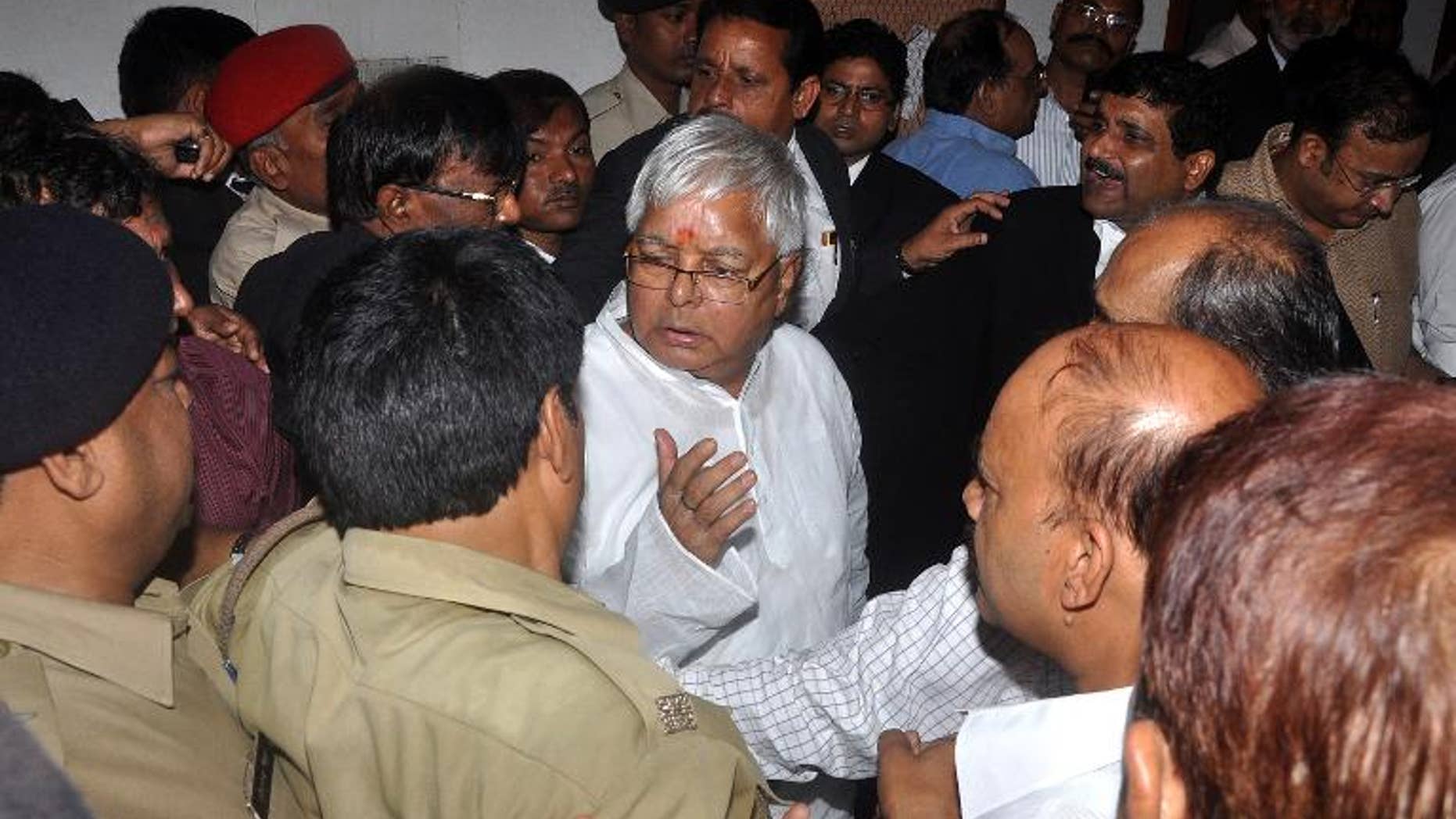 Patna (India) (AFP) – An Indian court convicted a regional government ally of corruption on Monday, making him one of the first politicians set to be disqualified from parliament under new rules barring criminal MPs.
Lalu Prasad Yadav, a former federal minister whose Rashtriya Janata Dal party supports the ruling coalition, was found guilty along with 44 others of conspiracy and cheating over a scam which first came to light in 1996.
The conviction means Yadav is liable to be kicked out of federal parliament, following a recent Supreme Court ruling that national and state lawmakers be disqualified if they are found guilty of a serious crime.
Low-caste figurehead Yadav was chief minister of India's poorest state Bihar when some 380 million rupees ($6 million) of public money intended to buy cattle feed for use by poor villagers was allegedly siphoned off.
"Lalu was found guilty of criminal conspiracy, corruption and cheating," A.K. Singh, a lawyer for the Central Bureau of Investigation (CBI) which led the trial, told reporters.
Yadav did not say anything to media as he was escorted by police from the packed special CBI court in the city of Ranchi in the state of Jharkhand, which was part of Bihar until 2000.
The veteran politician was taken to prison before sentencing by the CBI court on Thursday, a police official in Ranchi said. He could face a minimum of four years in jail, according to local media reports.
The 66-year-old, known for his often amusing oratory in parliament, was born into a cow herder's family and is an outspoken critic of the elite. He has always denied any wrongdoing over the so-called fodder scam.
His conviction comes after political controversy erupted last week over the Supreme Court's ruling in July that lawmakers should be barred if they are found guilty in criminal cases carrying jail terms of more than two years.
The Congress-led government of Prime Minister Manmohan Singh drew up an executive order to negate the decision and shield convicted lawmakers from being ejected ahead of national elections next year.
But Congress party scion Rahul Gandhi called the order "nonsense" in a surprise move on Friday that left the government red-faced. The order still needs the president's approval and its future is unclear after Gandhi's comments.
If it fails to go into force, Yadav would be among the first thrown out. A Congress MP, Rashid Masood, is also set to lose his seat after being convicted in a separate corruption case earlier this month.
One of Yadav's sons said his father would appeal against the conviction, claiming he was being made a scapegoat for the scam.
"Call it a political conspiracy, call it whatever you want to, but there is something more to this than what meets the eye," Tej Pratap Yadav told news channel Times Now.
Yadav heads the Rashtriya Janata Dal party, which ruled the crime-ridden state of Bihar for 15 years until 2005.
The political strongman, who later become a railways minister in the federal government, was backed mainly by his own caste of Yadavs, who are traditionally cow herders, as well as Muslims.
He stepped down as chief minister himself in 1997 after the scandal broke, but his wife was later installed in the post until the party lost state elections in 2005.
The Congress party had been counting on Yadav's support in the electorally crucial state of Bihar in general federal polls due by next May.