In Venezuela, Alicia Machado is considered country's most 'scandalous' beauty queen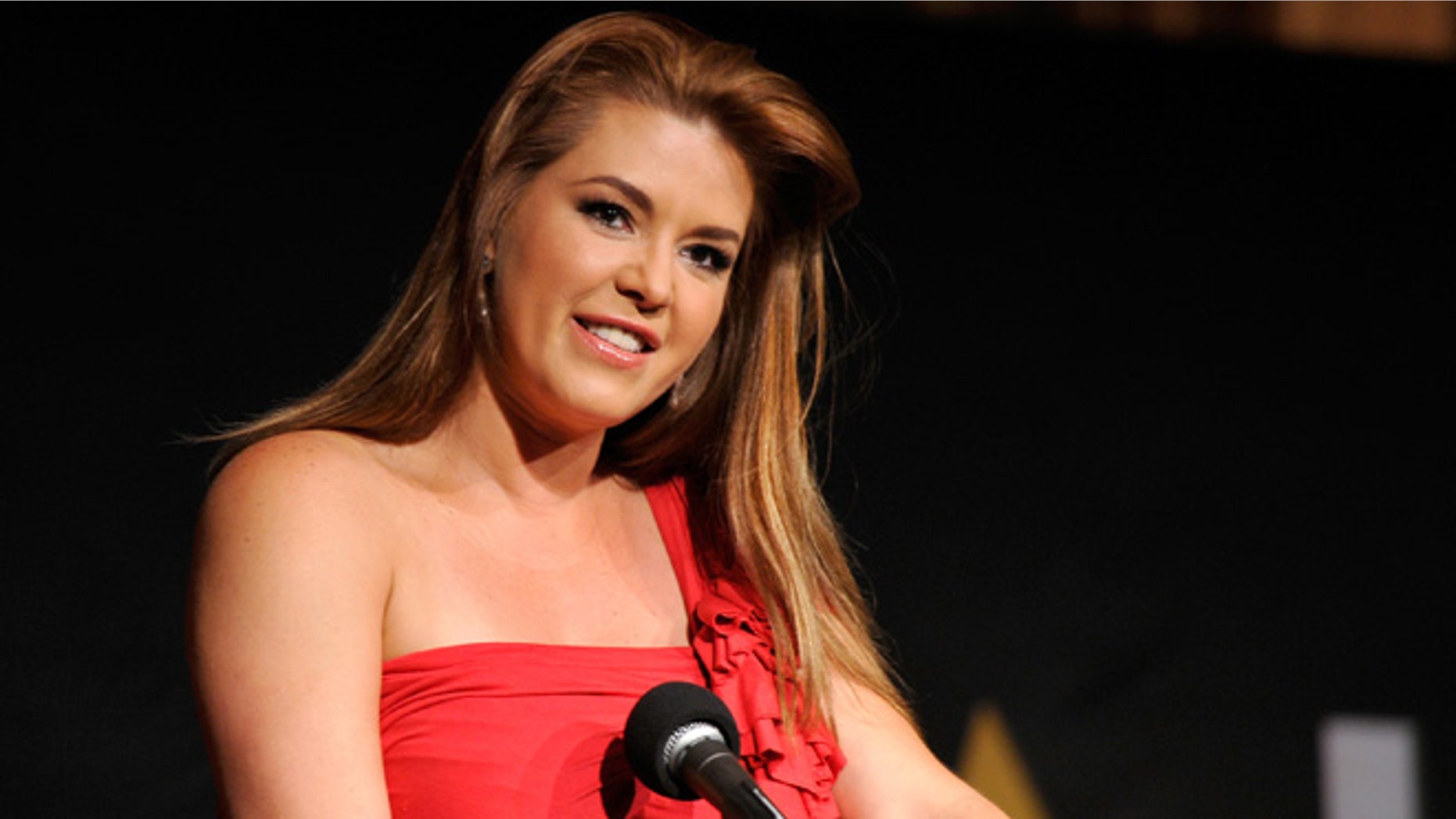 Caracas, Venezuela – In a country obsessed with beauty pageants, Alicia Machado soon became a queen Venezuelans would rather forget.
For better or for worse, Machado has been racking up headlines in the 20 years since she became Miss Universe in 1996.
"Without a doubt, she is the most scandalous beauty queen in Venezuela's history," Orlando Suarez, a renowned entertainment reporter in the country, told Fox News Latino.
That distinction is no small thing in a nation that has won the Miss Universe title seven times and where Miss Venezuela is one of the biggest televised events of the year.
Machado has been linked to an attempted murder, accused of being romantically involved with a Mexican drug lord, of posing naked twice for Playboy and, lastly, of being engaged in an alleged sexual encounter caught on TV by the Spanish reality show "La Granja" in 2005.
Machado was thrust into the spotlight last week when, during the first presidential debate of the Nov. 8 general election, Democratic nominee Hillary Clinton invoked her name when scolding GOP nominee Donald Trump for a pattern of disrespecting women. Clinton said Trump had mocked Machado's weight gain and referred to her as a housekeeper.
Trump subsequently said that Machado had gained too much weight after being crowned Miss Universe, and said it presented concerns. Then the real estate mogul went on a late-night tweeting spree in which he denounced the former beauty queen for, among other things, having a "disgusting" sexual past.
On Tuesday, Clinton brought up the 39-year-old former beauty queen once again during a family town hall in Pennsylvania. Clinton said what her opponent did to Machado was bullying behavior. Machado has repeatedly claimed that Trump called her Miss Piggy after she gained some weight.
"My opponent insulted Miss Universe," Clinton said. "I mean, how do you get more acclaimed than that? But it wasn't good enough ... We need to refute it. We need to ignore it, and we need to stand up to it, and especially the bullying."
Meanwhile, back home some remember as a high-energy woman that had little discipline.
"During her year as Miss Venezuela, Osmel Sousa (the country's "beauty czar") has said many times he had a hard time training her," said to FNL Karla Franceschi, another Venezuelan entertainment reporter. "She was very young at the time, just 19."
Through the years, Machado would go on to occupy front pages. But the one Venezuelans remember the most was when she became involved in a criminal case for which her boyfriend at the time, Juan Rodriguez, ended up charged and convicted. She was eventually cleared, but it was established that she did drive the car in which Rodriguez escaped after assaulting his brother in law.
"She contributed to stop the fight by doing that, but police investigated her as an accomplice", Suarez.
While Machado wasn't convicted in the 1998 incident, the case got plenty of media coverage when someone said the beauty queen had threatened the life of the judge overseeing the case.
"At the time Machado was taping a soap opera called "Samantha" and Venevision (one of the biggest TV channels in Venezuela) sped up its premiere to cash in on all the attention that she was getting," Suarez recalled.
The threats were never proved and the case lost attention.
After "Samantha," the beauty queen got several acting offers and in the following decade she continued her artistic career in Mexico, Spain and the U.S.
She has kept a distance with Venezuela ever since, to the point that most people in the country don't know what she is up to right now.
Outside Venezuela, her most notorious scandal came in 2010, when Mexican newspaper Reforma reported that the father of her new daughter, Dinorah, was Mexican drug lord José Gerardo Álvarez Vázquez, who was then wanted by the U.S.
"Many Mexican artists came out to defend her at the time," Francheschi said. Machado denied any relationship ever took place with Alvarez.
"As it's always been the case with Machado, the episode didn't hurt her, either," Suarez told FNL. "She has a tremendous ability to come out clean of every scandal she has been in."