In phone call, Trump and Xi discuss a nuke-less Korean Peninsula
A Korean Peninsula free of nuclear weapons is a goal both Washington and Beijing are interested in pursuing, U.S. President Donald Trump and Chinese President Xi Jinping agreed during a phone conversation Friday.
That portion of their phone call was confirmed early Saturday in a White House statement and in a report on Chinese state television.
During the conversation, Xi also requested that the U.S. and North Korea both tone down their recent rhetoric and avoid actions that could worsen tensions between the two nations, Chinese Central Television said.
"At present, the relevant parties must maintain restraint and avoid words and deeds that would exacerbate the tension on the Korean Peninsula," Xi was quoted as saying.
"At present, the relevant parties must maintain restraint and avoid words and deeds that would exacerbate the tension on the Korean Peninsula."
The White House confirmed early Saturday that Trump and Xi spoke Friday.
"The leaders affirmed that the recent adoption of a new United Nations Security Council resolution regarding North Korea was an important and necessary step toward achieving peace and stability on the Korean Peninsula," the White House statement said. "President Trump and President Xi agreed North Korea must stop its provocative and escalatory behavior.
"The Presidents also reiterated their mutual commitment to denuclearization of the Korean Peninsula."
The statement added that Trump was looking forward to meeting with Xi in China later this year.
The trip, announced in April, was recently confirmed by Chinese Foreign Minister Wang Yi, who met in Manila with U.S. Secretary of State Rex Tillerson, the Sydney Morning Herald reported.
Trump has urged China to pressure North Korea to halt its nuclear weapons program, which North Korea says is nearing the capability of targeting the United States.
China is the North's biggest economic partner and source of aid, but says it alone can't compel Pyongyang to end its nuclear and missile programs.
Trump also spoke with Guam Gov. Eddie Calvo, reassuring him that U.S. military forces stand ready to ensure the safety and security of the U.S. territory, a White House statement said.
Japan's leader makes pledge
Meanwhile, Japanese Prime Minister Shinzo Abe pledged Saturday to do "everything, to the best of my ability," to protect his nation's people as tensions escalate over North Korea's plans to send missiles over Japan toward Guam.
Abe made the comments while visiting his father's tomb in his ancestral hometown of Nagato, in western Japan.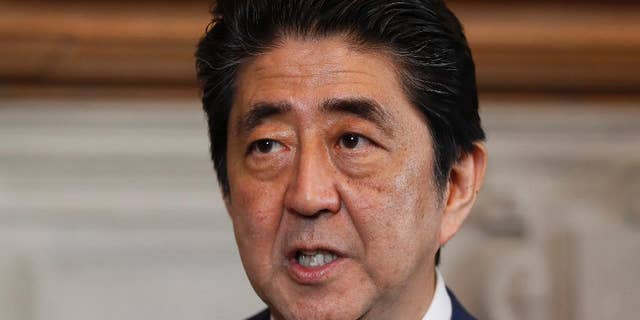 On Friday, Japan's Defense Ministry said it was deploying four surface-to-air Patriot interceptors in western Japan to respond to a possible risk of fragments falling from missiles.
The ministry did not confirm whether newly appointed Defense Minister Itsunori Onodera has already issued an order to shoot down incoming missiles.
Trump on Friday issued fresh threats of swift and forceful retaliation against nuclear North Korea, declaring the U.S. military "locked and loaded" and warning that the communist country's leader, Kim Jong Un, would "regret it fast" if he takes any action against U.S. territories or allies.
This story includes reporting from the Associated Press.