Hungry, desperate Venezuelans are targeting and looting food trucks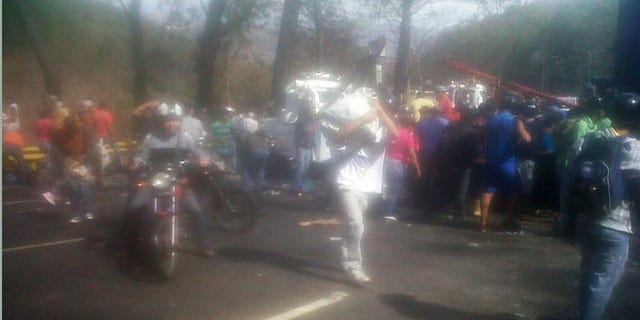 NEWYou can now listen to Fox News articles!
Caracas – One of the many byproducts of Venezuela's acute political and financial crisis is food truck looting, a pattern that is plaguing the country's highways with chaos and fear.
Just last week, some 200 looters swarmed into an overturned tractor-trailer carrying canned juice — men, women and children were seen taking as many boxes of juice as they could, either by foot or on motorcycles.
Drivers and even emergency personnel just stood by, unaffected.
"The two Venezuelas" (Las dos Venezuelas), a catchphrase so commonly used here these days to describe the rift between the poor and the middle or upper class, were exposed in broad daylight for everyone to see: the looters and the citizens.
This time, looters refrained from attacking the grid-locked cars, something that has happened in the past, and they didn't even take issue with the reporters covering the crash and the ensuing mayhem. "Here my man, take a can," offered a young man, handing me a mangled can from the dozen he was carrying. "It's apple flavor," he said.
When the officers of the National Guard finally arrived, the truck was all but empty and the bruised and shocked driver, Leonardo Colmenares, 37, taken into custody for routine paperwork. The looters slowly vanished.
Calm returned to Tazon highway, but many are worried it will not last long.
Venezuela has spiraled into an economic crisis with basic commodities like food and household products hard to come by.
What used to be occasional looting, experts say, is turning into an established criminal activity conducted by gangs — some of them operating from jail.
"[Truck looting] has pranified," sociologist Luis Cedeño told Fox News Latino, using a slang term – pran – that describes powerful criminal bosses who orchestrate high-profile, highly profitable crimes from prison.
"The looting is part of a phenomenon that causes concern," he said. "People have assimilated this inertia on the part of the state. The government is losing social control", added Cedeño, who is the head of a citizens' group – Paz Activa – against violent crime.
"Beyond the crime of opportunity, there are organized gangs that go (to crash sites) to take the products in an orderly manner," he said. "Eventually, they will not wait until the truck crashes, they will just go and attack it because there is little to no consequence," he said, adding that the government does not show any willingness to protect private property.
Indeed, according to the Prosecutor General's Office, in Venezuela about 98 percent of all crimes are not prosecuted.
The non-governmental Venezuelan Violence Observatory said that during 2014 the South American country registered 24,980 violent deaths, or 82 per 100,000 residents.
These figures make Venezuela the country with the second-highest homicide rate in the world, exceeded only by Honduras, with 104 killings per 100,000, according to studies presented by the World Health Organization.
EFE contributed to this report.