Hungary's Viktor Orban, running on anti-mass migration platform, eyes fourth term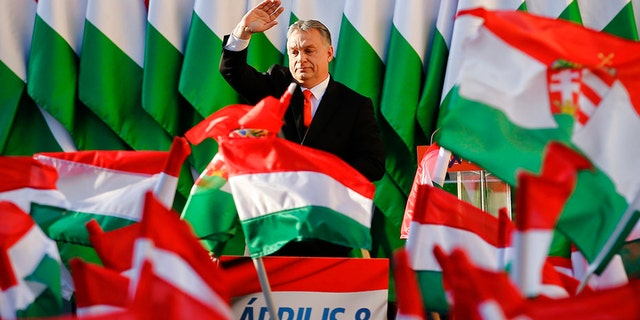 Hungary's right-wing ruling Fidesz Party, led by outspoken Prime Minister Viktor Orban, looks likely to emerge victorious in the country's elections Sunday after sticking to its Trump-like policies on illegal immigration -- although it may find its majority in parliament weakened.
While issues such as the economy are high on the agenda, mass migration has been the dominant issue for Orban and his party since 2015. Hungary was on the frontlines of the initial wave of migrants from the Middle East, with hundreds of thousands of migrants flowing through Hungary until Orban's government implemented strict border controls and a fence across its border.

"One bad decision, one step in the wrong direction, and our downhill course will be unstoppable", Orban said Wednesday, adding that "once again there are those who want to take our country from us, who want us, too, to become an immigrant country."

"We leave it to the voters but this is a very clear question that should be decided, whether they would like to have a Hungarian Hungary or a Hungary occupied by migrants," Foreign Minister Péter Szijjártó told Fox News this week.

Orban's hardline approach has sparked ire from human rights groups and international pro-migration governmental organizations such as the U.N. and the European Union. Orban has also accused left-wing billionaire George Soros, who was born in Hungary, of sponsoring anti-Orban forces.

Orban's government has stuck to its rhetoric, regularly using language about "Muslim invaders" to describe the flow of migration in language that has won him support not just in Hungary but from the nationalist-populist movement in Europe and the U.S.

"If you take masses of non-registered immigrants from the Middle East into your country, you are importing terrorism, crime, anti-Semitism, and homophobia," he said in an interview with Bild in January.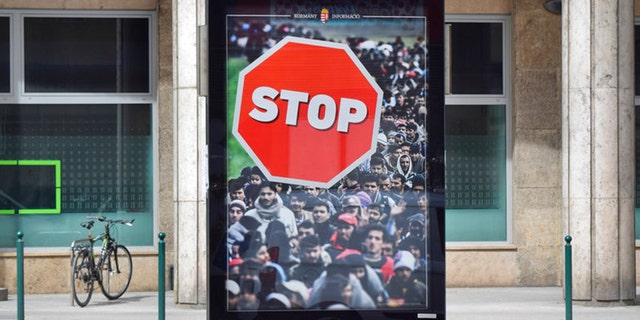 Polls suggest that on Sunday, Orban will be rewarded with a fourth term as prime minister -- but with a reduced majority. Some analysts suggest that three years after the migration wave crashed against Hungary's borders, voters are itching for something other than a migration-first campaign.

"Fidesz has lost its adaptability as a skill. The whole machinery is so built on this anti-immigration narrative," Peter Kreko, an analyst at Budapest-based think tank Political Capital, told The Wall Street Journal. "It's like the air you breathe: Switch on the TV, you see it. Switch on the radio, you hear it."
Orban's Fidesz Party is being squeezed by opposition from parties to its left, plus from the far-right Jobbik. Some of the splintered opposition parties are urging supporters to vote tactically in order to prevent a Fidesz victory, and believe that if there can be a united anti-Fidesz push, they can overturn Orban's majority.

"People may not even vote for their favorite party or candidate but rather for the one with biggest chance" to defeat Fidesz, Jobbik leader Gabor Vona said, according to the Associated Press.
Opponents are hoping to unite by focusing on Orban's anti-democratic and authoritarian moves, countering by promising to expand press freedom, increase anti-corruption efforts and restore checks and balances they say have been eroded during the Orban-era.
Critics accuse Orban of allowing corruption, squashing the free press and rigging the political system. This week Jobbik launched an anti-corruption package that would increase punishment for corruptions and lift parliamentary immunity among other measures.
"The Orban regime is a hybrid regime between democracy and dictatorship," Gergely Karacsony, the prime ministerial candidate of the Socialist Party and the Dialogue party said, according to The AP. "This isn't one election among many, where people vote about their judgment of a good or fairly good government. This is about the social model which has solidified in Hungary."
But Foreign Minister Szijjártó told Fox News that, with the memories of the initial migration wave still in the minds of Hungarians, when tens of thousands of migrants entered the country and turned a railway station in Budapest into a refugee camp, migration is still the main issue on voters' minds. He also criticized the approach by the European Union as a failed approach that prioritizes political correctness over national security.
EUROPEAN LEADERS, FACING GROWING PUBLIC EASE, TOUGHEN UP ON IMMIGRATION

"There has been a very hypocritical and politically correct approach to migration in Brussels but Hungary has always looked on it as a security issue," he said. "For us security comes first, the number one priority is securing the Hungarian people and that Hungarians can make the decision on who should be allowed to come into the country. We are the only ones."

Orban's government welcomed President Trump's victory in 2016, meaning the White House now shared Hungary's skepticism on immigration that European leaders had tried to dismiss as fringe and far-right.

Szijjártó told Fox News that they have seen a more receptive attitude from the U.S. government since Trump's election. He noted that there are currently 1,700 U.S.-based companies in Hungary, at which 100,000 Hungarians are employed.

"We understand we share similar approaches on migration -- that the security of our own people comes first," he said, adding that the fence was built before Trump was elected.

The Hungarian government has also claimed success with those policies. Orban's government says that there are still a number of attempted crossings, but they have all been thwarted since they upped their security at the border.

"There are still dozens of attempts on a weekly and daily basis to cross the border illegally but we have the fence and we have the army, and since the fence, we have not allowed one single illegal migrant into our country," he said.

The Associated Press contributed to this report.