Hungarian foreign minister says fence on Serbian border to remain during migration pressure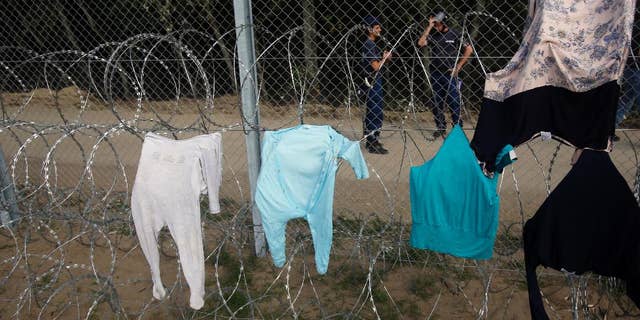 BUDAPEST, Hungary – The razor-wire fence Hungary is building on its border with Serbia is needed to secure the European Union's external border and will remain as long as large numbers of migrants keep trying to enter the country, Hungary's foreign minister said Wednesday.
Foreign Minister Peter Szijjarto told The Associated Press that "only a physical obstacle" could help Hungary protect its border with Serbia as long as migrants were able to pour into fellow EU member Greece and then make their way north.
"This is a 175-kilometer long border out of which 155 can be crossed very easily, there is no geographical obstacle," Szijjarto said. "The only way to defend such a long border, which is easy to be crossed, is a physical obstacle. With manpower you just simply cannot do it."
More than 201,000 migrants have entered Hungary since the start of the year, before tougher migration rules and a larger police presence at the fence still under construction were put in place Tuesday. Many of the migrants are war refugees from the Middle East, who pass through Hungary quickly on their way to Germany or other wealthy Western European nations.
Szijjarto urged the EU to send forces to help Greece control the influx, to which Hungary would make a "massive contribution."
"We should put together a European force ... to defend the external border of (the) EU in Greece," Szijjarto said. "It is obvious that Greece is not able to do so."
"If we are able to defend the border of Greece, then that migration pressure will be much lower in Hungary," Szijjarto said, adding that disabling boats used by human traffickers on the Mediterranean Sea would help reduce the number of migrants. "Before smugglers or traffickers are able to board the people on the boats, we have to make them unable to do so."
Szijjarto insisted most were not refugees but economic migrants who Hungary would not take in.
"We cannot accept economic migrants because we cannot bear the burden of that," Szijjarto said. "Someone who escapes from Syria, for example, and then arrives in Greece, why does he or she leave Greece for Macedonia, why does he or she leave Macedonia for Serbia, then for Hungary, then for Austria, then for Germany ... there is an economic motivation."
Szijjarto said those arriving from Serbia and applying for asylum in Hungary would be sent back to Serbia if their claims are rejected.
While Hungary received more than 90 asylum requests Tuesday, after the new rules began to be enforced, 26 were quickly rejected and none had been approved by early Wednesday.