Hundreds of Ukrainians clash with Kiev police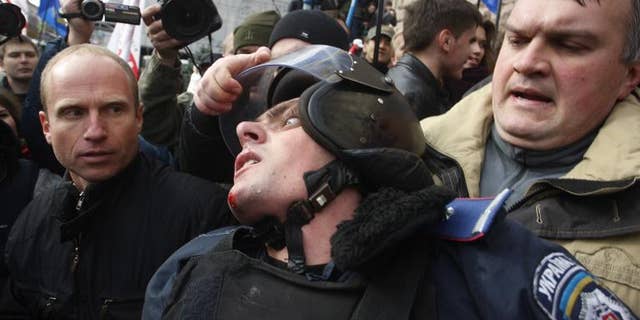 Kiev (AFP) – About 400 Ukrainian opposition activists clashed with baton-wielding police in the centre of Kiev on Wednesday as they try to force fresh elections in the capital.
The activists, many of them supporters of jailed former prime minister Yulia Tymoshenko and boxer-turned-lawmaker Vitali Klitschko, tried to break through a police cordon and enter the city council building to break up its regular meeting.
Police said four activists and a journalist were briefly detained over the clashes. One police officer was hospitalised.
They denied activists' charges that teargas had been fired at the protesters, accusing them of setting off smoke bombs.
The Kiev legislature is controlled by allies of Ukrainian President Viktor Yanukovych, whose political control over the city has been helped by a court decision to extend the current session indefinitely.
City lawmakers are elected to five-year terms. But the last elections, in 2008, were held two years ahead of schedule because of the premature dissolution of the chamber during a political crisis.
The opposition wants the pro-Yanukovych parliament to set a new election date for later this year.