Hugo Chavez travels to Cuba for another cancer operation after designating VP political heir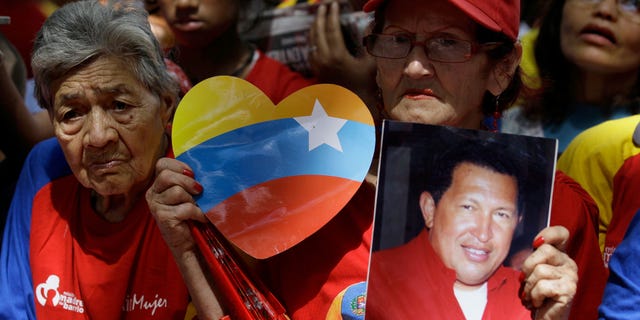 CARACAS, Venezuela – Venezuelan President Hugo Chavez flew to Cuba on Monday for a third cancer operation after designating the vice president as his political heir.
State television showed images of Chavez hugging Vice President Nicolas Maduro and other aides before boarding the presidential jet.
Chavez raised a fist as he climbed the stairs alone. From the doorway of the plane, he waved and shouted "Long live our homeland!"
The president has said he will undergo cancer surgery in Havana in the coming days. Chavez, who had returned from Cuba early Friday, said on television Saturday that tests had found a return of "some malignant cells" in the same area where tumors were previously removed.
He also said for the first time that if he suffers complications, Maduro should be elected as Venezuela's leader to continue his socialist movement.
State television reported that Chavez departed for Cuba after 1 a.m. on Monday. Video of his departure was shown hours later.
"I hope to return soon," Chavez said at an earlier meeting with military commanders where he promoted his defense minister, Diego Molero, to the rank of admiral in chief.
Seated together at the presidential palace, Chavez showed Molero and other military commanders a golden sword that once belonged to independence hero Simon Bolivar. Chavez held the sword as he told the officers that he fully trusts them.
He also warned of potential conspiracies by enemies, both foreign and domestic.
"I'm totally sure that our homeland is safe," Chavez told them. He urged them "not to give in to intrigue."
Chavez, a former army paratroop commander who was first elected in 1998, won re-election in October and is due to be sworn in for a new six-year term on Jan. 10.
Lawmakers on Sunday voted unanimously to grant Chavez permission to leave the country for the operation.
He has called his relapse a "new battle" and said there are risks. It will be his third operation to remove cancerous tissue in about a year and a half.
The president underwent surgery for an unspecified type of pelvic cancer in Cuba in June 2011, after an earlier operation for a pelvic abscess. He had another cancer surgery last February after a tumor appeared in the same area. He has also undergone chemotherapy and radiation treatments.
Chavez said in July that tests showed he was cancer-free. But he had recently reduced his public appearances and on Nov. 27 returned to Cuba for hyperbaric oxygen treatment. Such treatment is regularly used to help heal tissues damaged by radiation treatment.
Chavez's supporters poured into city plazas across the nation on Sunday to pray for his recovery. Some wiped tears, while others held photos of him and chanted in unison: "Ooh-Ah! Chavez isn't going away!"
_