Houthis explain 'Death to America' slogan, reveal what will bring them to peace talks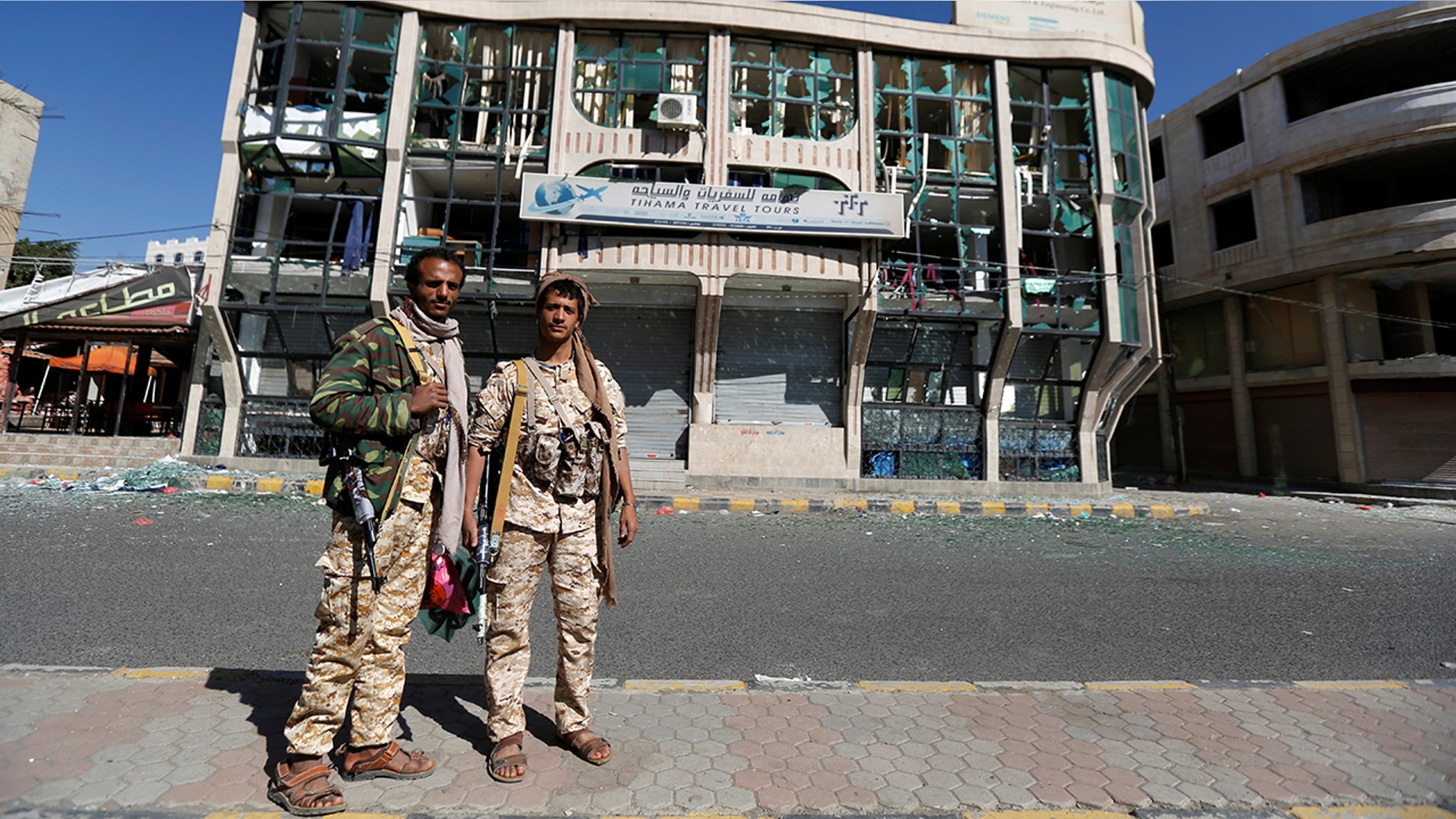 EXCLUSIVE – MUSCAT, Oman -- For more than three years, the international community and UN top brass have been unsuccessfully trying to orchestrate an end to the bloody war in Yemen, waged between a Saudi Arabia-led coalition and the Iran-aligned Houthi insurgency group.
And while peace in the blood-spattered country remains far from reality, as the humanitarian crisis continues to spiral and the death count rises, the rebel group is holding firm, and blaming the UN for sending the peace process "backwards."
"We can say right now the political process is suspended," Mohamed Abdel Salam, the spokesman for the Houthi group, known officially as Ansar Allah -- "Helpers of God " -- told Fox News in an exclusive interview in Muscat, Oman -- a country considered to be a neutral player in foreign policy affairs.
Salam says that Martin Griffiths, the British diplomat who took over as the UN envoy to Yemen in March after his two predecessors quit in frustration, has quickly fallen onto a failing path that needs to be redirected.
"He has a plan which he called 'the principles.' But it is a weak plan. He talked about partial solutions like Hodeidah port and others on the humanitarian level; he didn't do anything. He didn't release any prisoners, he didn't break the surrounding Sana'a and Aden [conflict], he didn't open the airport, he couldn't arrange for any transfer of patients and injuries," Salam lamented. "On an economic level he couldn't push the other party to pay salaries so we can say that there is nothing tangible regarding any political process."
Griffith's UN office did not respond to a request for comment, but others well-versed in Yemen affairs contended that the current UN envoy enjoys broad support amongst the international community regarding his efforts to bring the opposing parties to the negotiating table.
"The envoy presented his new peace framework to the council last month. The biggest challenges facing this, and previous, UN Special Envoys has been the sequencing of security and political arrangements, the inability to bridge the distrust between the warring parties, and also to have them trust in the UN-led peace process," said Waleed Alhariri, director of the New York office, Sana'a Center for Strategic Studies. "That said, Griffiths' proposal is the only platform currently on offer to bring the warring parties together, which is needed to head off Yemen's precipitous economic collapse and the continued proliferation of new, autonomous armed groups and militias."
Most recently, Yemen has hit the headlines amid fears of a global catastrophe if the coalition moves forward on its currently stalled quest to liberate Hodeidah port from Houthi control, prompting concerns over civilians caught in the crossfire, who are being deprived of the vital food and medicines imported from the crucial port.
Yet Salam insists that it is willing to lay down arms -- but with clear caveats. "The solution" from the Houthi point of view must be "comprehensive," rather than a fragmented agenda that looks at single issues, Salam insisted.
"What we mean by a comprehensive solution plan is that there should be a new presidency and there should be a transitional presidency at least. The transitional government should have specific tasks to accomplish with a specific period," he said. "The president should be someone who is accepted by all parties and he shouldn't be a party of the crisis itself. Hadi is considered part of the problem party."
But some analysts say acceptance from all sides is no longer a realistic end to the conflict.
"The only way this is resolved is if the Saudi-led coalition takes full control of the area and pushes the Iranian rebels out. The iterative approach proposed by Martin may be the only approach since an overall plan leaves too many options for rejection. Outright rejection is guaranteed if a comprehensive plan is offered," said Jeff Bardin, chief intelligence officer of Treadstone 71. "Current delays provide both sides the option to look as if they are standing down when reinforcements and preparation for a final battle at the post is imminent. This will be bloody, long and protracted, something the coalition does not want."
The Saudi-heralded coalition, which receives some logistical support from the U.S. and U.K. and buys weapons from American companies, intervened over its border in March 2015 in an effort to usurp the Houthi's control of the capital city Sana'a and restore the internationally-recognized Yemen government, and its standing President Abdrabbuh Mansur Hadi, from exile.
While the coalition is adamant that Hadi represents a legitimate government and the right to lead, the Houthis perceived him as being "too controlled" by Saudi Arabia even before the war broke out.
'The only way this is resolved is if the Saudi-led coalition takes full control of the area and pushes the Iranian rebels out.'
"The presidency should be a committee. There should be a head plus four individuals and they should represent all sectors of society and it should be a unity government that combines all parties," Salam explained. "This government should not look down on or go against any party in Yemen. They should be part of it, part of that government. This authority should be accepted by all parties."
And even though peace talks have made no progress in recent weeks, Salam said the Houthis are ready for some sort of temporary ceasefire or cessation of hostilities.
"This can be accomplished if there is a will. There should be ceasefire committees for all parties, including the UN. They should supervise all fronts," Salam noted. "Martin [Griffiths] should announce the time and the date for the troops and everyone should accept it and they should have agreement backed by everyone."
However, deep distrust permeates not only the warring parties, but within the Houthi Movement itself. The opposition group went on to kill Yemen's former President Saleh in December last year. Saleh, who once fought the rebel outfit, switched sides and mobilized their support before the Sana'a takeover in 2014, in a bid to regain power after having been made to pass the baton to his now exiled vice president, Hadi.
The brutal and sudden death of Saleh in the streets of Sana'a was largely viewed as being something of a mistake by many Yemenis and international observers, illuminating their barbarity. Salam says the rebel group has no regrets and Saleh's death has made them "stronger" as they believe he was secretly colluding with the enemy.
"Many problems were solved. Saleh was an opportunist, he would take whatever was there," Salam said. "What he got was a natural result. We think any future of Yemen would be more stable without Saleh."
And while Salam denied that the Houthis receive significant amounts of support from the Shi'a-governed Iran, dismissing it as "Saudi Arabian propaganda to justify their war to the world," he did elaborate on the group's Tehran-inspired "Death to America, Death to Israel, a Curse Upon the Jews. Victory to Islam."
"These slogans express how upset we are about the U.S. foreign policy in this region and how we think they are responsible for events in this region," he said. "We believe that Saudi Arabia is not carrying it, this war, against us alone. It is supported by the U.S. Therefore, U.S. is killing children."
U.S. involvement in the Yemen conflict has become increasingly controversial in recent months. Although various bipartisan efforts by lawmakers to force America entirely out of the "illegal war," as termed by the Friends Committee on National Legislation, efforts have fallen flat given the U.S.' strong ties to Saudi Arabia and its reliance on them to help fight Al Qaeda and ISIS in southern pockets of Yemen.
As it stands, the U.S. supports the Saudi-led coalition by assisting with logistics such as air refueling and has fired Tomahawk missiles at radar sites operated by Houthi rebels inside Yemen.
And in a parting note, the Houthi spokesperson hinged on whether the group should take its "verbal" statements any further.
"Saudi Arabia uses American weapons. And the coalition operation room in Riyadh has officers supporting and providing coordinates," he added. "So actually they are killing us. Why are we just saying 'Death to America'?"