Historic Seoul eatery where backroom politics flourished is dismantled to make way for hotel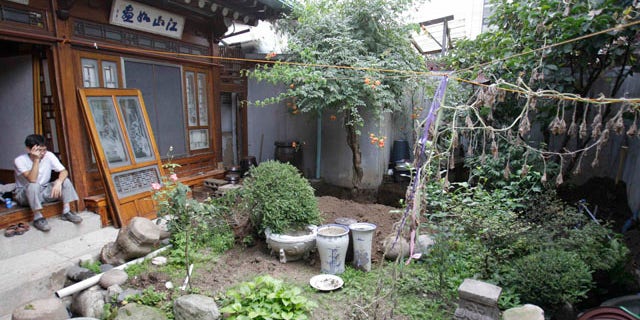 NEWYou can now listen to Fox News articles!
SEOUL, South Korea – SEOUL, South Korea (AP) — For decades, the sprawling, stately restaurant in one of Seoul's oldest neighborhoods was the place where South Korea's politically powerful brokered backroom deals while being served and serenaded by female entertainers.
South Korea's spy chief made history there when he chose Ojinam as the venue for a secret meeting with North Koreans at the height of the Cold War.
Now Ojinam, one of the last restaurants of its kind and among Seoul's most famous examples of traditional Korean architecture, is coming down to make way for a chain hotel in what may be the end of an era in South Korean politics.
"It's regrettable that the Ojinam is being torn down. A page of our history is also disappearing," said Yun Sang-koo of the National Trust of Korea, a civic group that champions the preservation of the country's fast-disappearing historic buildings.
In its heyday, Ojinam was one of Seoul's top restaurants, with patrons — exclusively men — feasting on simmering casseroles and rice wine to the singing and dancing of "gisaeng," the Korean equivalent of Japan's geisha. It boasted about 50 entertainers and dozens of rooms made private with sliding rice paper doors.
But over the decades, Seoul has undergone major transformations — socially, politically and physically.
War flattened much of the city, and in the rush to rebuild and develop economically, thousands of old wood-frame homes and buildings that once dotted Seoul's former imperial city were torn down.
The popularity of "yojeong" backroom politics has made way for more modern "room salons," where the wining and dining is done to whiskey, karaoke and women in miniskirts.
Today, scaffolding and tarps cover Ojinam's graceful, swooping eaves and obscure its peaceful, intimate courtyards, as construction crews dismantle it piece by piece, with the land expected to be bare by late October.
"I feel so sad," said Ko Sun-hee, who said she worked at Ojinam for more than 40 years. She would not say anything more about Ojinam's fate or her career at the famous restaurant.
There are no records showing when Ojinam was built, though several people familiar with it say it is nearly a century old, built during the waning days of the 1392-1910 Joseon Dynasty or just after Japan colonized Korea in 1910.
The name means "temple of the precious paulownia tree" for the graceful, flowering tree that stood on the restaurant grounds for years, according to Kim Seok-woong, the restaurant owner's former butler.
The building survived Korea's tumultuous history, including the colonial era and the division of the country into communist north and capitalist south after Japan's defeat in World War II, the 1950-53 Korean War and the years of military dictatorship that followed.
It became known as a place for the political and military elite to wine and dine their friends and rivals.
Top military officers and politicians, including army generals Chun Doo-hwan and Roh Tae-woo and opposition leader Kim Young-sam, were among those who frequented Ojinam. All three later became presidents of South Korea.
In 1972, South Korean spy chief Lee Hu-rak hosted a historic meeting there with a Red Cross delegation from North Korea, the country's avowed enemy, according to the former butler. Lee eventually brokered a joint statement in which the two Koreas agreed to work toward peacefully reunifying the divided peninsula — a milestone in the two Koreas' relations after years of animosity.
Cho Han-yong, 93, bought the restaurant in the 1960s. He shut it down last month after the tenants who ran it said they could no longer pay the rent due to declining business, and sold it to a property developer, according to the real estate agency that handled the transaction.
Cho could not be reached for comment.
Accor Ambassador, which runs nine hotels in South Korea, has signed a deal with the developer to manage the new hotel for the next 20 years, said Cho Hyun-jun, a development manager for the joint venture between Accor of France and South Korea's Ambassador Hotel group.
Cho, the development manager, refused to say what kind of hotel would be built in Ojinam's place.
However, a person familiar with the project said the developer plans to build a budget hotel. He spoke on condition of anonymity, saying it was a private business transaction. The developer could not be reached for comment.
There is no legal means to stop Ojinam's owners from dismantling the restaurant unless it is designated a cultural asset, and only about 100 buildings have that status, according to the Seoul Metropolitan Government.
However, Ojinam may not be gone forever.
Workers are taking the restaurant apart carefully, leaving open the possibility of reassembling it elsewhere, said Seo Jung-woong, the contractor carrying out the work.
He said Ojinam may find a new life with other traditional buildings in Gahoe-dong, one of the few remaining neighborhoods in Seoul where classical architecture remains intact.