Haiti rattled by aftershock day after earthquake kills at least 12
A 5.2-magnitude aftershock shook northern Haiti Sunday, one day after a 5.9-magnitude earthquake left at least 12 dead and 188 others injured.
The U.S. Geological Survey said the aftershock's epicenter was located 9.8 miles northwest of the city of Port-de-Paix and had a depth of 6.2 miles.
It was not immediately clear if any additional injuries or damage occurred as a result of the shock, which struck as emergency teams were bringing relief to victims of Saturday's quake. The USGS said that quake was centered 12 miles northwest of Port-de-Paix with a depth of 7.3 miles below the Earth's surface.
The shaking was felt lightly in the capital, Port-au-Prince -- approximately 140 miles away -- as well as in the neighboring Dominican Republic and in eastern Cuba, where no damage was reported.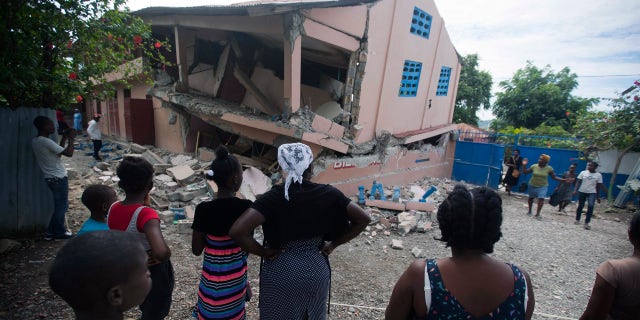 DEADLY HAITI QUAKE GAVE 'RISE TO PANIC'
Haiti's civil protection agency said at least seven people died Saturday in Port-de-Paix and three people died in the nearby community of Gros-Morne in Artibonite province. Rescue workers have said they are not looking for any more victims.
The prison and police station in Port-de-Paix were damaged, leading some inmates to try to escape. Police were using tear gas to contain prisoners inside the lockup. There was no word if any inmates had escaped.
Poverty and political instability have prevented Haiti from shoring up weaker buildings despite the two major fault lines along the island of Hispaniola, which it shares with the Dominican Republic.
JUDGE CITES EVIDENCE THAT TRUMP HARBORS 'ANIMUS AGAINST NON-WHITE, NON-EUROPEAN ALIENS'
Haiti President Jovenel Moise said on his Twitter account Sunday that civil protection brigades were working to clear debris. He also said the government had sent water and food.
In 2010, a larger magnitude 7.1 quake damaged much of the capital and killed an estimated 300,000 people.
The Associated Press contributed to this report.