Gunmen abduct 2 Canadians, Norwegian and Filipino from Philippine island resort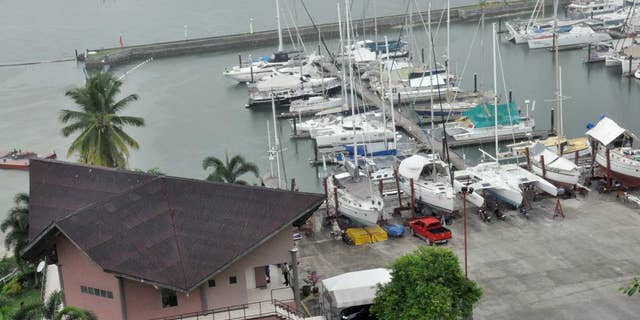 MANILA, Philippines – Gunmen abducted two Canadians, including a former mining company executive, a Filipino woman and the Norwegian manager of an upscale marina and resort complex on a southern Philippine island, sparking an air and sea search by authorities, officials said Tuesday.
At least 11 men armed with pistols arrived on a motorboat and entered the Holiday Ocean View Samal Resort before midnight Monday on Samal Island off Davao City, military officials said, citing a security video that captured part of the kidnapping.
The gunmen attempted to seize an American and his Japanese companion on one of the yachts docked at the marina, but the couple resisted and escaped by jumping off the boat. The two suffered minor injuries as they struggled to break free from the kidnappers, police said.
Government forces later heard of the abductions and launched a search.
"Unfortunately, the lead time that the abductors had and the darkness of night were able to cover the retreat of the abductors," military spokesman Col. Restituto Padilla told reporters in Manila.
Government forces on planes and helicopters were scouring the waters and coastal areas in the Davao Gulf, according to Padilla and the police.
Police identified the victims as Norwegian Kjartan Sekkingstad, who was the resort's marina manager, and Canadians John Ridsdel and Robert Hall. The Filipino woman was only identified as Tess.
Ridsdel is the former chief operating officer of mining company TVI Resource Development Philippines Inc., a subsidiary of Canada's TVI Pacific, where he is still a consultant, a company officer said.
Regional military spokesman Capt. Alberto Caber said earlier that two Japanese tried to intervene in the abductions but it was unclear whether they were actually the American and the Japanese woman on the yacht.
No group has claimed responsibility. Muslim and communist rebels, al-Qaida-linked Abu Sayyaf militants and criminal syndicates have been active for years in the restive southern region due to weak law enforcement in rural areas despite years of on-and-off government crackdowns.
Communist New People's Army guerrillas are active in the hinterlands of the Davao region, about 975 kilometers (610 miles) southeast of Manila, where they have denounced foreign mining operations and military counterinsurgency assaults.
Abu Sayyaf militants are notorious for kidnapping foreigners and Filipinos for ransom in the vast Mindanao region. In 2001, Abu Sayyaf militants tried unsuccessfully to seize hostages from the Pearl Farm Beach Resort south of Ocean View during a ransom-kidnapping spree.
The Abu Sayyaf abducted 21 people, mostly European tourists, from a diving resort in neighboring Malaysia in 2000, then abducted three Americans and 17 Filipinos the following year from the Dos Palmas resort in Palawan province southwest of Manila.
Abu Sayyaf gunmen are still holding other hostages, including two Malaysians, a Dutch bird watcher kidnapped nearly three years ago, and a town mayor. All are believed to be held by the militants in their jungle bases in southern Sulu province.
___
Associated Press writer Jim Gomez in Manila contributed to this report.