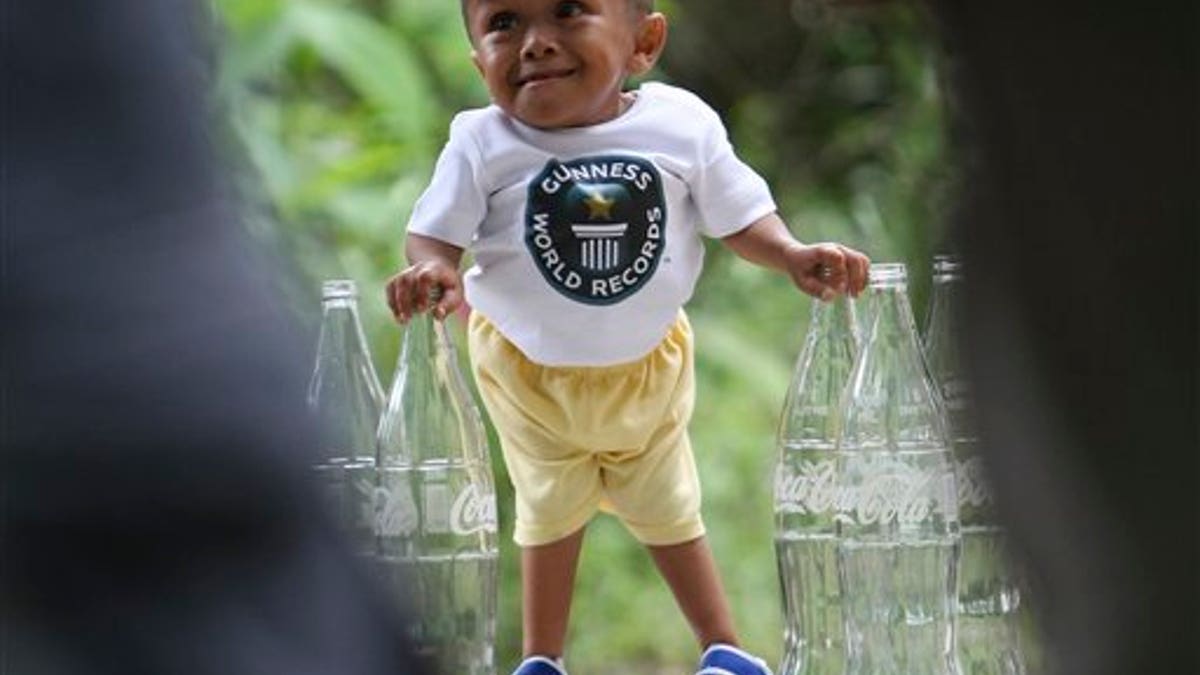 A poor Filipino blacksmith's son who stands less than 2 feet (60 centimeters) tall was declared the world's shortest man by Guinness World Records on his 18th birthday Sunday, sparking a celebration in his hometown.
The title was bestowed on Junrey Balawing in Sindangan in the southern Philippines, with his parents, villagers and officials showering the coastal town's newly famous resident with a feast, cake, balloons and cash gifts.
Balawing measured 23.5 inches (60 centimeters) during the ceremony attended by about 100 villagers and journalists. Guinness World Records representative Craig Glenday presented Balawing with official recognition of his status as the shortest adult man in the world.
Balawing, who wore a white shirt emblazoned with the Guinness seal, took over the title from Khagendra Thapa Magar of Nepal, who is 26.4 inches (67 centimeters) tall, Glenday said.
Dozens of journalists descended on Sindangan, a fishing and farming town of 90,000 located about 450 miles (730 kilometers) south of Manila, to cover the event.
"Thank you," Balawing told the crowd in a local dialect which was translated by his father, Reynaldo. Balawing blew out the candles on the cake and clapped heartily each time the crowd applauded. He was later heard saying "Kapoy," or "I'm tired."
Balawing -- who is about the size of a toddler and has a child's demeanor -- needs to hold something to be able to stand because of weak knees.
He was photographed propping himself up with empty Coca-Cola bottles, which were taller than his waistline.
Balawing's mother grew teary-eyed during the ceremony. She earlier said she was happy with her son's instant fame.
Glenday said he was struck with Balawing's lively personality and constant smile.
"Although he's short, he takes that in stride," Glenday told The Associated Press. "He has this cheeky smile."
Aside from a Guinness certificate, the crown does not come with any cash award. Glenday said he hopes the international fame will bring in gifts and donations, particularly medical supplies to ensure Balawing's health.
Nobody could explain why Balawing stopped growing a few months after his birth, his father said.
Sindangan Vice Mayor Bess Jagonio, a doctor, speculated that he may have an endocrine or a birth-related defect.
Balawing's brother and two sisters are all average size.
His family said they tried to send Balawing to school but withdrew him after he distracted other children's attention.
Local officials got the idea of informing the Guinness records committee about Balawing from journalists who learned about his size.