Gruesome ISIS video shows Turkish soldiers burned alive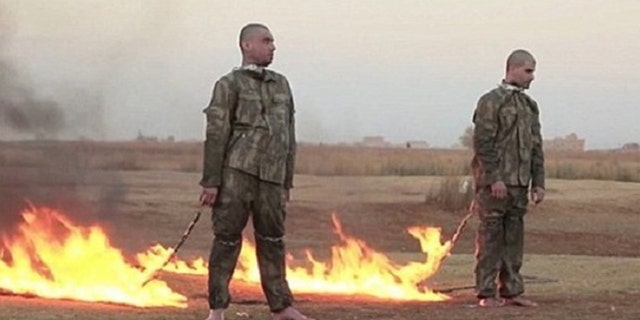 The Islamic State terror group has released a ghastly video that appears to show two captured Turkish soldiers being burned alive.
The video, showing two uniformed men being hauled from a cage before being bound and torched, was posted on jihadist websites and on Facebook, Agence France-Presse reported Friday. ISIS said the 19-minute footage was shot in its declared "Aleppo Province" in northern Syria. Its authenticity could not be independently verified.
In Turkey, the government shut down social media to keep its citizens from viewing the video.
Turkey Blocks, an Internet monitoring website, told The Associated Press it had detected the "throttling of Twitter and YouTube," affecting many users in Turkey. The Turkish government often restricts access to social media sites to suppress graphic images and other material it considers harmful to public order. The websites appeared to be back to normal on Friday.
Speaking in Turkish, the executioner denounces Turkish President Recep Tayyip Erdogan and calls for "destruction to be sowed" in Turkey.
The captives are shown chained in cages, the Russian outlet RT reported. Terrorists then lead them on all fours to their execution site, while the executioner refers to them as "dogs." The victims are heard confessing off camera to being members of a Turkish intelligence agency. But on camera, they just urge their country to stop "fighting Muslims."
The hideous images recall the ISIS execution in 2014 of Maaz al-Kassasbeh, a Jordanian fighter pilot who was captured when his plane went down in Syria and was later burned alive in a cage.
The ISIS-linked news agency Amaq said last month that the jihadists had kidnapped two Turkish soldiers, and the Turkish army separately said it had lost contact with two of its men.
The video's release came a day after 16 Turkish soldiers were killed by ISIS fighters in a succession of clashes around the northern Syrian town of Al-Bab that included three suicide car bombings.
Turkish warplanes have meanwhile carried out airstrikes over the past three days on al-Bab, killing dozens of people.