Greek Lawmakers Pass Austerity Measures Following Days of Riots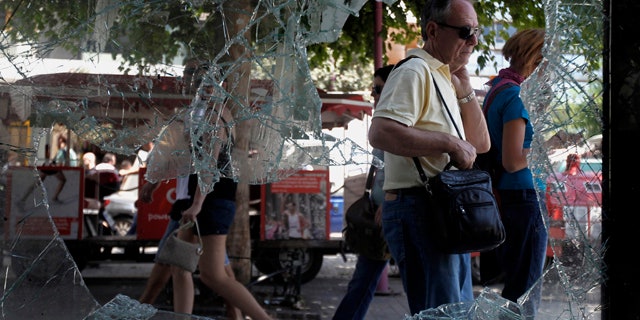 ATHENS, Greece -- Greece bought itself time to deal with its crippling debt crisis Thursday after lawmakers passed the second and final austerity bill essential for the release of crucial bailout funds that will prevent the country from defaulting next month.
The European Union and International Monetary Fund had demanded Parliament pass two bills -- an austerity law and a second bill detailing how it will be implemented -- by June 30 before they approve a $17.3 billion installment from the country's $159 billion package of rescue loans.
Without the next installment of rescue loans, Greece was to run out of money in mid-July.
Despite that overhanging threat, many Greeks were angry at yet more austerity. A 48-hour general strike and outbreaks of violence on the streets of Athens brought much of Greece to a standstill in the run up to Wednesday's vote on $40.5 billion worth of spending cuts and tax hikes and a euro50 billion privatization program.
Fears of a Greek default have weighed heavy on global markets in recent weeks -- investors have been fretting that a default could trigger a major banking crisis and turmoil in global markets, similar to what happened when the Lehman Brothers investment house collapsed in 2008 in the United States.
Concerns of a near-term default have been eased as the money will see Greece through September. That's clearly evident in the performance of global markets in the past couple of days. Athens' main stock market closed another 1.1 percent higher Thursday.
"Greece has bought more time," said economist Vagelis Agapitos. "This time however will start running out rather quickly unless Greece starts to deliver on its promises."
The worst case scenario is that Greece may only have a couple of months to show it is doing so -- in September, it will once again have to prove it has implemented all it has promised in order to receive any further funds from last year's bailout package.
One particular point of interest will be what progress it is making on the privatization drive in light of continued union opposition. Few state enterprises are immune, from the race track and ports to the state electricity company.
Even if Greece gets through the next hurdle in September, there are still real worries that the country will end up eventually having to restructure its debts -- negotiating longer repayment times or giving creditors less than the full amount owed. Many economists believe Greece will ultimately have to default on its debts at some point as the scale of the debt at euro340 billion is just too big for a country of only 11 million people to service.
For now though, the Greek government has conceded it is going to need more help and is in talks for a second bailout. Last year's package was predicated on Greece being able to tap bond market investors for cash next year, but with the country's interest rates at exorbitant levels, that looks highly unlikely.
As well as rubber-stamping the release of the next batch of bailout funds, finance ministers from the eurozone are expected to discuss the terms of a second bailout at their meeting Sunday in Brussels. The IMF is also expected to clear the immediate funds next week.
The involvement of the private sector in any second bailout is likely to feature heavily at the Brussels discussions after German banks agreed to rollover some of the debts Greece owes them. The news that the German banks are willing to contribute to a second rescue package follows on the heels of a similar announcement earlier this week from their French counterparts. Details of the initiatives remain sketchy.
"Of course we have major difficulties ahead of us," Finance Minister Evangelos Venizelos said in the debate before Thursday's vote. "It is not just that we must negotiate with the EU, the eurozone countries, our institutional partners and the IMF. The point is that in the turbulence of the of the global markets and banking system, we are victims for a large part and a test case for the strength of our institutions."
Parliament passed the second law by 155 votes to 136 Thursday, a day after voting through the main austerity bill in a vote held as rioters clashed with police outside parliament in a second day of violence.
More than 300 people were injured in two days of mayhem in central Athens, which saw rioters pelting police with anything they could find, and police responding with a barrage of stun grenades and tear gas that still lingered in the city's central square on Thursday morning. Windows at cafes and shops were smashed, and a post office housed on the ground floor of the finance ministry building torched. Burning barricades set up across central streets smoldered into the early hours of Thursday.
The austerity measures, which slap taxes even on the lowest paid, have sparked repeated strikes and demonstrations. The riots on Tuesday and Wednesday came during a 48-hour general strike that disrupted services across the country, forcing airlines to cancel or reschedule flights, halting nearly all public transport and leaving ferries tied up in port.
The EU welcomed Thursday's vote, with the heads of the EU commission and council, Jose Manuel Barroso and Herman Van Rompuy saying it was a "decisive step Greece needed to take in order to return to a sustainable path. In very difficult circumstances, it was another act of national responsibility."