Greece wildfires kill over 70, including 26 huddled near beach outside of Athens
A firestorm that swept through a seaside resort town near the Greek capital killed at least 70 people, including families with children found clasped in a last embrace near a beach as they tried to flee the flames, officials said.
The two largest wildfires — one 20 miles northeast of Athens near Rafina, the other 30 miles west of the capital in Kineta — broke out Monday during hot, dry summer conditions.
Fanned by gale-force winds that frequently changed direction, the flames spread rapidly into populated seaside towns — too fast for many who were in their cars or homes to flee, fire department spokeswoman Stavroula Malliri said. The Greek fire brigade said the death toll has risen to 74 as of Tuesday.
Greek Prime Minister Alexis Tsipras declared a three-day national mourning period for those killed in the wildfires, Sky News reported.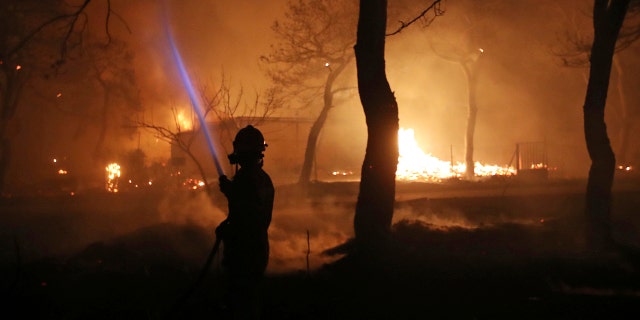 "The country is going through an unspeakable tragedy," he said. "Today, Greece is mourning and we are declaring three days of national mourning in the memory of those who perished."
In the seaside town of Mati, rescue workers found the bodies of 26 people huddled together near a beach, Reuters reported.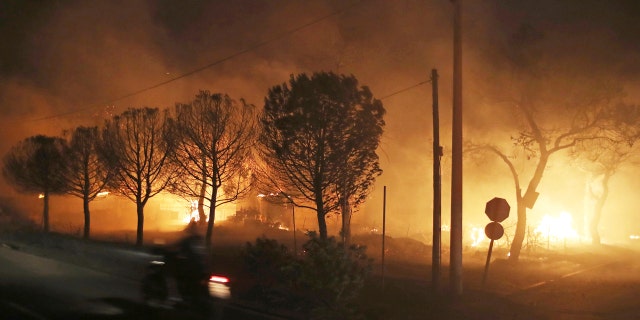 "They had tried to find an escape route but unfortunately these people and their kids didn't make it in time. Instinctively, seeing the end nearing, they embraced," Nikos Economopoulos, the head of Greece's Red Cross, told Skai TV. The group was found near several burned out cars close to a walled compound, also gutted by the fire.
Authorities evacuated more than 700 people by sea overnight as tourists and residents headed to coastal areas for help, said Merchant Marine deputy minister Nektarios Santorinios, whose ministry is in charge of the coast guard.
GREECE WILDFIRES LEAVE AT LEAST 20 DEAD, DOZENS INJURED
"Everything happened in seconds," Andreaas Passios, who lives northeast of Athens, told the AP. "I grabbed a beach towel. It saved my life. I soaked it, grabbed my wife and we ran to the sea."
Passios said he and his wife stayed by the sea for two hours: "It was unbelievable. Gas canisters were exploding. Burning pine cones were flying everywhere."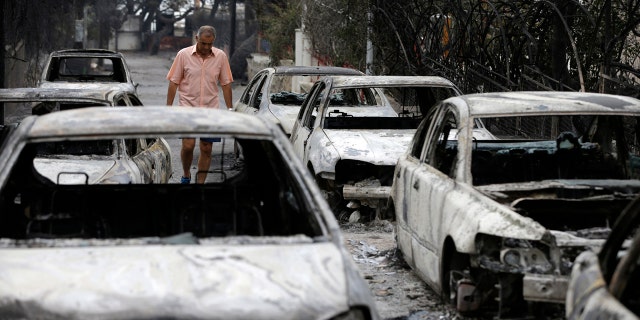 A Polish woman and her son were among 10 people who drowned when their boat capsized during an evacuation, according to a travel agent in Poland.
Janusz Smigielski, deputy head of the company Grecos, told the AP the pair were on holiday in the resort of Mati, east of Athens. Greek water police were evacuating a hotel at the time and leading 45 people to boats whenone of the vessels capsized, killing all 10 passengers.
The European Union's Civil Protection and Humanitarian Aid Pperations posted a satellite photo on Twitter showing the extent of the fires.
Another survivor spoke of the "indescribable" wind which caused the fire to spread as he fled from his summer home in Mati, east of Athens.
Nikos Stavrinidis, one of those who went into the sea for safety but was swept away, was rescued by an Egyptian crew on a fishing boat after about two hours in the water. Stavrinidis told the AP that not all of those who fled with him survived.
"The fire appeared very quickly. The wind was indescribable, it was incredible. I've never seen anything like this before in my life," he said.
"We fell into the sea and tried to distance ourselves, to get away from the carbon dioxide... but as we went further, there was a lot of wind and a lot of current and it started taking us away from the coast. We were not able able to see where we were."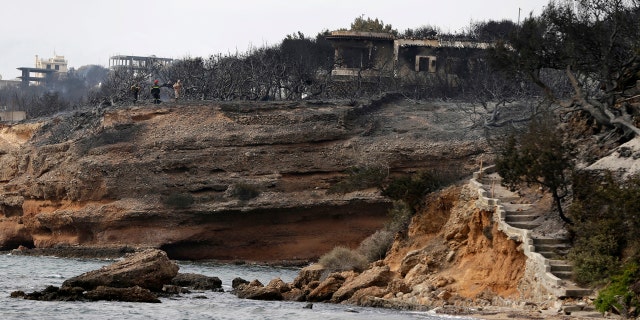 The strong winds made it hard for firefighters to tackle the fires in the area while making conditions in the sea increasingly dangerous.
2 MORE FIREFIGHTERS HURT BATTLING BLAZE NEAR YOSEMITE
"What upsets me and what I will carry in my heart is that it is terrible to see the person next to you drowning and not being able to help him," he added. "You can't. That's the only tragic thing - that will stay with me."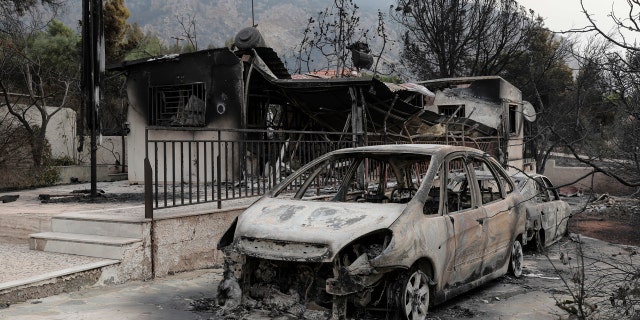 Rafina's dock became a makeshift hospital during the night as paramedics checked survivors, some of them clad in only their bathing suits, emerging from coast guard vessels and private boats. The fire department said 156 adults and 16 children were hospitalized with injuries. Eleven of the adults were in serious condition.
In all, 47 brush and forest fires broke out across Greece Monday and early Tuesday, with most of them quickly extinguished, the fire department said. Ten were still burning late Tuesday morning, including blazes in Corinth, Crete, and in central and northern Greece.
More than 400 firefighters and volunteer firefighters were battling the two fires near Athens, supported by seven water-dropping helicopters and three aircraft.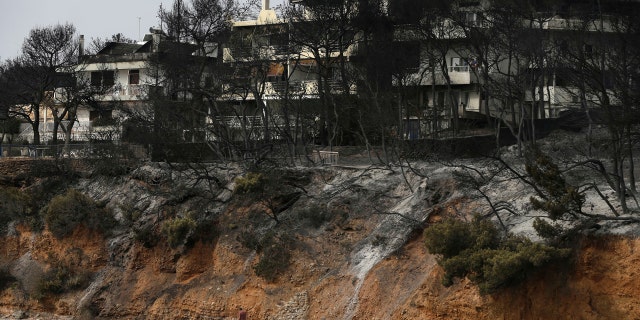 Greece sought international help through the European Union. Spain was sending two firefighting aircraft while Cyprus was sending in 60 firefighters. Israel and Turkey both also offered assistance.
It was the deadliest fire season to hit Greece in more than a decade. More than 60 people were killed in 2007 when huge fires swept across the southern Peloponnese region.
The Associated Press contributed to this report.