Grand Jury will Probe Helicopter Shooting of Immigrants in Texas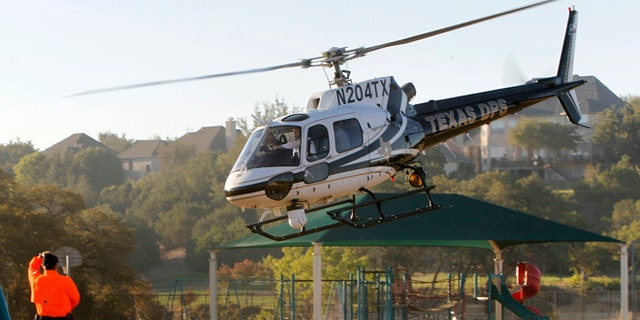 McAllen, Texas – The investigation into the shooting of two immigrants in Texas killed by a police helicopter intensified Wednesday after a South Texas prosecutor said would impanel a grand jury to probe the matter.
Hidalgo County District Attorney Rene Guerra said after meeting with investigators that the case "will be taken to a grand jury, there's no doubt about that."
The grand jury will determine whether charges should be filed after two Guatemalans hiding under a cover in a truck bed were shot by a state trooper in a helicopter trying to disable the fleeing vehicle.
You always expect that a coyote (smuggler) will abandon you. You expect that organized crime will kidnap you. You expect that common criminals will assault you. But you would never expect that a United States authority would take your life.
On Oct. 25, a Texas Department of Public Service helicopter joined in the pursuit of a pickup truck near La Joya that was suspected of carrying a covered drug load. Two undocumented immigrants were killed and a third person was injured after the trooper opened fire.
A Guatemalan diplomat said this week that Texas law enforcement agents were close enough to a pickup truck to see it was carrying people, not drugs, before one opened fire.
Alba Caceres, Guatemala's consul in McAllen, said after interviewing seven surviving undocumented immigrants there was agreement that the helicopter was 450 to 600 feet away when the trooper inside fired in an attempt to disable the fleeing vehicle. She said the trooper should have been able to see the people inside.
"They all saw it (the helicopter)," Caceres said. "All of them, including those riding up front because they were stuck against the window."
Along with the driver, four passengers were riding in the cab – three of them crammed behind the front seat, she said. The other six passengers, including the two who were killed, were in the truck's bed, covered with a sheet.
Caceres had said skepticism was building that a helicopter could fire on a vehicle without seeing people stuffed into the cabin and bed. "Neither you nor I believe it," she said.
DPS spokeswoman Katherine Cesinger said Tuesday that the incident remains under investigation, but "according to our preliminary review and irrefutable evidence, the tarp did not blow off the back of the truck during the pursuit."
She reiterated the agency's earlier statement that the helicopter crew believed the tarp was covering a load of drugs when a trooper fired to disable the vehicle. She also said it's rare for an officer to fire on a fleeing vehicle from a helicopter.
The shots killed Jose Leonardo Coj Cumar, 32, and Marcos Antonio Castro Estrada, 29. Coj was a father of three who was traveling to the United States because his eldest son needed surgery to repair an arm injured cutting fire wood, Caceres said. Castro was a father of two whose wife is three months pregnant. Both men were from San Martin Jilotepeque, about an hour outside of the Guatemalan capital.
Caceres was awaiting death certificates that would allow the bodies to be taken back to Guatemala.
U.S. Immigration and Customs Enforcement confirmed Tuesday that the seven surviving Guatemalans are in the agency's custody.
Texas Parks and Wildlife Department game wardens spotted the truck Thursday near La Joya and called for help when the driver wouldn't stop. The DPS helicopter responded and joined the chase.
Caceres has made a formal request for an investigation. The Texas Rangers, an arm of DPS that often assists other agencies in officer-involved shootings, is leading the probe.
DPS has said the troopers suspected the pickup was carrying a "typical covered drug load," and the driver was going at reckless speeds. Agency regulations say troopers are allowed to use force when defending themselves or someone else from serious harm or death. Shooting at vehicles is justified to disable a vehicle or when deadly force is deemed necessary.
The Rio Grande Valley Equal Voice Network, a group of community-based organizations, has scheduled a Thursday news conference and prayer vigil at the site of the shooting.
The immigrants' families also have been concerned because they took out high-interest loans from someone in their community to pay the smugglers and it will be difficult to pay that money back now that their relatives are in U.S. custody rather than working in the U.S., Caceres said.
The loans ranged from $2,500 to more than $6,000 at interest rates of 9 percent to 10 percent per month, she said.
"You always expect that a coyote (smuggler) will abandon you," Caceres said. "You expect that organized crime will kidnap you. You expect that common criminals will assault you. But you would never expect that a United States authority would take your life."
Based on reporting by The Associated Press.
Follow us on twitter.com/foxnewslatino
Like us at facebook.com/foxnewslatino