'Grand Day of Death to America' rally planned in Iran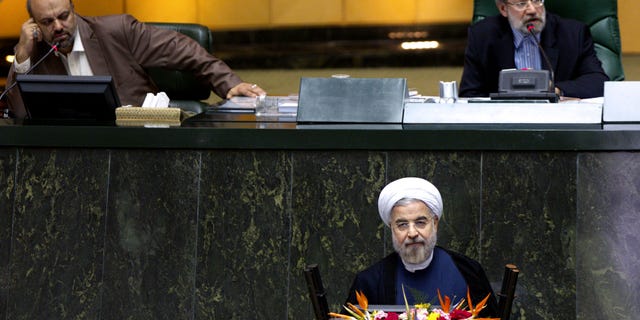 Militant factions in Iran are reportedly planning a sweeping rally titled, "Grand Day of Death to America," to coincide with the 24th anniversary of the storming of the U.S. Embassy there.
According to The National, Brigadier General Masoud Jazayeri is saying the planned Nov. 4 convocation outside the long-shuttered and now-graffiti-covered diplomatic institution in the capitol city of Tehran will be organized by a newly created bureaucratic body called the "Death to the U.S. Committee."
"The crimes of U.S. leaders and international Zionism in dealing with Iran's great nation will never be erased from public memories and minds," reportedly noted Jazayeri, the deputy commander for cultural affairs of Iran's hard-line and influential Revolutionary Guard.
And the event will not be without events to occupy a crowd officials promise will number in the many thousands.
The New York Times reports the rally will include the conferral of, "The First Major International Award of 'Down With America'" for best anti-American photograph, poster, video, song or caricature.
The paper additionally writes contest winners will receive cash awards of as much as $4,000, and be selected by a three-judge panel that notably includes Maziar Bijani, a Holocaust-denying cartoonist.
Both The National – and The Times – write hard-line elements within the Iranian state, and its theocratic regime, are paying particular attention to this year's annual anniversary of the embassy attack in light of recent overtures made to the west by the nation's comparatively dovish newly elected president Hassan Rouhani.
Specifically, Rouhani spoke by phone with President Barack Obama during this year's U.N. General Assembly, and both nations are part of ongoing, multilateral nuclear arms negotiations in Switzerland.
"There are elements in Iran who believe the ("Death to America") chant and what it represents – a call for an end to imperialism and U.S. hegemony rather than death to Americans – is crucial to the maintenance of the revolutionary spirit," Hooman Majd, a New York-based Iranian-American author told The National. "They believe without it and the animus against the U.S., the revolution will crumble."
The Times reports some Iranians – of late – have mandated the age-old "Death to America" slogan be shouted at all public events, and last week, members of the nation's parliament even employed it during one of their sessions.