Glimpse of Chinese New Year: Emperor returns to Beijing in re-enactment that embraces history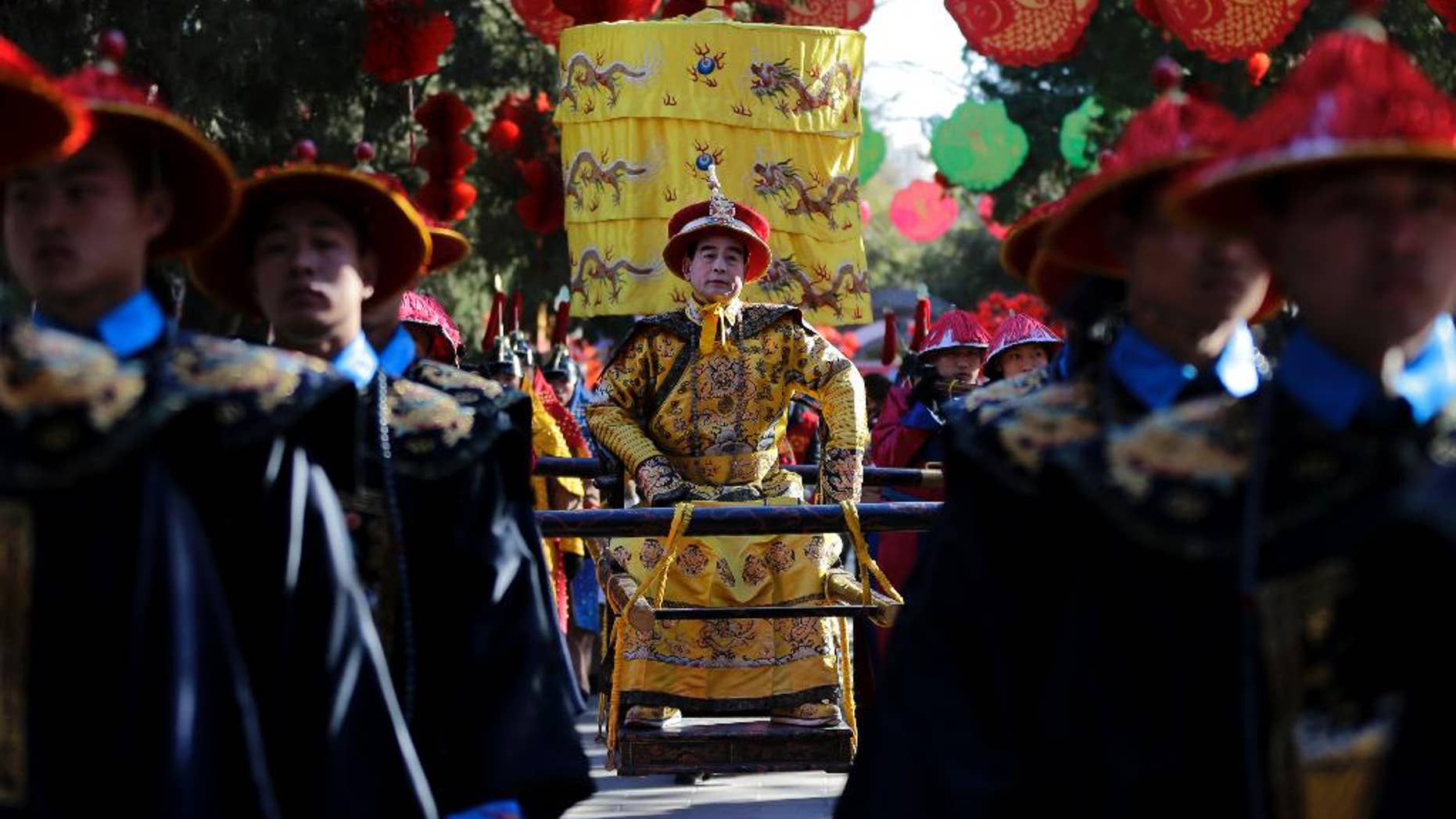 BEIJING – Outfitted in a robe of yellow silk embroidered with dragons, the emperor is carried in a procession of warriors in the blue robes and red helmets of the Manchu army that conquered China in the 17th century.
This photo by Associated Press photographer Andy Wong shows Qi Xue'en, seated and stone-faced, as he plays the role of a Qing Dynasty emperor during a re-creation of an ancient sacrificial ceremony at Beijing's Ditan Park, the "Altar of the Earth," on the eve of the Lunar New Year. Thursday marked the start of the Chinese Year of the Sheep in keeping with the ancient 12-year astrological cycle.
"I have been playing the part of emperor since 1990. I have two apprentices and several pupils now," Qi, 58, said Wednesday. "Today and tomorrow, I will play the part of emperor, so I can send New Year's greetings to people I know. Let the pupils play on the second and third days of the Lunar New Year. I am getting old."
Such re-enactments have grown increasingly common as China re-embraces its popular history and seeks to promote models of loyalty, honesty and filial piety.
Ditan Park is one of four altars dedicated to worship of the natural elements under the principles of Chinese cosmology and geomancy, popularly known as feng shui. During the seven-day Lunar New Year holiday, the parks throng with visitors shopping for festive goods, joining in carnival games and taking a break from hectic modern life.
Each day this week, the AP will showcase a single Chinese New Year-themed photo from around the Asia-Pacific region, illustrating what China's biggest holiday means to the country and its extensive Chinese diaspora.