Gay pride flag hoisted above US embassy in Israel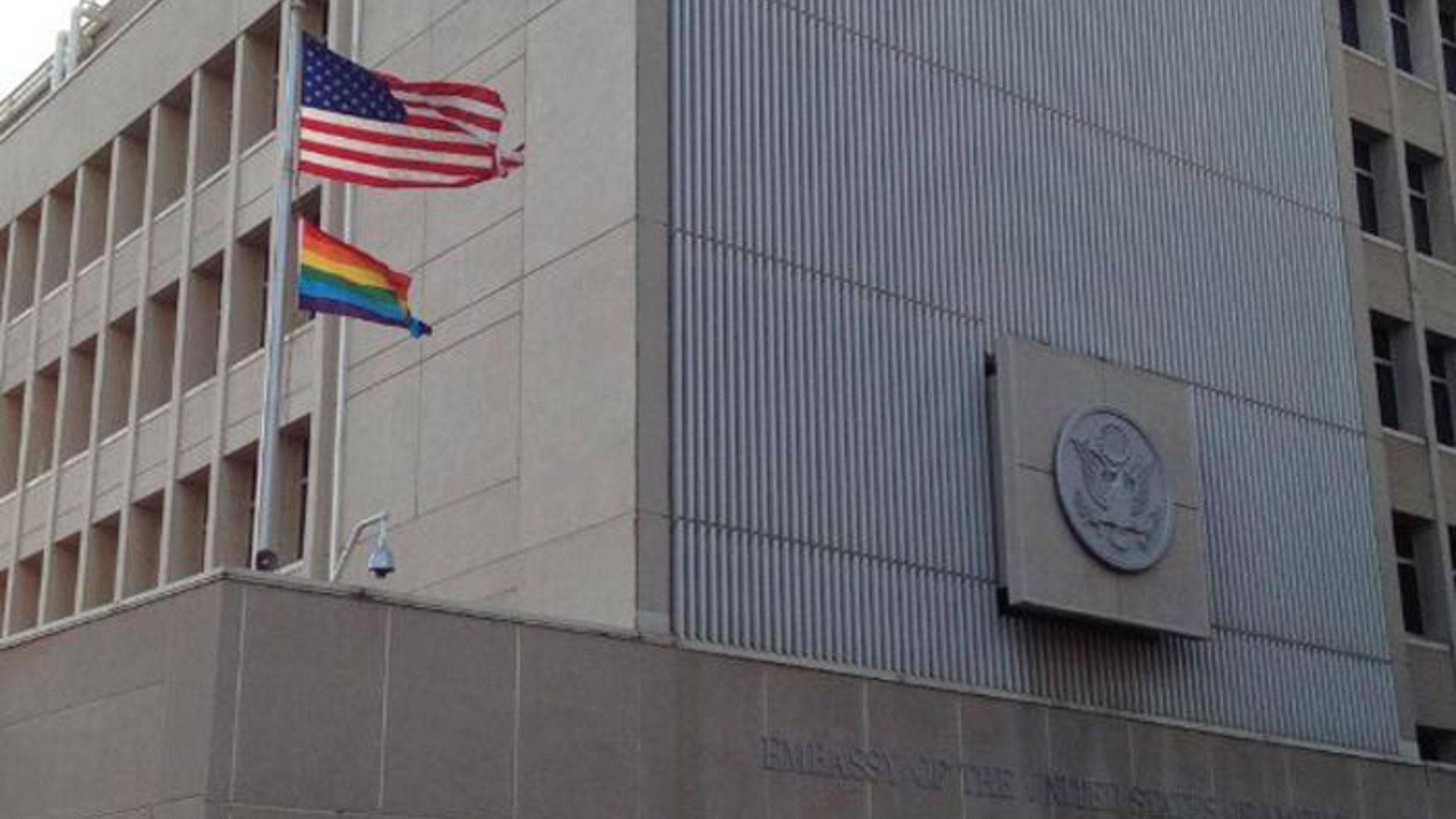 TEL AVIV – The U.S. Embassy broke new ground and raised a few eyebrows by flying the rainbow-colored gay pride flag below the Stars and Stripes in a show of support for the city's week long Gay Pride week, not to mention a rare example of tolerance in the wider Middle East.
"Proudly flying the colors!" read a dual-language post on the Facebook page of U.S. Ambassador Dan Shapiro's office. "For the first time in history, the U.S. Embassy in Tel Aviv has raised the Pride flag together with our American flag. We are proud to join with the municipality of Tel Aviv-Yafo and its residents in celebrating LGBT [Lesbian, Gay, Bisexual and Transsexual] Pride Week."
The Tel Aviv embassy gesture to the local gay community is not the first of its kind though. Last month, according to Spanish media reports, the gay pride flag flew over U.S. Ambassador James Costos' official residence in Madrid, and last September, the flag was unfurled by Ambassador Theodore Sedgwick at the U.S. Embassy in Bratislava, in Slovakia.
Reaction from outside of the gay community to the sight of the American flag being accompanied by the rainbow banner was mixed.
"I see that it is OK to put up a gay pride flag over an embassy but not ok for military members to espouse their religious beliefs in God," read a post on the Embassy's page, attributed to Grant Hix Jones. "I am ashamed to see those flags side by side."
"How is this "gay pride flag" representative of all Americans?" wrote a poster named James Brown. "This flag needs to come down."
While most people posting messages on the embassy Facebook page expressed various shades of disapproval, on the other side of the debate there were those in favor of hoisting the gay flag, with "Way to go!" and "Proud" being among the posted comments.
An embassy official told FoxNews.com all the responses were appreciated.
"We are glad to see our Facebook page utilized as a forum for free speech," the official said.
Shapiro announced late last month that the flag would fly above the building, noting "the United States' strong support for the LGBT community at home and abroad."
Corey Bardash, co-chairman of Republicans Abroad-Israel, said embassies in neighboring countries would be displeased by such a display.
"Regardless of one's religious or political sensitivities this is the only country in the Middle East where America would feel its embassy wouldn't come under attack by doing such a thing", Bardash told FoxNews.com. "I remember when, not so long ago, [former Iranian President Mahmoud] Ahmedinejad said there are no gay people in Iran!"
"This is part of society here, despite the fact we have a large, traditional, religious minority," Bardash continued. "It shows that there is a little island in the Middle East that shares the same democratic values as America. It's shocking that there are some LGBT overseas that are against Israel, something completely against their own interests when there are death sentences in [Muslim] countries around the region against their own gay communities, including close by here with the Palestinians."
Paul Alster is an Israel-based journalist who can be followed on Twitter @paul_alster and at www.paulalster.com