Gabriele Amorth, prominent exorcist priest, dies in Rome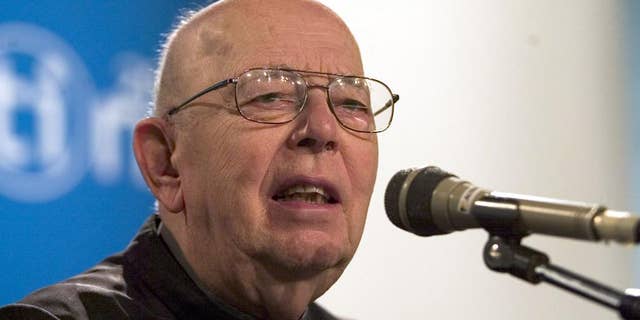 NEWYou can now listen to Fox News articles!
ROME – Rev. Gabriele Amorth, a prominent Roman Catholic exorcist, has died after a long illness, an Italian care facility said Saturday. He was 91.
Santa Lucia Foundation, a Rome rehabilitation center, said Saturday that Amorth died a day earlier in another Rome hospital where he was recently transferred after his health worsened. Foundation officials said he had suffered from various respiratory and circulatory problems.
Exorcism in the Catholic Church received more attention after Pope John Paul II repeatedly sought to convince skeptics the devil was very much active in the world. During his papacy, the Vatican issued guidelines for driving out devils and stressed the power of evil.
Amorth, who began serving as an exorcist for the Rome diocese in 1986, published several books exploring the theme of good and evil. The books include "Get Behind Me, Satan!," ''Stronger Than Evil," and "God More Handsome Than Evil," which is described by his publishing house as his "spiritual testament."
The Italian news agency ANSA said a few months ago that Amorth lamented in comments that many people — priests and laypersons — described themselves as his close collaborators. He said that wasn't true, adding that his closest aides were very few and "live with extreme reserve and discretion."
ANSA said Amorth had said he found himself faced with true demonic possession at most 100 times, although the diocese received far greater numbers of requests for exorcisms.
Amorth also collaborated with Famiglia Cristiana, a popular Italian Catholic magazine and with Radio Maria, a conservative Catholic broadcaster.
In a 2006 interview with Vatican Radio, Amorth said that "exorcism is something which you believe in because deeds happen that reason cannot explain," but which teaching in the Bible can help understand. He described evil spirits as "angels, created as good by God, who rebelled, and due to hatred of God they tempt man toward evil."
Amorth said in that interview that the devil can possess groups of people, not just individuals.
"For example, I am convinced that the Nazis were all possessed by the devil. If you think about what types like Stalin, Hitler did ... certainly they were possessed by the devil," he said.