G-8 calls for removal of Al Qaeda fighters in Syria, but doesn't mention Assad's fate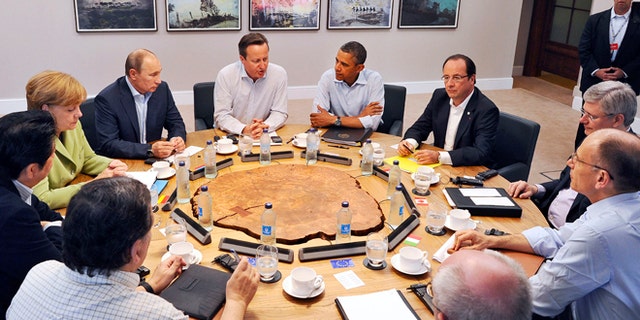 The leaders of major industrial nations including the U.S. and Russia said in a Group of Eight declaration that they are united in wanting a negotiated and peaceful end to the Syrian civil war that will produce a government "that inspires public confidence," but they did not call on Syrian President Bashar Assad to step down.
The declaration at the end of the two-day G-8 summit Tuesday in Northern Ireland seeks to narrow the ground between Russia and Western leaders on starting peace talks in Geneva that could end with the ouster of Assad from power.
Russia refused to back a declaration that made such a goal explicit.
Tuesday's G-8 declaration also participants in any peace talks must agree to expel Al Qaeda-linked fighters from Syria. It commits a further $1.5 billion in aid for Syrian refugees and condemns human rights abuses committed by government forces and rebels alike.
And reflecting the profound divisions that remain after two days of talks, the British host, Prime Minister David Cameron, declared in response to reporters' questions that it was "unthinkable" that Assad could play any role in Syria's post-talks government.
"He has blood on his hands. He has used chemical weapons," Cameron said, a position rejected as unproven by the Russians.
Russian President Vladimir Putin said arms supplies to the Syrian opposition would destabilize the situation even further.
"Any decisions to provide the opposition with weapons based on unconfirmed accusations against Damascus of using chemical weapons will only further destabilize the situation," Putin said at a news conference.
Earlier Tuesday, Russian Deputy Foreign Minister Sergei Ryabkov told reporters that the Geneva talks should aim to create a transitional coalition government for Syria, but should not predetermine whether Assad can participate in that government.
"It would be wrong and harmful and violate the political balance," he said. "We cannot dictate to the participants in the process how it's going to end, otherwise it makes no sense to even start it."
Ryabkov dismissed Western claims that Assad's forces used chemical weapons as unproven, and said they require further investigation.
"We cannot agree to biased interpretations and groundless claims that the government of Syria has used chemical weapons," he said.
He said a new probe involving an international chemical weapons watchdog and the World Health Organization should be assigned to investigate the validity of such claims.
He said Syria should join an international treaty banning chemical weapons and destroy its arsenal of such weapons.
Prior to the release of the declaration, President Barack Obama and Russian President Vladimir Putin staked out diametrically opposite stands on which side in Syria deserves military support.
The U.S. remains committed to Obama's recent decision to arm the rebels and Russia did not budge from its weapons sales to President Bashar Assad's regime.
Yet even as Obama found common ground among European allies against Putin at the G-8 summit, the U.S. president also struggled to convince some of those same allies to join him in sending armaments to the Syrian opposition.
Syria, where at least 93,000 people have been killed in the conflict, has emerged as one of the intractable issues at the G-8 in Northern Ireland, where the world gathered at a gleaming lakeside golf resort to hash over trade, tax and foreign policy challenges.
"Of course, our opinions do not coincide, but all of us have the intention to stop the violence in Syria, to stop the growth of victims, and to solve the situation peacefully," Putin said after meeting for two hours with Obama. "We agreed to push the parties to the negotiations table."
"We do have differing perspectives on the problem," Obama concurred. "But we share an interest in reducing the violence; securing chemical weapons and ensuring that they're neither used nor are they subject to proliferation; and that we want to try to resolve the issue through political means, if possible."
In an interview on PBS that was taped Sunday and aired late Monday, Obama was much blunter, and pessimistic.
"What's been clear is that Assad, at this point — in part, because of his support from Iran and from Russia — believes that he does not have to engage in a political transition, believes that he can continue to simply violently suppress over half of the population," Obama told interviewer Charlie Rose. "And as long as he's got that mindset, it's going to be very difficult to resolve the situation there."
Even so, Obama in the interview portrayed himself as a reluctant participant in the civil war.
"We know what it's like to rush into a war in the Middle East without having thought it through," he said in obvious reference to the war in Iraq.
Despite their shared belief that Assad must leave power, the U.S., Britain and France were also showing cracks in their unity. Britain and France appear unwilling — at least for now — to join President Barack Obama in arming the Syrian rebels, a step the U.S. president reluctantly finalized last week.
Ben Rhodes, Obama's deputy national security adviser, downplayed those differences, saying the Syrian opposition could be strengthened either politically, through humanitarian aid or as a military force.
"Different nations are going to feed into that process in different ways," he said.
The sensitive Syria discussions unfolded in the midst of awkward revelations that the British eavesdropping agency GCHQ tapped into the communications of foreign diplomats during the 2009 Group of 20 summit in London, including those of Russian leader Dmitry Medvedev. That report, in the newspaper The Guardian, came on the heels of reports about the high-tech surveillance methods and record-gathering employed by the National Security Agency in the United States.
While the disclosures added a layer of controversy to the summit, U.S. officials said heads of state at a summit like the G-8 are perfectly aware that such spying goes on. As for the issue coming up in talks with Putin, deputy national security adviser Ben Rhodes told reporters, "It was a non-event at this meeting."
Indeed, in his interview with PBS, Obama made it clear such eavesdropping is commonplace, and tried to distinguish it from the cyber-hacking his administration has accused China of carrying out.
"There is a big difference between China wanting to figure out how can they find out what my talking points are when I'm meeting with the Japanese, which is standard fare, and we try to prevent them from penetrating that, and they try to get that information," he said. "There's a big difference between that and a hacker directly connected with the Chinese government or the Chinese military breaking into Apple's software systems to see if they can obtain the designs for the latest Apple product. That's theft."
It was a remarkably direct accusation coming just a week after Obama met with Chinese President Xi Jinping in a desert resort in California.
"We had a very blunt conversation about cybersecurity," Obama said of his talks with Xi.
The Associated Press contributed to this report.