Thousands of anti-globalization protesters set cars on fire and tried to block leaders' delegations from entering the grounds of the Group of 20 summit Friday in Hamburg, Germany, as authorities sent in police reinforcement from other cities on the second day of protests.
Dozens of police officers built moving lines in different parts of Hamburg and used water cannons to force protesters away from streets across the city. The city boosted its police presence with reinforcements from around the country for the G-20 summit but asked for more support on Thursday night after the situation started to escalate.
At least 45 demonstrators were arrested, 15 were temporarily detained, and 160 police officers were injured early Friday, including three officers who were hospitalized.
Hamburg's fire department said 11 protesters were severely injured and had to be transported to hospitals after a few of them fell from a wall during confrontations with police.
The fire department said it treated 26 people and took 14 of them to the hospital. It is not immediately clear why the protesters were climbing the wall.
Hamburg Police tweeted: "Our fears have been confirmed. Several of my colleagues were injured in yesterday's riots by high velocity projectiles."
"We've asked for a few hundreds more police officers - they're on the way," Andy Grote, the city's interior senator, told reporters. "The potential for criminal energy and violence of some is shocking."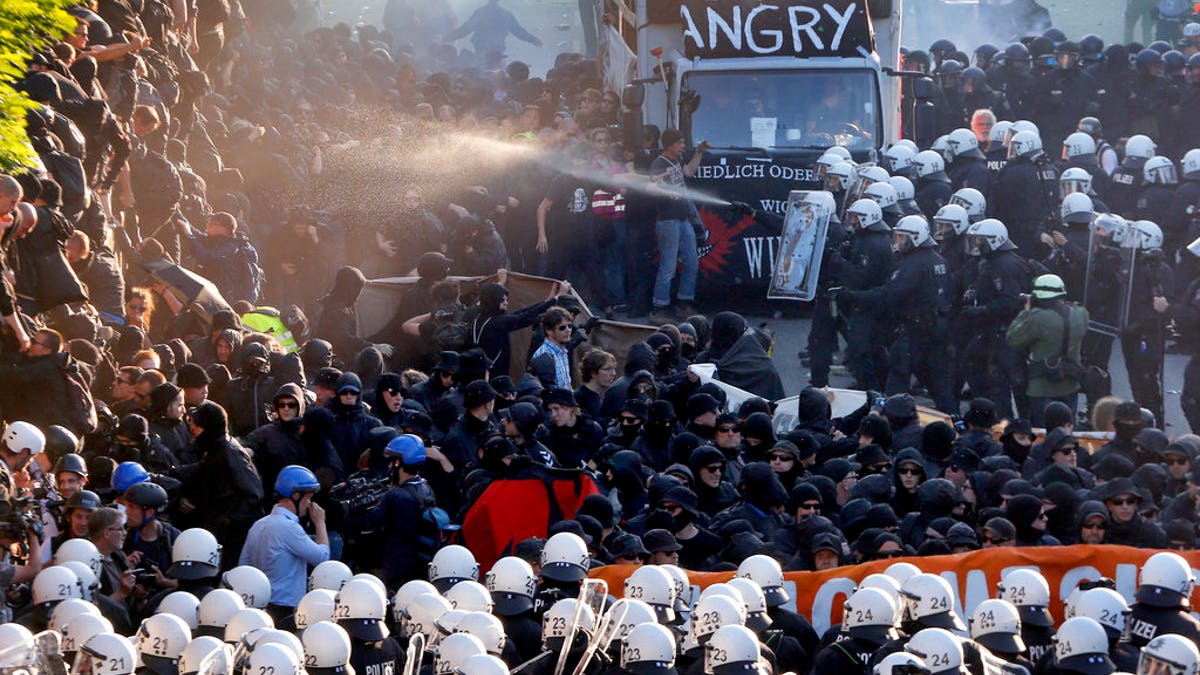 German police tweeted on Friday that all the leaders got into the city's convention center safely.
The leaders, including German host Chancellor Angela Merkel, U.S. President Donald Trump, Russian President Vladimir Putin and many others, were meeting to discuss issues such as international terrorism and climate change.
Germany's Justice Minister Heiko Maas told reporters that the violent protests were a disservice to the big crowd of overwhelmingly peaceful demonstrators.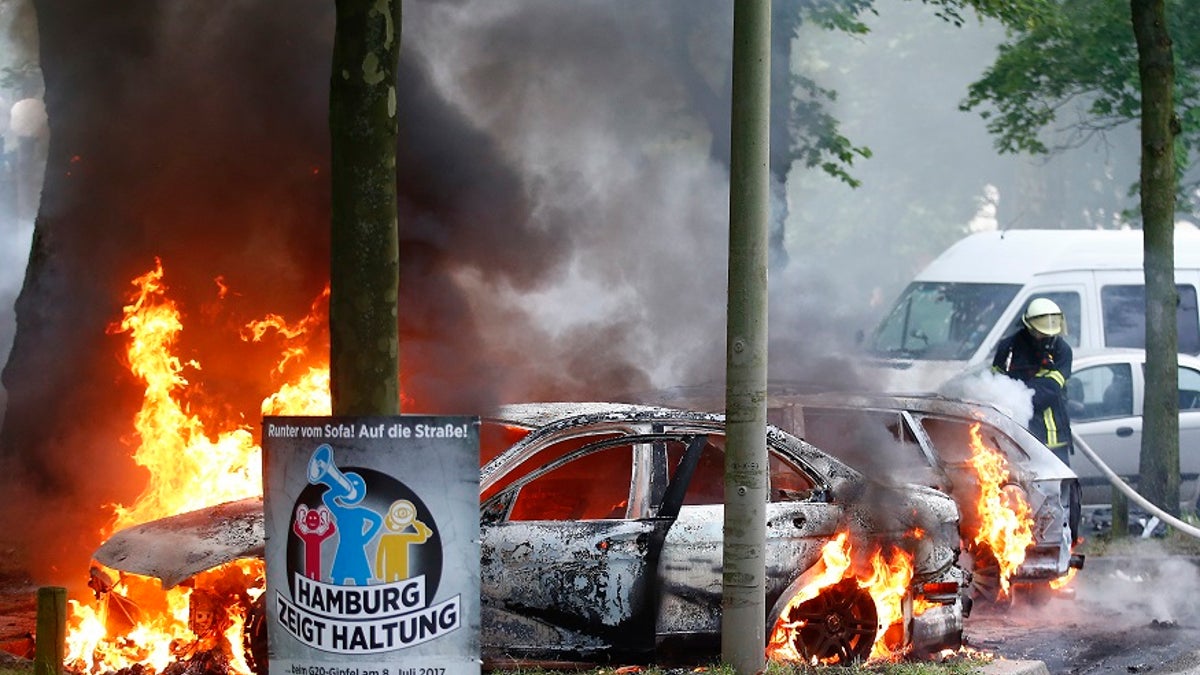 "Every peaceful protest is welcome," Maas said. "But that is no free pass for unrestrained rampage."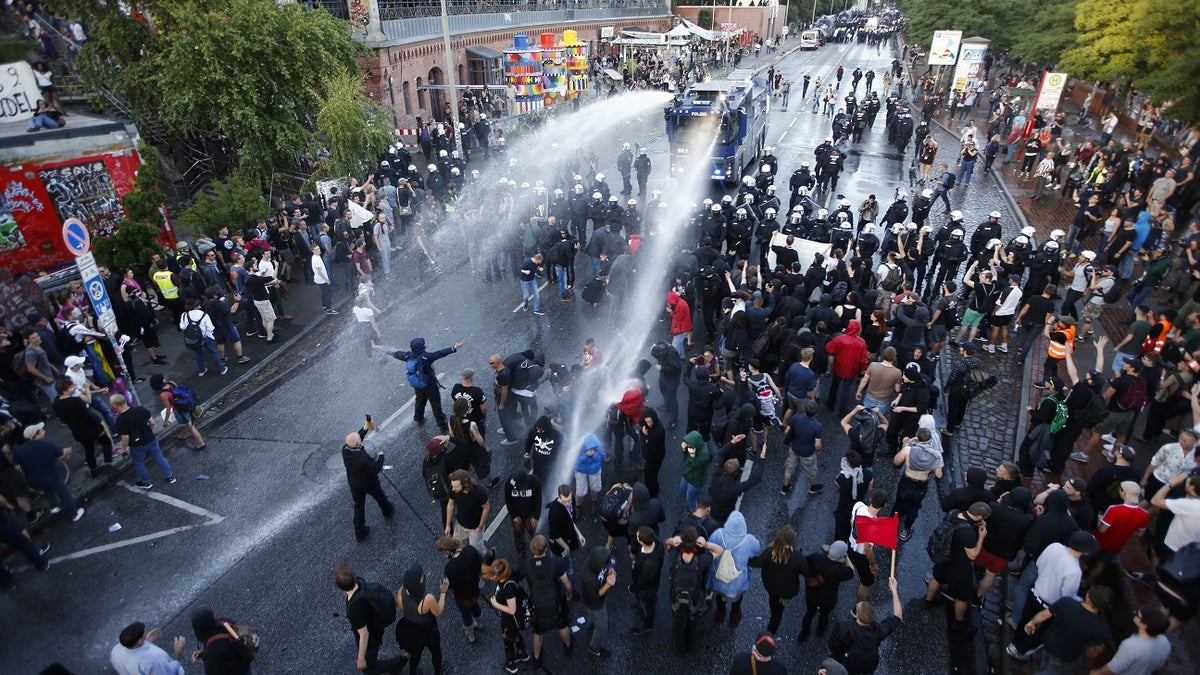 "These extremist criminals don't belong in the streets, but into court. Whoever torches cars and injures police officers does not deserve any kind of tolerance."
The violence broke out on Thursday ahead of the summit and continued into Friday, with demonstrators breaking windows at the Mongolian consulate and puncturing the tires of a car that belonged to the Canadian delegation.
TRUMP, IN POLAND, VOWS, 'THE WEST WILL NEVER, EVER BE BROKEN'
I look forward to all meetings today with world leaders, including my meeting with Vladimir Putin. Much to discuss.#G20Summit #USA🇺🇸

— Donald J. Trump (@realDonaldTrump) July 7, 2017
Police estimated there were 100,000 people in total at the demonstration Thursday. Some 12,000 people took part in the central march. Authorities also said organizers of the demonstration, intended to be a march, called off the event once violence broke out.
Police also said one of their helicopters was almost hit by a rocket flare and a pilot of a different chopper suffered eye injuries after a laser was pointed at them.
Trump arrived in Hamburg earlier Thursday following his speech in Warsaw where he called for defending Western values and rallying against "dire threats" to civilizations.
"Just as Poland cannot be broken, I declare today for the world to hear that the West will never, ever be broken," Trump said during his speech in Poland. "Our values will prevail, our people will thrive and our civilization will triumph."
THE G-20: WHAT TO KNOW ABOUT INTERNATIONAL SUMMIT
Merkel and Trump met privately after his arrival on Thursday, discussing issues that include North Korea, the situation in the Middle East, the conflict in eastern Ukraine and "some issues on the G-20 agenda." The discussion lasted more than an hour.
U.S. Secretary of State Rex Tillerson and German Foreign Minister Sigmar Gabriel also participated, according to a German government statement.
Trump then had dinner with Japanese Prime Minister Shinzo Abe and South Korean President Moon Jae-in.
On Friday, Trump is slated to meet with Russian President Vladimir Putin for about 35 minutes. Trump tweeted early Friday that he is looking forward to his meeting with the Russian president.
The Associated Press contributed to this report.