French adventurer, 71, sets off on solo trip across Atlantic by riding ocean currents in a barrel
A Frenchman hopes to catch good waves as he makes a solo journey across the Atlantic Ocean inside a barrel.
Jean-Jacques Savin, 71, departed from El Hierro, part of the Canary Islands, on Wednesday in a bright orange barrel and hoped to reach his destination, the Caribbean, in three months. Savin's vessel is traveling by using just the ocean's currents, the BBC reported.
Inside the 10-foot long barrel are a bed, kitchen and storage space. A porthole on the floor allows him to watch the ocean life.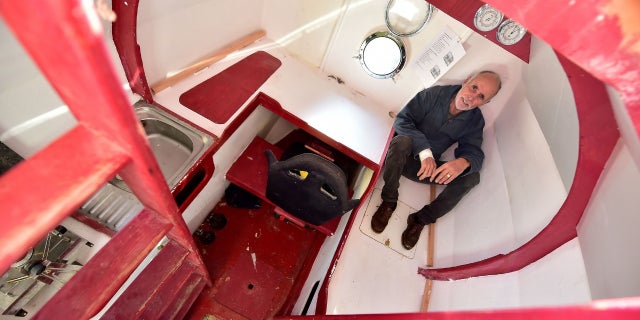 Savin, a former military parachutist, said he hoped his journey would help oceanographers study currents, AFP reported.
CLICK HERE TO GET THE FOX NEWS APP
"The weather is great. I've got a swell of 1 meter (3 feet) and I'm moving at 2 or 3 kilometers (1 or 2 miles) an hour," Savin told AFP.
He believed the ocean currents can carry him and his barrel about 2,800 miles to the nearest islands of the Caribbean. The barrel was built to resist waves and attacks from orcas. The adventurer raised the money for the journey's $68,000 budget through crowdfunding. He took aboard a few luxuries, including a bottle of white wine for New Year's Eve, a bottle of red wine for his January birthday and foie gras.
MORE ARRESTS IN MOROCCO BACKPACKER BEHEADINGS, INVESTIGATORS SAY
Savin told AFP he hoped to land on a French island since the paperwork "would be easier."