France's Schneider to buy UK's Invensys for ??3.4 bn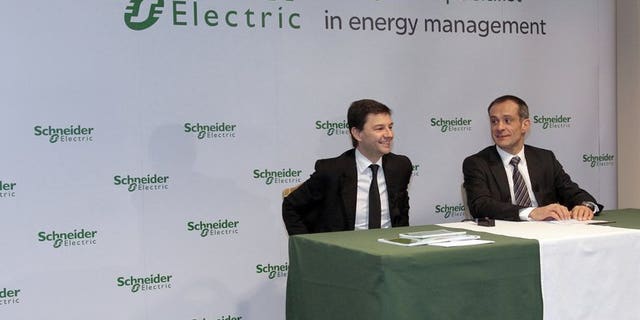 PARIS, France (AFP) – French electrical engineering and equipment group Schneider is to make an agreed bid worth ??3.4 billion for British engineering firm Invensys, the two firms said on Wednesday.
Meanwhile Schneider reported a 5.0-percent fall in six-month net profit to 831 million euros ($1.1 billion), and a 0.2-percent rise in sales to 11.43 billion euros.
This was slightly better than had been expected by analysts polled by Dow Jones Newswires.
But the group held to its forecasts for the year, saying it expected the business climate in Europe to begin to improve in the second half of the year.
The bid, worth 3.9 billion euros or $5.2 billion, marks the first big takeover for the French group since it bought US business APC in 2007, Schneider's finance director Emmanuel Babeau told a telephone press conference.
Invensys employs 16,500 people and achieved sales of ??1.8 billion in 2012.
The company produces mainly softwares and automated systems for industry, and components for programming household and energy appliances.
The two boards had agreed on a price of 502 pence per share, valuing the target at nearly 4.0 billion euros, the statement said.
Schneider said that it would pay 2.9 billion euros of this in cash and with Schneider shares worth 1.0 billion euros.
This means that Invensys shareholders will end up with about 3.0 percent of Schneider.
Babeau said that Schneider expected to generate big benefits from combining the two businesses.
It should raise annual sales by 400 million euros and add 65 million euros to earnings before interest, tax and amortisation by 2018.
He expected costs to fall by about 140 million euros in 2016, and to make a saving on tax of about ??400 million.
The potential savings were considerable but it was too soon to comment on eventual job cuts, he said.
On July 11, Invensys had revealed it had received an offer from Schneider worth 505 pence per share, which represented then a premium of 14.0 percent.
If the bid is completed it will give Schneider access to new markets since Invensys has a strong presence in North America.
The main competitors of Invensys are ABB of Switzerland, US firms Emerson and Honeywell, and German group Siemens, but analysts consider that a counter bid is unlikely.
This was reflected in the share price of Invensys which closed at 490.80 pence on Tuesday, or less than the bid price.
In morning trading on Wednesday shares in Schneider, which announced results broadly in line with expectations, rose by 2.65 pence to 59.55 pence.
In the last 10 years, Schneider has become a leading French company by means of big takeovers.