France's foreign minister says military options on the table after confirmation of Syria sarin gas use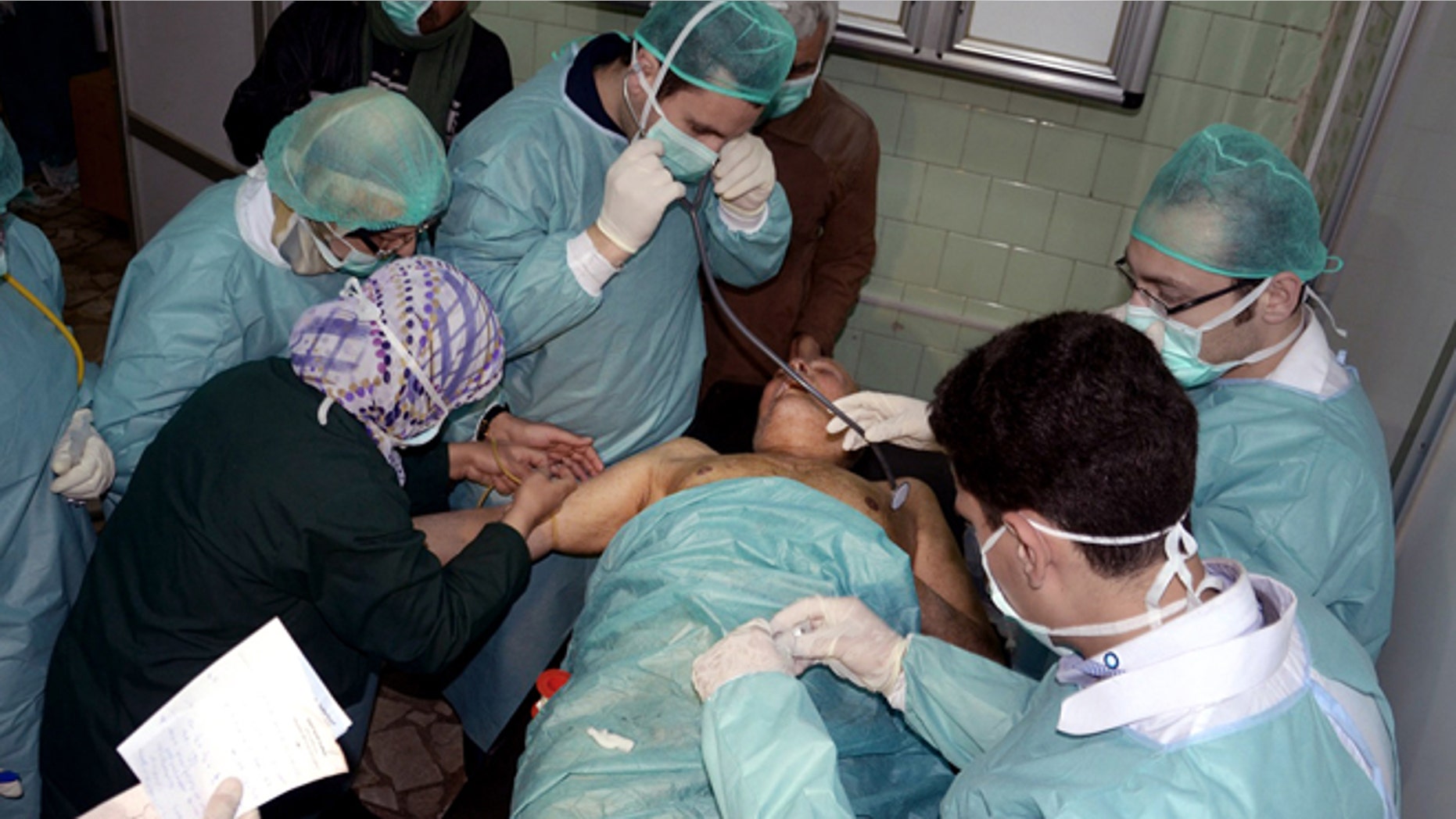 France's foreign minister says samples taken from Syria and tested in France confirm that sarin gas has been used there multiple times, and all options on how to respond -- including military action -- are now on the table.
Laurent Fabius said the tests carried out by a French laboratory "prove the presence of sarin in the samples in our possession." He said France "now is certain that sarin gas was used in Syria multiple times and in a localized way."
According to Reuters, Fabius believes Syrian President Bashar Assad's regime was responsible for the use of the gas, and French officials aren't ruling out a military strike on the place where the gas is being stored.
In a brief statement, Fabius concluded: "It would be unacceptable that those guilty of these crimes benefit from impunity."
Britain also said that tests it conducted on samples from Syria were positive for sarin.
Britain's Foreign Office said samples from Syria were tested at a government laboratory and that the presence of sarin was confirmed. It did not say when or where the samples were obtained.
Britain has evidence suggesting a number of different chemical agents have been used, "sometimes including sarin, sometimes not," said Britain's ambassador to the United Nations, Mark Lyall Grant.
The back-to-back announcements left many questions unanswered, highlighting the difficulties of confirming from a distance whether combatants in Syria have crossed the "red line" set by President Barack Obama. The regime of Syrian President Bashar Assad has refused to allow U.N. investigators into the country.
White House spokesman Jay Carney, speaking before the British announcement, said the French report is "entirely consistent" with the Obama administration's own findings, but added more work needs to be done to establish who is responsible for the use of the toxic substances and when they were used.
"We need more information," he said.
The French and British findings, based on samples taken from Syria, came hours after a U.N. team said it had "reasonable grounds" to suspect small-scale use of toxic chemicals in at least four attacks in March and April.
The U.N. probe was conducted from outside Syria's borders, based on interviews with doctors and witnesses of purported attacks and a review of amateur videos from Syria. The team said solid evidence will remain elusive until inspectors can collect samples from victims directly or from the sites of alleged attacks.
Some experts cautioned that the type of evidence currently available to investigators -- videos, witness reports and physiological samples of uncertain origin -- leaves wide doubts.
At the same time, forensic evidence of alleged chemical weapons use is fading away with time, and the longer U.N. inspectors are kept out of Syria, the harder it will be to collect conclusive proof, they said.
Syria is suspected of having one of the world's largest chemical weapons arsenals, including mustard and nerve gas, such as sarin. In recent weeks, the regime and those trying to topple Assad have increasingly used accusations of chemical weapons use as a propaganda tool, but have offered no solid proof.
Since allegations of the use of chemical weapons first emerged late last year, the U.N. has investigated on two separate tracks, while France, Britain, Turkey and the U.S. have conducted additional probes.
The team appointed by the Human Rights Council has been issuing periodic updates about suspected war crimes in Syria, and Tuesday's report dealt with chemical weapons, among a wide range of topics.
Separately, U.N. chief Ban Ki-moon appointed a U.N. team headed by Swedish chemical weapons experts Ake Sellstrom after the Syrian government asked for an investigation of a purported attack by rebels on March 19 on the village of Khan al-Assal, near the northern city of Aleppo.
Syrian soldiers were reportedly killed in the incident, and the regime insisted that the U.N. probe be limited to that case.
Ban wants a broader investigation, including a December incident in the central city of Homs in which opposition activists claimed six rebels died after inhaling white smoke pouring from shells fired in the area. Britain and France have also pushed to widen Sellstrom's mandate, sending Ban information on additional alleged incidents.
Such allegations are typically based on three types of information that can be obtained without having investigators go into Syria -- amateur videos, witness accounts and physiological samples.
Witnesses and doctors have been interviewed by Skype or after fleeing Syria, while Turkey, Britain and France have analyzed samples that were either smuggled out of the country or taken from suspected victims after they were hospitalized outside Syria.
The Obama administration also referred to such samples when it said in an April letter to two U.S. senators that the U.S. intelligence community assessed, with "varying degrees of confidence," that the regime has used chemical weapons on a small scale, specifically the nerve gas sarin.
However, the administration cautioned that intelligence assessments are not sufficient, citing the stakes involved.
The Associated Press contributed to this report.