France 'terror' shooting leaves 3 dead, multiple injured with gunman on the run: officials
A shooting in Strasbourg, France, on Tuesday left three people dead, several others wounded and is being treated as an act of "terror," police and government officials said, adding that the gunman is on the run.
The suspect opened fire in downtown Strasbourg on Orfevre Street around 8 p.m. local time, government authorities Préfet de la région Grand-Est et du Bas-Rhin revealed on Twitter.
The gunman is known to police and has a criminal record, Interior Minister Christophe Castaner told reporters.
The suspect was shot and wounded before fleeing the scene, police officials told The Associated Press. Authorities had attempted to arrest the individual ahead of the shooting, a police official said, but it wasn't immediately clear why.
The shooting death toll stood at three, according to Castaner. That's despite an earlier report from police union officials that four people were killed. Officials did not explain the reason for the conflicting death tolls.
The country increased their security alert level hours after the attack occurred and will be dispersing additional security forces to Strasbourg, the interior minister said.
Part of the incident took place in a Christmas market at Rue des Grandes Arcades and unfolded on different streets in the city, Strasbourg Mayor Roland Ries said. Military forces were helping the police, according to the mayor.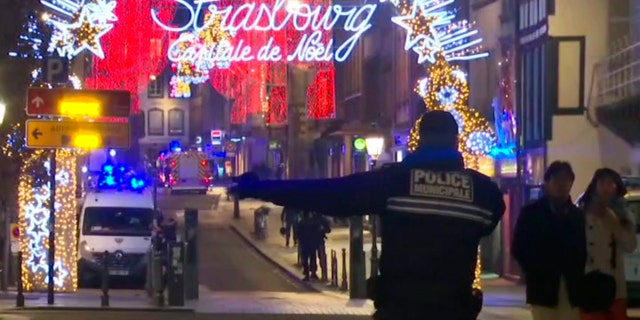 The Interior Ministry instructed people in Strasbourg to stay inside due to a "serious security event" taking place, The Associated Press reported.
Government officials in the region also took to Twitter, saying there was an "event underway in Strasbourg" and cautioned against spreading "false rumors."
"Avoid the area around the police station," the Préfet de la région Grand-Est et du Bas-Rhin tweeted.
That area is located near the city's Christmas market, according to The Associated Press. Strasbourg's well-known market is set up around the city's cathedral during the Christmas period and becomes a popular gathering place.
The European Parliament, which meets in Strasbourg, was closed and nobody is permitted to leave, according to Jaume Duch, the institution's director general for communication and spokesperson.
"The European Parliament has been closed and no one can leave until further notice," Duch tweeted. "Deputies and staff have received e-mails or SMS" telling them to stay safe.
European Parliament President Antonio Tajani also tweeted following the shooting.
"I express all my sorrow for the victims of the Strasbourg attacks. This Parliament will not be intimidated by terrorist or criminal attacks. Let us move on. We will continue to work and react strengthened by freedom and democracy against terrorist violence," Tajani said.
Strasbourg, located about 310 miles east of Paris, is on the border with Germany.
This is a developing story. Please check back for updates. The Associated Press contributed to this report.