France presidential election: Candidates' families play roles in success
NEWYou can now listen to Fox News articles!
Emmanuel Macron and Marine Le Pen, the two candidates now headed to a May 7 runoff vote in France's presidential election, have risen from unusual backgrounds to oust establishment politicians from the race.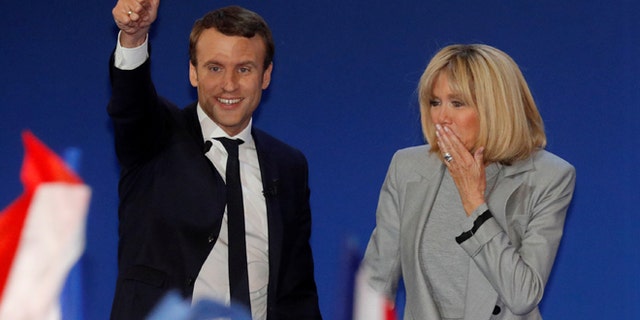 Macron, 39, who led Le Pen with 23 percent of Sunday's vote, is the centrist former French Minister of the Economy, Finance and Industry.
If he wins in May, he would become the youngest president in French history. He would also be the first president in France's current republican system of government to enter office not belonging to a major party, according to the BBC. Macron, who earned 8.4 million votes during the weekend, was the economy minister for current President Francois Hollande before leaving to form the liberal En Marche party.
Considered to be the front-runner to become France's next president, Macron is married to a woman 24 years his senior. In 2007 he married Brigitte Trogneux, his former high school teacher. Macron met his future wife when he was attending the same Catholic school where Trogneux taught.
FRENCH PRESIDENTIAL ELECTION: LE PEN, MACRON WIN FIRST ROUND TO ADVANCE TO RUNOFF
Despite initial opposition from Macron's parents, Trogneux and Macron continued their relationship and married after Trogneux divorced her husband. Macron is a stepfather to Trogneux's three children and a step-grandfather to her seven grandchildren.
"Nobody would call it unusual if the age difference was reversed," Macron has said, according to Reuters. "People find it difficult to accept something that is sincere and unique," he stated.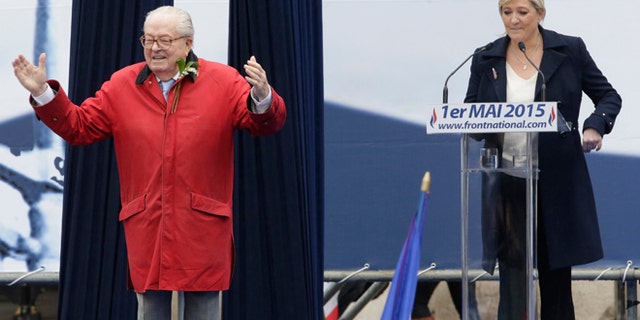 FRENCH ELECTION: CAN LE PEN FINISH THE JOB?
Le Pen's familial ties have also been a topic of discussion, albeit for different reasons, as she's sought to distance herself from her controversial father.
Le Pen, the 48-year-old head of France's far-right National Front party, earned 21 percent of the vote.
Her father, Jean-Marie, founded the party in 1972 before his daughter took control in 2011. She secured 7.6 million votes on Sunday, marking the strongest result ever for a candidate in the party. Her tally was 2.8 million more than Jean-Marie earned when he ran on the party's platform in 2002.
Jean-Marie Le Pen ignited backlash with a series of inflammatory comments during his career. He previously called the Holocaust a "detail of history" and told French newspaper Le Monde, "You can't dispute the inequality of the races."
His daughter said in 2015 -- the same year he was booted from the party -- that his Holocaust comments were an attempt to "rescue himself from obscurity."
Growing up with a high-profile parent put Marine Le Pen in focus from an early age and in 1976 a bomb blast ripped apart the apartment building she was living in with her father and family in Paris. No one was killed in the attack, which targeted her father, but it may have been the spark to form her own worldview.
"She traces her worldview actually, about how violent the world is, back to this event that was so traumatizing," said Cecile Alduy, who wrote a book about Le Pen.
"I'm a French woman, a mother and a candidate for the presidency," Le Pen stated in a recent debate, according to NPR.
"For me," she said, "this election is about a choice of civilizations. Our country is overrun by insecurity, economic and social disorder and Islamist terrorism. Our values and identity are under threat."