France honors hero officer who 'saved the nation' during terrorist attack
France honored the heroic officer who died after taking the place of a supermarket employee during a terrorist attack perpetrated by an Islamic militant that left four people dead, as President Trump said Sunday it shows the need for stronger measures against the Islamic State terror group.
Survivors, victims and mourners packed the Saint-Etienne-de-Trebest church for Sunday's special mass honoring Lt. Col. Arnaud Beltrame and the three others who were killed. Bishop Alain Planet, of Carcassonne and Narbonne, said Beltrame's sacrifice helped save the nation.
Members of the region's Muslim community were among those mourning at the special Palm Sunday service. The manager of the supermarket sat in the front row, alongside her husband, the town mayor.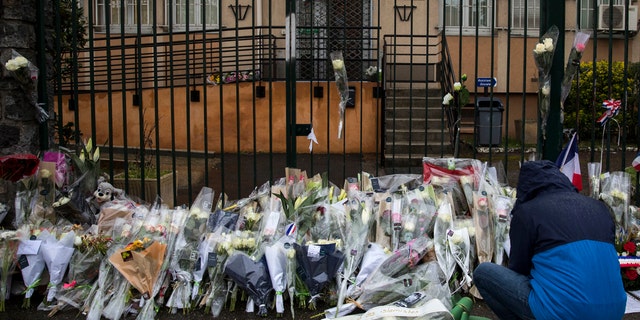 The bishop of Carcassonne and Narbonne, Alain Planet, hailed Beltrame's "extraordinary devotion," saying "the whole of France has been touched by this."
French President Emmanuel Macron previously said Beltrame, 44, "fell as a hero" and "showed exceptional courage."
FRENCH COP WHO SWAPPED HIMSELF FOR HOSTAGES DURING MILITANT ATTACK HAS DIED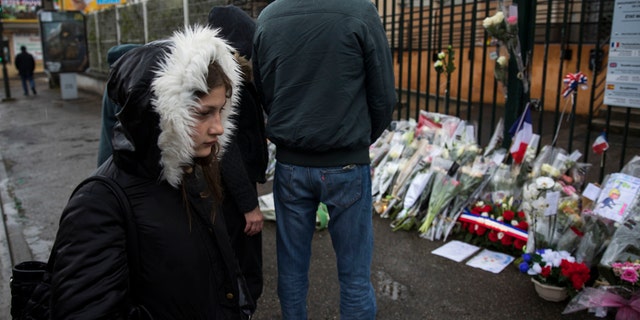 "Arnaud Beltrame died in the service of the nation to which he had already given so much," Macron said in a statement. "In giving his life to end the deadly plan of a jihadi terrorist, he fell as a hero."
Residents have been laying flowers in front of the Trebes supermarket where the attacker seized hostages Friday.
The director of the national gendarme service is meeting Sunday in Carcassonne with Beltrame's widow and Macron has also ordered a national memorial for Beltrame.
President Donald Trump praised the heroism of the French police in a Sunday morning tweet, and that it shows the need for stronger measures against ISIS.
Trump said "France honors a great hero," citing the bravery of police officer Arnaud Beltrame who died after "swapping places with hostage in ISIS related terror attack."
He added that there's "so much bravery around the world" in the fight against ISIS but adds, "Even stronger measures needed, especially at borders!"
Attacker Radouane Lakdim was killed by police after Beltrame helped them storm the market when he surreptitiously left his cell phone on so that police outside the supermarket could hear what was going on inside.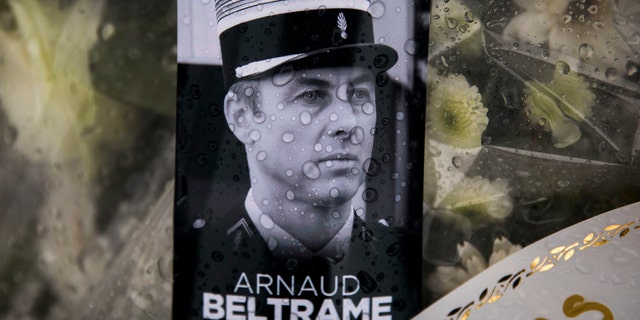 Two people remain in custody in the investigation. In addition to those who were killed, 15 others were injured in the attack.
Fox News' Lucia I. Suarez Sang, Kathleen Joyce and the Associated Press contributed to this report.