Four killed in police station attack in Kazakhstan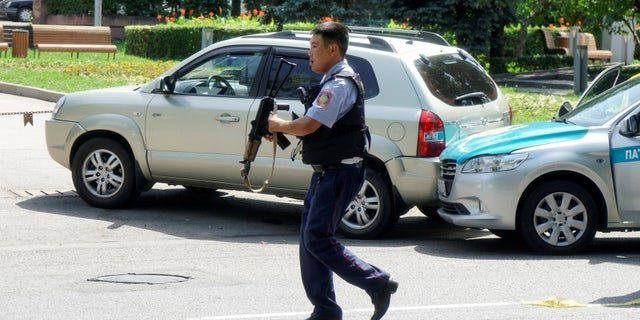 NEWYou can now listen to Fox News articles!
Three police officers and a civilian were gunned down Monday in an attack on a police station in Kazakhstan's largest city, echoing similar scenes of carnage in another Kazakh city just a month earlier.
The Interior Ministry said in a statement on Monday the officers were killed in gun battles with two unidentified gunmen inside and outside a police station in central Almaty. While fleeing from the police station, one of the gunmen shot and killed a local resident and then hijacked his car, the Interior Ministry said in a statement.
The attack began when one gunman shot at a duty officer and took his machine gun, the police said. The man then fled in the car, shooting at a traffic police crew and wounding two before he was detained a mile away. Police identified him as a 27-year-old former convict who was wanted for the murder of a woman last weekend. The other man remained at large. Police did not elaborate on the role of another gunman but said the search was on.
Kazakh President Nursultan Nazarbayev described the attack as an act of terror.
"Law enforcement agencies are working right now to find out who the culprits were and what goals they pursued," he said in a statement carried by his press office Monday evening.
The Interior Ministry released the details of the killed policemen, saying they were aged from 24 and 42 and all had children.
Leading news website Tengrinews.kz carried photos of a wounded police officer with blood pouring out of a police car. Social media users posted videos of what appeared to be armored vehicles driving through the city.
Authorities did not mention the number of injured but local media reported eight people in hospital in critical condition.
The attack comes a month after 20 people were killed in the Kazakh city of Aktobe when groups of gunmen attacked a military base and a gun shop. Authorities in this Central Asian nation then described the violence as a terrorist attack and blamed it on radical Islamists.
Energy-rich Kazakhstan, arguably one of the most prosperous former Soviet republics, is a predominantly Muslim but largely secular nation.
Officials on Monday raised the terror threat level to red -- the highest level -- after the attack but would not immediately identify the affiliation of the attackers.
Local media also reported that gun shops across Almaty, Kazakhstan's commercial capital, have been closed.