Former UN Ambassador John Bolton dismisses US reform effort as "just the usual rhetoric"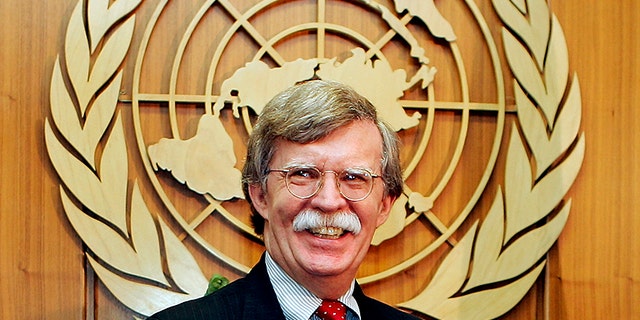 Former American ambassador to the U.N. John Bolton says a U.S. -sponsored draft declaration on U.N. reform being chaired next week by President Trump "is just the usual rhetoric."
Trump will be in New York next week for his first U.N. General Assembly, where his first act of business will be to chair the U.S.-sponsored event on U.N reform.
Fox News obtained a copy of the U.S.-sponsored draft declaration that supports Secretary General Antonio Guterres' reform efforts.
"The draft declaration is just the usual rhetoric. It could have been issued five years ago, or 50 years ago," John Bolton, the former U.S. ambassador to the world body, told Fox News.
"It reads like it was drafted by the U.N. Secretariat," he said, referring to the U.N.'s executive arm.
"I certainly hope it wasn't drafted by the [U.S. government.]"
Bolton is a senior fellow at the American Enterprise Institute, and is chairman of the Gatestone Institute.
"The only reform that can make a sustained difference over time is to eliminate assessed contributions and move entirely to voluntary contributions of all U.N. agencies and programs. Then, we will see results, and if not, defunding will follow," he said.
The United States is the biggest contributor to the U.N. and pays 22 percent of its regular budget and some 28 percent of the peacekeeping budget as well as hundreds of millions of dollars in voluntary contributions to U.N. bodies, such as UNICEF.
Trump's U.N. ambassador, Nikki Haley, has taken the lead in his quest for a leaner U.N. by driving a peacekeeping review process that is projected to save at least half a billion dollars.
The U.S. mission to the U.N and the State Department declined to answer specific questions and the White House did not respond to questions sent by Fox News on the reform meeting.
Brett Schaefer, a leading expert on the U.N. and the Jay Kingham Fellow at the Heritage Foundation, says the political declaration is a good beginning.
"It's a good starting point for discussions, but the impact will be measured by the concrete details agreed to at the high-level event and adopted during the UNGA (U.N. General Assembly)," he said.
Schaefer says the event will show all nations that U.N. reform is a top priority for the Trump administration.
"Having President Trump preside over the high-level event alerts every nation that U.N. reform is a top U.S. priority," he said.
"Inaction on reform could result in funding reductions or withholding to leverage reform or support for American priorities," he emphasized.
One U.N. Security Council diplomat told Fox News that the smaller countries are not happy with the approach for the meeting on reform the U.S. proposes to discuss, and said before any country gets an invite, they must first sign the declaration.
"It puts many nations in a hard position as they mostly support and need the U.S. but don't like the approach that was taken to put this together," the diplomat told Fox News.
Hugh Dugan, a former American diplomat who served at the United States Mission for some 25 years, said the one-page, ten-point plan to be agreed on was short on specifics.
"This is the 'twitter' version of U.N. reform. It is very concise, therefore apparently less than robust," said Dugan, who is now at Seton Hall University's Center for U.N. and Global Governance studies.
Bea Edwards, a senior international policy analyst at the Government Accountability Project (GAP) in Washington D.C., worries it is not looking at past failures.
"Accountability means looking back and assigning responsibility for wrongs done – for sexual abuse of children by peacekeepers or for circumventing sanctions on North Korea, as well as for retaliating against the whistleblowers who disclosed these acts," she said.
A reform that only looks forward – as this statement suggests the next reform round will – avoids accountability rather than strengthening it. Edwards told Fox News.
The spokesman for the Secretary General, Stephane Dujarric, told Fox that his boss was "delighted," to be taking part of the upcoming meeting with the president.
Dujarric told Fox News the U.N. needs to be "more fit for purpose, more nimble and more effective than it is today."