Former UK prime minister Tony Blair appears at media ethics inquiry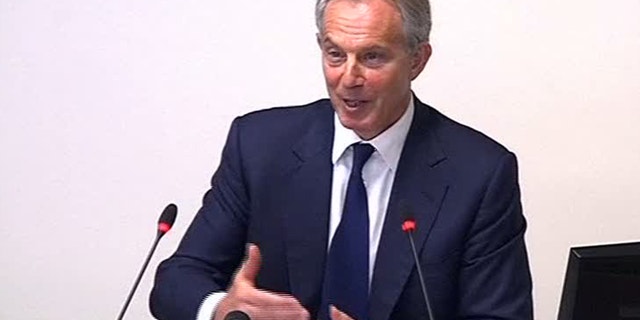 LONDON – Former Prime Minister Tony Blair testified Monday he never challenged the influential British press because doing so would have plunged his administration in a drawn-out and politically damaging fight.
Blair led Britain from 1997 to 2007, and his Labour Party government has been criticized by many -- including some of Blair's former colleagues -- as having been too close to the country's powerful press.
Blair, speaking under oath at an inquiry into media ethics, said the issue wasn't that he and Britain's media elite were too cozy, but that he had to manage them carefully.
"You were in a position where you were dealing with very powerful people who had a big impact on the political system," Blair explained. "If they were against you, they were absolutely all-out against you."
Blair's testimony was briefly interrupted when a heckler burst in through a secure corridor behind inquiry leader Lord Justice Brian Leveson, shouting: "This man should be arrested for war crimes," before being removed by security.
Leveson, looking ruffled, said he would investigate how the man managed to sneak in.
Blair's time in office was marked by a contentious relationship with the country's press, particularly after his deeply unpopular decision to invade Iraq alongside then-U.S. President George W. Bush.
But it was also marked by unusually warm relations between the left-wing Labour Party and Rupert Murdoch's News Corp.
Blair became a godfather to one of Murdoch's children and his government has since been described by several colleagues as being too close to the media mogul for comfort.
Blair said Murdoch was just one of several media tycoons who could make life difficult if they weren't happy with a position he was taking. Blair, whose government was often criticized for trying to manipulate or bully the media, said what he was doing was trying to work around the power that newspapers wielded.
"I took the strategic decision to manage this, not confront it," he said.
Blair's appearance kicked off an important week at the judge-led inquiry. Several senior politicians have appeared at the investigation set up last year in the wake of a phone hacking scandal when it emerged that reporters at the Murdoch-owned News of the World tabloid had routinely hacked into the phones of public figure and crime victims.
The scandal has rocked Britain's establishment, leading to the arrest or resignation of dozens of journalists, executives, political operatives and police, prison and military officials. It's also exposed a pattern of wrongdoing across the British press, from bribery to blackmail.
Leveson is examining whether politicians failed to curb the activities of renegade journalists because they were too close to the media -- or too scared of it.
Current ministers including Culture Secretary Jeremy Hunt, Education Minister Michael Gove and Home Secretary Theresa May will also testify this week.
News Corp. is the parent company of Fox News.