Former Trinidad & Tobago leader Arthur Robinson, target of 1990 coup, dies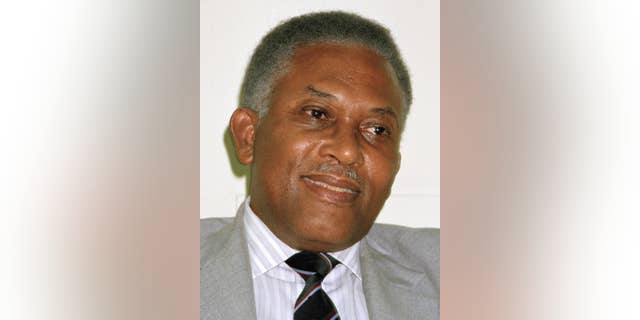 NEWYou can now listen to Fox News articles!
PORT-OF-SPAIN, Trinidad – Arthur Napoleon Raymond Robinson, a former Trinidad and Tobago prime minister who was held hostage for days and shot during a bloody 1990 coup attempt, died Wednesday after a prolonged illness. He was 87.
National Security Minister Gary Griffith said Robinson had been hospitalized for several medical conditions related to diabetes. After prolonged ill health, he died Wednesday at dawn inside a private medical center in Trinidad's capital of Port-of-Spain.
Robinson led the twin-island Caribbean country as prime minister from 1986 to 1991 and served in the largely ceremonial role of president from 1997 to 2003. He was held hostage for six days in July 1990 with several Cabinet members and opposition legislators in a failed coup attempt by 114 rebels of Jamaat al Muslimeen, a local Islamic group that drew followers mainly among poor urban blacks in Trinidad's slums. Jamaat leader Yasin Abu Bakr blamed Robinson for widespread poverty that followed the collapse of world oil prices in 1983.
When the armed insurgents invaded Parliament on July 27, 1990, they ordered Robinson to call off security forces outside of Parliament. But instead, he instructed the military, "Attack with full force!" He was then beaten and shot in his right leg.
Some 24 people died during the coup attempt, the only Islamic revolt in the Western Hemisphere. The bizarre rebellion ended with a ruse: Robinson's administration promised the insurgents amnesty, then arrested them. But Trinidad's High Court eventually freed them and Bakr has never been convicted of anything.
Robinson was born in the sister island of Tobago and studied law in Britain. He returned to his Caribbean homeland in the mid-1950s and was first elected to Trinidad and Tobago's Parliament in 1961. He served as finance minister from 1961 to 1967.
He is credited with introducing the idea of a single Caribbean market and economy and helping establish the International Criminal Court. Political rival Basdeo Panday said that helping to create the Netherlands-based court was "his most significant contribution."
During a 2001 political crisis in Trinidad, Robinson broke an election tie by choosing then-opposition leader Patrick Manning as leader over Panday, the incumbent prime minister with whom he had long clashed. As president, he had the constitutional authority to resolve the election tie.
Current Prime Minster Kamla Persad-Bissessar said she started her political career under the guidance of Robinson, whom she described as "one of our nation's outstanding sons and an elder statesmen."
"Mr. Robinson's passing is a deep and tragic loss for our country, but the legacy he leaves behind shall surely live on to inspire today's and tomorrow's generations," she said in a statement.
In 2011, a small Tobago airport was renamed the A.N.R. International Airport.
Robinson was a widower to economist Patricia Rawlins Robinson, who died in September 2009. He leaves behind a daughter and son.
Persad-Bissessar said a state funeral is being planned. She ordered flags to be flown at half-mast.
___
Associated Press writer David McFadden contributed to this report from Kingston, Jamaica.