Former Italian Prime Minister Berlusconi 'directed' sex parties, court says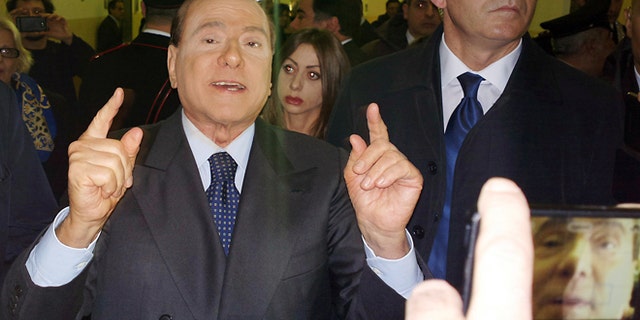 The court that convicted Former Italian Prime Minister Silvio Berlusconi of paying an underage prostitute for sex at his infamous Bunga Bunga sex parties said Thursday that proof of intercourse was not necessary to find him guilty.
The court, in a 326-page document supporting the June 24 conviction, seven-year jail sentence and lifetime political ban, said all it needed was evidence that the former premier's `'sexual instincts" were stimulated in exchange for payment.
`'Indeed, stripping, nude dancing, revealing breasts and buttocks while winking, displaying their nudity for the defendant at close range, are all behaviors objectively suitable for stimulating the sexual instinct of Berlusconi," the court said.
It cited testimony that the evenings culminated with physical contact with Berlusconi `'such as rubbing, fondling of breasts and intimate parts and groping buttocks, hips and thighs."
According to Reuters, he gave the go-ahead for young women to perform pole dances and stripteases. The report said Berlusconi directed women to perform and dance erotically during the parties.
The court noted that the Moroccan teen at the center of the scandal, Karima el-Mahroug, better known as Ruby, received $3,000 cash every time she attended a Bunga Bunga party, plus jewelry and a lump sum of 57,000 euros purportedly to open a beauty salon, in exchange for sexual favors. The court asserted Berlusconi was aware she was a minor -- 17 -- at the time of the 2010 encounters.
Both Berlusconi, 77, and el-Mahroug, 21, have denied having had sex. Berlusconi firmly denies the charges, including one that he used his influence to force a public official to cover up the underage prostitution charge, and claims that the case is part of a judicial plot to sideline him politically.
Evidence shows Berlusconi was aware that el-Mahroug was under 18 at the time, below the legal age limit for prostitution in Italy, Reuters reported.
In May 2010, he called a Milan police station to instruct officials to release el-Mahroug, who was being held on suspicion of stealing a $4,000 bracelet.
According to Reuters, Berlusconi's lawyers said he had made the call to avoid a diplomatic incident because he believed el-Mahroug was the granddaughter of then-Egyptian president Hosni Mubarak.
The court said in the document that if Berlusconi had not known el-Mahroug was underage, he would have had no reason to make the call and try to secure her release.
The filing of the court's reasoning paves the way for Berlusconi's defense to appeal the verdict and sentence. It also comes just a week before the Senate is expected to vote on whether to expel him on the basis of a tax-fraud conviction that was confirmed this summer by Italy's highest court.
Berlusconi, who has no role in government, has been weakened by the judicial woes as well as his failed attempt to bring down the government last month. In a bid to recoup his past glory, Berlusconi has relaunched the Forza Italia party that catapulted him to political power two decades ago. Some of his closest allies abandoned him to start their own center-right party. The breakaway group said Berlusconi's judicial fate cannot decide whether the struggling government survives.
Neither Berlusconi nor el-Mahroug testified in the underage prostitution trial.
El-Mahroug, however, did testify in the trial of three Berlusconi aides who were convicted in July of procuring prostitutes for the parties. She told that court that Berlusconi's disco featured aspiring showgirls dressed as sexy nuns and nurses performing striptease acts, and that one woman even dressed up as President Barack Obama. She denied she had ever acted as a prostitute, and any claims she had made to others about having sex with Berlusconi or receiving millions of euros from him were lies intended to inflate her own importance.
The court concluded Ruby had prostituted herself in other situations and was a participant in the sexually charged Bunga Bunga parties, at one point telling another young woman `'Now I dance, then strip, then have sex."
The court said the details of the sexual encounter with Berlusconi are `'irrelevant," rather it was sufficient that she was "trading her body in any way for remuneration."
El-Mahroug has not been charged with any offense.
The Associated Press contributed to this report.