Former Gitmo detainee in coma after hunger strike in Uruguay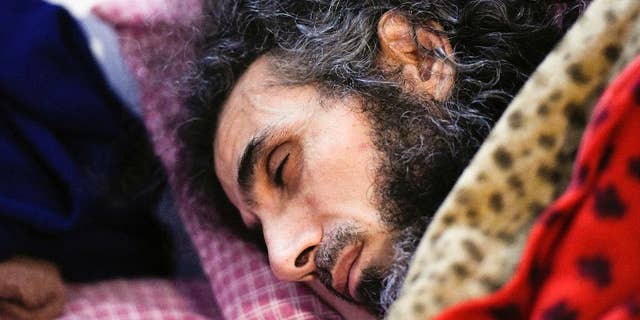 NEWYou can now listen to Fox News articles!
MONTEVIDEO, Uruguay – A Syrian freed from Guantanamo nearly two years ago was in a coma early Thursday after a hunger strike to dramatize his unhappiness about being resettled in Uruguay and his demand to be moved to another country.
A doctor said paramedics found Abu Wa'el Dhiab unconscious when they arrived Wednesday at the apartment where the 45-year-old former prisoner has been staying in Montevideo.
"We hope that it is reversible," said Dr. Julia Galzerano of the Medical Union of Uruguay.
She said Dhiab was extremely dehydrated and she was told he had gone 12 days without water. He remained at the apartment for treatment, in keeping with his wishes not to be hospitalized during his protest.
Dhiab drew international attention by hunger-striking during his 12 years of occasionally confrontational confinement at the U.S. military base in Guantanamo Bay, Cuba. Released in December 2014, he could not return to his war-torn homeland and was taken in as a refugee by Uruguay along with five other freed detainees.
While those five mostly stayed out of the spotlight, Dhiab grew increasingly disgruntled in this South American country.
Less than two months after his arrival, he turned up in neighboring Argentina, in violation of an agreement not to travel, and denounced the U.S. failure to close Guantanamo. He publicly complained about life in Uruguay, to the increasing irritation of the government, and he protested outside the U.S. Embassy. In July, he set off alarms when he vanished for several weeks, before turning up in Venezuela, which sent him back to Uruguay.
At some point, he began the hunger strike seeking to pressure Uruguay's government into allowing him to join his wife and children in Turkey or another nation.
Christian Mirza, the former prisoner's liaison with the Uruguayan government, said Wednesday that officials have been working "at the highest levels" to find another country that would accept Dhiab.
While at Guantanamo, where he was detained as an enemy combatant with suspected ties to militants but never charged, Dhiab saw his weight drop at one point to about 155 pounds (70) kilograms, gaunt for a man over 6 feet tall (183 centimeters). Authorities there said he often struggled with guards, who forcibly removed him from his cell at least 48 times in less than a single year of his protest. Troops also said he assaulted them with feces and vomit several times.
Ambassador Lee Wolosky, the U.S. special envoy for Guantanamo closure, expressed bewilderment Wednesday about Dhiab's actions. He said Uruguay's government had been in "very advanced stages" of bringing Dhiab's wife and children from Turkey when Dhiab took off to Venezuela.
"I think that Dhiab has been offered every opportunity by the government of Uruguay to move on with his life and he has disgracefully repudiated the extraordinary hospitality and generosity of the government of Uruguay," Wolosky said in an interview with The Associated Press.
The envoy pointed out the former prisoner had agreed to the resettlement offer and said Uruguay provided him with a $500 monthly stipend and an apartment and offered language and vocational classes.
"He has gotten more support than refugees receive in that country in the normal course by far and he has received more support than many Uruguayan citizens receive," Wolosky said. "He's had every opportunity to make good choices and be reunited with his family and he has instead made bad choices."
___
Associated Press writer Ben Fox reported this story from Miami and AP writer Leonardo Haberkorn reported in Montevideo.