Following dispute with leadership, Cuauhtemoc Cardenas quits Mexican leftist party he founded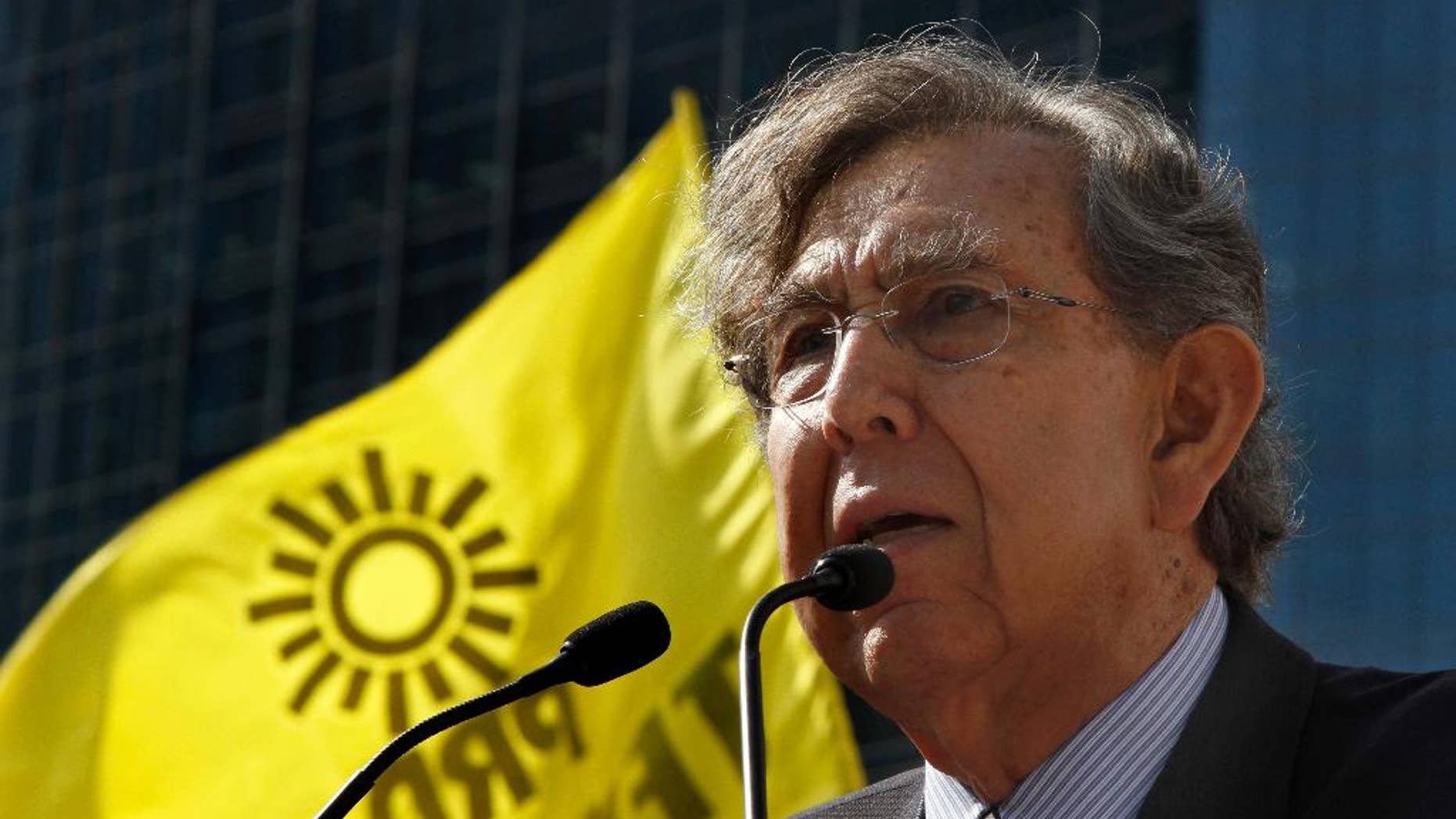 MEXICO CITY – Cuauhtemoc Cardenas, a pillar of leftist politics in Mexico and son of the revered president who nationalized the oil industry, resigned Tuesday from the political party he founded, citing disagreements with its leadership.
The 80-year-old Cardenas, who made three failed runs for the presidency, explained his decision in a letter that was made public.
Earlier this month, he had urged the Democratic Revolution Party's national executive committee to resign over the disappearance of 43 college students in the southern city of Iguala. Federal authorities have said the mayor, a member of the party, ordered local police to intercept the students who he feared planned to interrupt a speech his wife was giving Sept. 26. Police allegedly turned the students over to a drug gang and they have not been heard from again.
Cardenas' letter made it clear he disagreed with party leaders about how to restore the party's credibility in light of the case, which has caused anger across Mexico, but he also alluded to differences that predated the disappearance.
"On the previous occasions, hoping to at least open an internal debate about the approach, the answer from the party leadership was silence," he wrote.
Cardenas is the son of Lazaro Cardenas, who nationalized Mexico's oil industry in 1938. Cuauhtemoc Cardenas and others founded the Democratic Revolution Party in 1989, one year after he lost his first presidential bid to Carlos Salinas de Gortari in an election many Mexicans felt was fraudulent.
He lost again in 1994, became Mexico City's first mayor in 1997, and then made a final failed try for the presidency in 2000.
Cardenas often clashed with his party's leadership in later years, especially with Andres Manuel Lopez Obrador, who was its losing presidential candidate in the last two elections. The party was often roiled by its internal politics, because many of its leaders, like Cardenas, were defectors from the Institutional Revolutionary Party while the base was an agglomeration of democratic socialists and former communists.
Lopez Obrador has formed his own party, the National Regeneration Movement, leaving Mexico's left in further disarray.
Cardenas met Tuesday with the party's top leaders in an attempt to resolve their differences. But in his letter, he said that while the meeting was "cordial," perhaps it had come too late.
"We maintain profound differences in our visions of how to confront the party's internal problem, in particular the measures that must be adopted to recover the organization's credibility," Cardenas wrote.
Later, party President Carlos Navarrete tweeted that Cardenas' resignation was regrettable and it "closes a period in the life" of the party.