Fishy business: Mexican crime groups trafficking rare fish bladders to Asia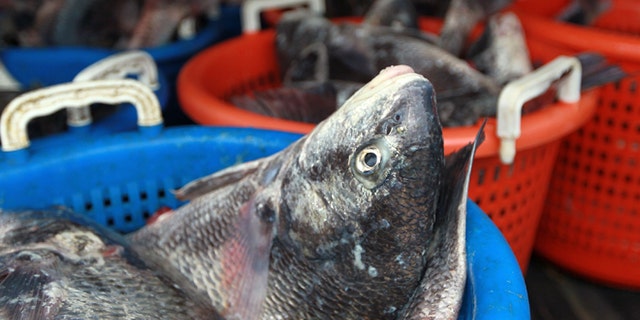 Mexican organized crime groups have branched out into the trafficking of a rare fish endemic to the country's Gulf of California.
According to an investigation by Reporte Indigo, Mexican crime groups have become enmeshed in trafficking the totoaba fish to Asia, despite it being a "crime against biodiversity" to do so in Mexico.
The totoaba is harvested for its precious air bladder, which is typically salt-cured and smuggled primarily in to China, where it is used to make soup and is considered to have medicinal properties. The rest of the fish is then discarded.
According to the report, the fish's bladders can fetch over $60,000 per kilo — more than the same amount for cocaine.
While Mexican authorities have seized more than 7 metric tons of totoaba fish over the past four years, researchers say that the steep profits from the sale of the bladders and lenient sanctions have made it a popular commodity for criminal organizations.
"A large part of those who traffic this fish aren't even punished, they're just detained, their goods are seized … and then they're freed," Miguel Rivas from the environmental association Greenpeace told Reporte Indigo.
Mexican federal agencies, however, are stepping up their efforts to protect the fish by upping patrols and monitoring in the Gulf of California.
The expanded protection effort is being carried out with the support of the Navy Secretariat, the Defense Secretariat, the National Security Commission and the National Aquaculture and Fishing Commission, the secretariat said in a statement.
Two small boats, vehicles and 135 sailors are being added to the enforcement force on the land and sea, the secretariat said.
Four inspectors from the Profepa federal environmental protection agency and Federal Police officers are joining the force to man checkpoints and conduct patrols on land.
The new resources are being added to the Upper Gulf of California Integrated Protection Program launched in April 2015, under which 13 ships, a helicopter-carrying ship, a plane and five vehicles were deployed to fight illegal fishing and trafficking in protected marine species.
The Gulf of California is also home to the vaquita, a rare marine mammal that is also threatened by traffickers.
The vaquita reproduces slowly, giving birth every two years, and the marine mammals are considered the most endangered cetaceans in the world.
Listed as endangered since 1976, less than 100 vaquitas are believed left in Mexico.
EFE contributed to this report.
Like us on Facebook
Follow us on Twitter & Instagram