Firefighting helicopter crashes in South Korea, killing 5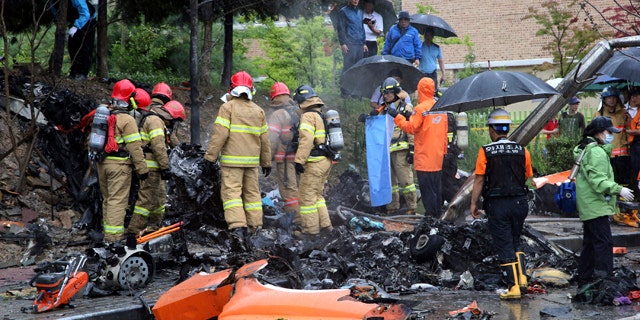 SEOUL, South Korea – A firefighting helicopter crashed Thursday near an apartment complex and school in the southern South Korean city of Gwangju, killing five people, officials said.
The helicopter was returning to headquarters in the eastern provincial firefighting agency after participating in search operations for 11 people still missing after a ferry sinking that killed more than 290 in April, fire officials in Gwangju said speaking on condition of anonymity because of office rules.
The crash killed all five fire officers aboard the helicopter, while a female high school student on the ground received a minor injury, the officials said.
An official at the firefighting agency in the eastern Gwangwon province said the five dead officers took the helicopter Monday when they left for search operations for the missing people from the ferry disaster. He also spoke on condition of anonymity line with department rules.
TV images showed the burning helicopter and a plume of black smoke rising up above buildings.
The ferry sinking caused widespread worry about South Korea's lax safety culture. Most of the dead were high school students.