Fierce clashes 'trap families in Damascus district'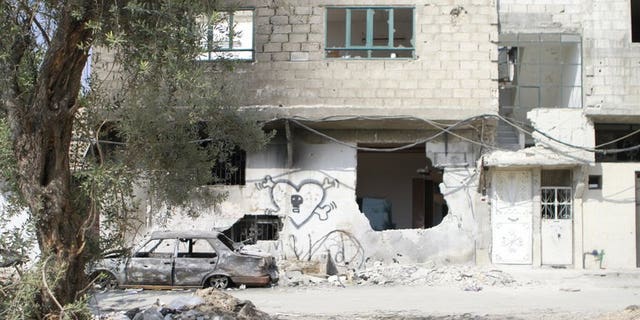 BEIRUT (AFP) – Hundreds of families were trapped on Sunday in a northeastern district of Damascus by regime troops who fought fierce battles with rebel forces, a monitoring group reported.
"There is a siege because regime snipers are posted on the outskirts of Qaboun and this makes any attempt to leave difficult," the Syrian Observatory for Human Rights said.
"Violent clashes are under way between regime forces and rebels in Qaboun," in northeast Damascus where battles have raged for months as the army tries to boot out rebel forces, the Britain-based Observatory said.
"The area has also been bombed by the army," added the watchdog, which relies on a network of activists, doctors and lawyers on the ground.
Footage filmed by activists in Qaboun showed smoke rising from the area as the sound of non-stop artillery and mortar fire rings out.
The Observatory said residents of the area were facing a "stifling" siege.
"There's a major shortage of food and some families have nothing to feed their children with," the group said.
The Observatory also reported that dozens of people detained in an underground makeshift prison near a mosque in Qaboun escaped when regime forces guarding the site left to join the fighting.
Overnight, the opposition Syrian National Coalition had urged the international community to act to free "200 people" they say are being held in the mosque.
Rebels fighting to overthrow the government of Syrian President Bashar al-Assad control several neighbourhoods on the outskirts of Damascus from which they are able to shell areas in the city centre, that still escapes their control.
Regime forces have for months been trying to uproot those rear-bases, including in Qabun and Barzeh, in northern Damascus.